Posted on: 15th Apr 2020
2036 Views
Master of Social Work in Singapore
Everyone in the crowd wants to do social work but there are very fewer people who do. Many people want to do something for the society, beggars, orphans or old people and on the other hand, many such people just brag about doing great things for needful people but don't do a single penny of work.
Several Singaporean students decide by their schooling itself that they want to serve the nation not by joining the army but by doing social work. Those students search for social work degree courses in Singapore.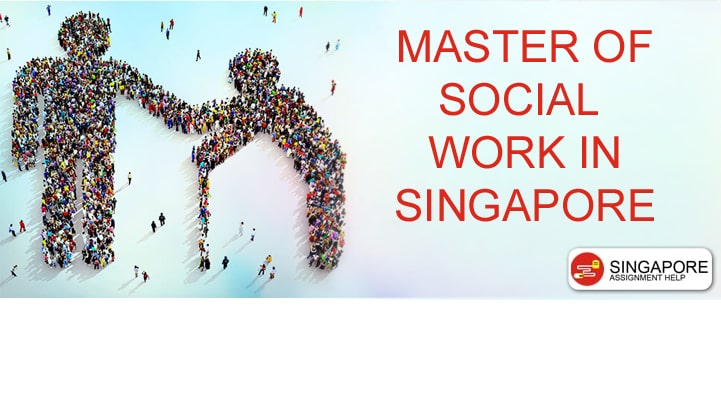 How great it would feel if you, in reality, get a chance to learn a course in social work. Most of the interested students of Singapore pursue graduation in social work and look for a social work master's degree in Singapore.
Introduction to Social Work
Social Work is a profession chosen by an individual to serve the nation, nation's child, nature or any needful entity. Not always social work refers to a profession only but it also points to someone's doing for someone.
In terms of academics and professionals, the social work concerns itself with individuals, groups, families, communities and societies to upgrade the social functioning and overall prosperity.
Social work promotes social changes and development, social solidarity, & the emancipation and empowerment of people. The centre of social work is the principles of social justice, respect for diversities, collective responsibility, and human rights etc. Social work employs people and structures to tackle the challenges of life & promote well-being supported by theories of social work, indigenous knowledge, humanities and social sciences.
Types of Social Work Degree Course
Bragging about doing fake welfare work is so easy to do but the real battle starts when you genuinely want to do something for someone. Keeping this thought in their mind, the Singaporean students who feel social work to be the only goal of their life go for further studies in the social work field.
The students who want to pursue learning programme in social work sector can opt for a different level of qualifications in this field.
Bachelor of Social Work (BSW)
Master of Social Work (MSW)
PhD (or) Doctorate in Social Work (DSW)
Hire a Professional Essay & Assignment Writer for completing your Academic Assessments
---
Native Singapore Writers Team
100% Plagiarism-Free Essay
Highest Satisfaction Rate
Free Revision
On-Time Delivery
Top College/ University for Masters in Social Work
Many Singaporean students aspire to learn an education programme in social work. Several students pursue a bachelor's degree in social work as well as a masters of social work and further too. There are numerous institutes in Singapore which provide various courses for social work like a bachelor's degree, master's degree, diploma and doctorate etc.
Here are the top institutes for social work learning programme in Singapore: –
SWK491 Social Work Practicum and Field Seminars
SWK501 Human Lifespan and Social Ecology
SWK503 Social Policy Analysis and Development
SWK505 Social Administration and Planning
SWK507 Theories and Principles of Supervision for Social Work
SWK509 Social Research and Programme Evaluation
SWK511 Contemporary Social Work Issues and Practice
2. National University of Singapore (NUS)
SW5205 Working with Trauma – Infancy Through Adolescence
SW5207 Working with Multi-Stressed Families
SW5208 Using Play Therapy with Children and Families
SW5210 Trauma and Mental Health
SW5211 Risk Assessment & Management: Mental Health
SW5213 Practice with Persons with Disability
SW5216 Family and Interpersonal Violence
SW5217 Continuum of Care and Healthy Ageing
SW5218 Practice with Persons with Addiction
SW5219 Palliative and End-of-Life Care
SW5245 Current Group Approaches in Social Work
SW5252 Community Organization and Development
SW5881 Topics in Social Work – Direct Practice
SW5106 Social Policy and Welfare Services
SW5215 Poverty and Asset-Building Policy
SW5882 Topics in Social Work – Social Policy
SW5107 Program Development and Evaluation
SW5220 Statistics for Social Workers
SW5884 Topics in Social Work – Research
SW5104 Management of Human Service Organizations
SW5206 Mastering Leadership
SW5209 Theory and Practice of Social Work Supervision
SW5253 Volunteer Management
SW5883 Topics in Social Work – Social Work Leadership
The needful students looking for MSW course in Singapore can refer to the above-mentioned M.S.W. college list.
Types of Social Work
Social work is not only limited to helping the people of our surroundings but also is a vast theme which is spread into various sectors. Social work is not reserved for a single field but is a matter of miscellaneous departments which are needed to take care of.
Following are the types of social work: –
Administration and Management
Advocacy and Community Organization
Child Welfare
Ageing
Developmental Disabilities
International Social Work
Healthcare
Mental Health and Clinical Social Work
Justice and Corrections
Occupational and Employee Assistance Program (EAP) Social Work
Mental Health and Substance Abuse Social Work
Politics
Policy and Planning
Research
Public Welfare
School Social Work
What is a Master Programme in Social Work?
Master course of Social Work, abbreviated as MSW is the master's degree course in social work or we can say postgraduate degree course in the field of social work. It is usually of 2 years duration.
The students who want to join a Master's course in Social Work in Singapore can opt for this course after completing a bachelor's degree in social work. Those students who have done their graduation in social work i.e. Bachelors of Social Work (BSW) are on high priority if they opt for a master's degree in social work. They start with the first level of graduation (BSW) and then pursue a social work master's program. Many of them go for a doctoral degree in social work as well.
Social work education is peculiar in different manners. The social work profession comprises of its unique knowledge base, ethical codes and values. Since the graduates of social work course do the tasks of social work sector but those students educated from any other human service fields can also perform the different functions what a social worker do.
Another peerless trait of social work education is field placement. All the social work students get advantages of the classroom studies as well as field experience. In this way, the students of the master's program in social work get the best of both worlds. This benefits them to earn the opportunity to utilize their skills, intelligence and knowledge in the real-world setting.
Is it Hard to Do a Master's Degree in Social Work
There are countless graduate, diploma, certification, postgraduate and doctorate programmes available in top universities of Singapore like Business English courses, Human Resource degree Courses, Project Management courses, Graphic Designing Courses and Psychology Diploma courses etc. However, those students who are genuinely into social work, choose to pursue a course programme in the social work field.
Also, this course consists of one similarity with other ones that it also contains social assignments throughout the programme. Although the students are busy with gaining theoretical knowledge in classroom lectures and practical knowledge with field experience are not left with enough time to do any other activity.
And there come to the burden of social work research assessments, proofreading assignments, clinical practice assignment and advocacy assignment etc. Since they do not find sufficient time to complete those assignments before the deadline, they need some affordable assignment help from which they can get readymade assignment without plagiarism.
Objective of Singapore Master of Social Work
The main objective of the master's program of social work is to form leaders of social work calling in direct practice, social administration and development, and social policy and research.
The growing needs of the individual, community and society cause raising prospects of current social workers from both employees and clients.
To address these new phase problems, the officials of the social service sector need to play a crucial role to guide and drill the comrade social workers and to possess a wealthy knowledge base in a specific field. The master course of social work provides the key to satisfy this new role.
Buy high-quality essays & assignment writing as per particular university, high school or college by Singapore Writers
The master in Social Work is an effective programme, intended to train the social workers wishful to take up the responsibility and leadership position in the sector of social service. The master of social work programme aims to equip the aspiring graduates with various skills like supervision skills, administration skills, and clinical social work skills etc. to operate at management positions in the field.
Essential Skillset for Master of Social Work Course in Singapore
As there are not any specified skillset required for MSW but one would be in benefit if he possesses good communication skills. There are also other skills which an aspiring candidate must possess while planning to pursue a master of social work in Singapore.
Those essential skills under the master of social work requirements are as follows: –
Critical thinking
Self-awareness
Tolerance
Ability to coordinate
Social perceptiveness
Good communication skills
Emotional intelligence
Ability to set boundaries
Integrity
Good listener
Emotional intelligence
Persuasion
One more essential skill that the Singaporean students need to possess is writing skills to finish the various assignments of the social work course programme. Or they need to acquire the outstanding skills of internet surfing to find out help assignment online to get their assignment done before the deadline.
Social work means helping people but that does not mean students don't have to make assignments in this subject. Even though the students learn in the any top university of Singapore but they will not be deprived of the social work assignment which is provided for their practice of the theoretical knowledge they gain in the classroom studies.
Such students who lack time also get ready to pay to write essay for their social work courses.
Study Program of Master of Social Work Course in Singapore
Different people have different perspective thus different ways to describe something. But they can not say land the sky and vice versa.
Although different colleges will provide different course curriculum they cannot change the meaning of anything. The syllabus of different universities may vary but there are some common which are taught to the students in the MSW course in Singapore's every institute.
Some common topics of master of social work programme are as follows: –
Study Program of Singapore Master's Course in Social Work
Human Resource Management
Personal & Professional Growth
Study of Singaporean Economics
Concurrent Field Work including Social Work Camp
Social Group Work
Social Policy, Planning & Development
Social Work and Social Justice
Women & Child Development
Communication and Counselling
Medical & Psychiatric Social Work
Block Placement
Study of Singapore Constitution
Analysis of Singaporean Society
Social Work Profession
Concurrent Field Work including Study Tour
Social Work Approaches for Social Development
Concurrent Field Work including Case Studies
Introduction to Disaster Management
Concurrent Field Work including Summer Placement
Labour Welfare & Legislation
Social Work Research and Statistics
Dynamics of Human Behaviour
Social Case Work
Community Organization
Social Work with Rural, Urban and Tribal Community
Social Work Administration
Criminology & Correctional Administration
Applied Research Projects in Social Work
Study program does not end with the above table but, it also contains some assignments which make the students fall in trouble due to the heap of assignments with insufficient time. Besides, some students who need to manage their livelihood by themselves, do a part-time job also. Thus, they fail to manage time to complete their social work homework and think to pay for assignments to be done.
Career Scope in Master of Social Work in Singapore
Do you feel great satisfaction by helping people?
Do you enjoy serving the nation's people with their needs?
If so… you haven't made any mistake by choosing the Social Work sector for your career.
Social work is a helping vocation, it's aim is to enhance the society's overall well-being and especially helping the feeblest population.
The career scope of MSW course student is wide and limitless. After pursuing graduation and then a master's in social work, you will have several options for a job in various sectors. You can easily find jobs in any structure which deals with helping people. After your master's in social work, you can get employment in your school, college or institution, mental health agencies, any youth-serving organizations, nursing homes, medical clinics and many others. That time will never come in future which will lack opportunities for a social worker.
Here are some popular job profiles and areas where the candidates can join after the successful completion of their MSW at a  social work university in Singapore: –
Child Welfare Social Worker
Medical/ Public Health Social Worker
Research Social Worker
Veterans and Military Social Worker
School Social Worker
Palliative and Hospice Care Social Worker
Gerontology Social Worker
Substance Abuse Social Worker
Direct- Service Social Worker
Mental Health Social Worker
Stuck with a lot of homework assignments and feeling stressed ? Take professional academic assistance & Get 100% Plagiarism free papers
Some emerging areas where a social work student can apply: –
Adolescent Health
Legislative and Political Sector
Justice/ Correction
Development Disabilities
HIV/ AIDS
Corporate Social Work
Environmental Crises
Get Help with University Assignments
Apart from the great shining outcomes and opportunities from the master of social work in Singapore, the students also learn to search for assignment helper by writing on the internet "pay someone to do my assignment".
Students like you who are tensed due to their homework can take assignment assistance from us as we provide plagiarism free assignment sample for submission in the university. Also, some students who are looking for a part-time job and we can assist them by providing a job in which they can get paid to do homework. This way, they will receive benefits of the job as well as knowledge of their course as well as other courses too.
Our writing service assigns an expert assignment writer for your order with the guarantee of delivering within the time limit you will set. We know that every student is not capable of paying for homework help. Keeping this thing in mind, we provide assignment writing services at very affordable rates that pocket of every student can allow them to take help from us.
Whether it is report writing assignment sample, dissertation making or any case study assessment, our assignment sample is always error-free as well as plagiarism free too. Besides, we keep the information/ identity of every user of our service confidential as we understand the privacy of each person.
Frequently Asked Questions
Q1. Is social work degree available in part-time also?
Ans. Yes, you can pursue a social work degree programme in either full-time form or part-time as per your convenience. Also, full-time and part-time social work courses are available online too. So, you can choose to learn either classroom studies or online studies.
Q2. Is a master of social work in Singapore difficult to study?
Ans. The master of social work in Singapore is not difficult to study if you are a graduate in the social work field. However, the candidate has to understand the theoretical as well as the practical knowledge of the course. The students will get to have a lot of field experience as well so they should be well prepared for that. No course is easy unless the student takes interest and works hard to attain their respective targets.
Q3. What do I need to do to pursue a master of social work in Singapore?
Ans. You need to complete your bachelor in social work and then apply for the master of social work in Singapore.
Q4. Can I study any particular subject while pursuing a master of social work in Singapore?
Ans. Yes, you can. Students can pursue a master's in social work in any specialization of their choice like research, medicine, clinical social work, social services, social policy, and childhood studies etc. In this way, the student will get information about a specific field with more concentration and chance to narrow down in that particular sector that he wants to work on.
Q5. I am a graduate in social work. Should I pursue a master of social work or go for a job?
Ans. If you want to work in the social work field and make a career in this sector only i.e. if you want to be a social worker by true means, you should go for MSW admission. You will get the opportunity to enhance your skills and knowledge base. Also, the master of social work will expand the prospects of the field. Besides, the social work sector needs licensed people so the social work master's degree will provide you with numerous opportunities and multiple options in the master of social work jobs.