Posted on: 13th Apr 2020
1349 Views
Business English Course in Singapore
Amazing ideas and plans remain of no use if not able to frame them into sentences and convey them properly. That is why Business English is important at workplaces. No person is there who does not need to communicate in English with clients, in meeting and during presentations at his workplaces. Not only the working professionals face difficulties regarding English but students as well. Many people who do not have time for self-practice, they look for a Business English course in Singapore.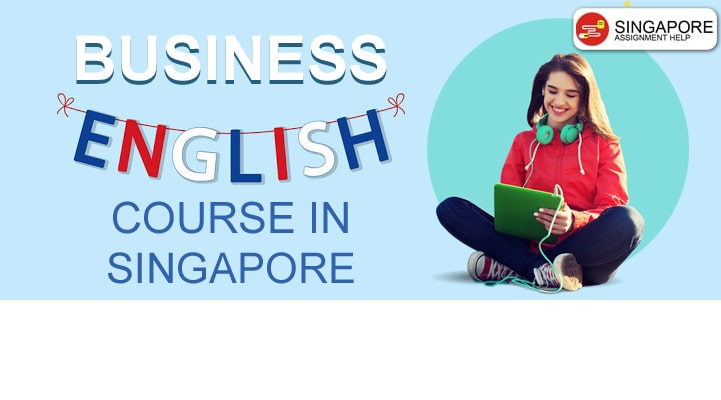 What is Business English?
A language is a base to communicate and convey message and ideas to others. There are a lot of languages in different countries but English is the one which is common among all the countries in professionalism.
The English language which is used for business purpose like in presentations, meetings, emails, reports as well as while dealing with a client is called Business English. A professional can be judged on his personality and communication skills.
Hire a Professional Essay & Assignment Writer for completing your Academic Assessments
---
Native Singapore Writers Team
100% Plagiarism-Free Essay
Highest Satisfaction Rate
Free Revision
On-Time Delivery
Business English has different definitions for different people. For some people, Business English focuses on the communication skills important for typical business communication at the workplace such as meetings, presentations, socializing, negotiation, report writing, small talk, correspondence and a systematic approach. And for some others, it refers to the vocabulary used in the business environment, finance, trade and international relations.
Top Schools/ Institutions for Business English Course in Singapore
There are a lot of schools or institutes in Singapore who provide a Business English course for adults as well as children too. All of them have their strategies of teaching and improve the candidate's skills. They help the candidate in every manner by analysing his present level in different fields. They work upon every individual differently and make them excellent in their lacking area.
Here are some of the top schools/ institutions of Singapore providing Business English training course: –
Certificate in Business English – Beginner
Certificate in Business English – Elementary
Certificate in Business English – Pre-Intermediate
Certificate in Business English – Intermediate
Certificate in Business English – Upper Intermediate
Business English
Business English Skills
Business English Course
Business and Occupational Language Courses
Business Communication Skills
Communication Business English
9. Singapore Chinese Chamber Institute of Business
Certificate in Business English
10. SIM- Professional Development Enterprise Learning
Practical Communicative Business English
11. Training Vision
Workplace Literacy English (WPL) Course
12. Kaplan
Diploma in Professional Business English Programme (PBEP)
What does a Course in Business English Provide?
Business English course provides the students with absolute effective English listening and speaking skills with personality development. As discussed above, Business English is one of the needed specialisms one should possess. There are a lot many people in Singapore who are non-native English speakers. They many times face problem while performing at their workplace. They search for a Business English course in Singapore.
Buy high-quality essays & assignment writing as per particular university, high school or college by Singapore Writers
Singapore Business English courses assist the learners with various activities such as speaking activities, role-plays to develop their communication skills and personality as well. They teach the candidate about effective listening and speaking tips necessary for their professional life.
Generally, Business English classes are focused on enhancing the skills of professionals working in Singapore. Various courses are offered for the professionals in Singapore at different levels i.e. intermediate and advanced levels. These Business language courses aspire to strengthen the communication skills of the candidate in a business atmosphere such as writing emails, preparing and delivering presentations, dealing with a client or anyone on the telephone and performing in meetings etc. The candidates will also get a chance to have a conversation with native English speaker on various issues relevant to business which will result in upgrading their understanding and awareness of fluent English speech.
Need for Professional Business English Course Singapore
Business English is a part of English which is used for specific purposes and considered as the speciality of learning and teaching of English language. It can also be defined as a variant of International English.
Many times, you might be envying of your colleagues who are expert in speaking English with fluency. That is the need for you to learn Business English skills so that you can open up to more people able to communicate more effectively. Business English opens up new paths for you to get ahead of work. It helps you to work more efficiently and unlock new career opportunities.
Many non-native English speakers in Singapore are working in different areas of the profession. All of them are not great at communication thus face problems in conveying the exact thought/ idea of theirs.
For such people out there, many schools/ institutes provide advanced English courses in Singapore for business communication. In such a Business English writing course, they go through various activities from which they develop interview skills, writing clear emails and expand their knowledge of business topics and issues.
Business English class Singapore enables the candidates to work effectively with confidence as they will nor more face any difficulty in their workplace. This will make them a different person from earlier who used to feel under confident due to lack of communication skills and proper interaction. It will improve the candidate's grammar, vocabulary and speaking ability, listening skills as well as writing skills too.
Also, the Business English course is important for high school students who are preparing to get into a job market.
Some of the key points which an English for business communication course include are: –
Building and use of Professional vocabulary
Discussion on various topics of business
Functional language necessary in the corporate world
Pronunciation practice for sounding clearer and natural
Analysis of case studies of various companies
Who can pursue Business English Courses in Singapore?
Anyone can join Singapore Business English courses either he is a student or a working professional. There is no shame to learn a thing of daily need. It will not only enhance you, your skills and your personality as well. Many native Singaporean as well as foreigners who are weak at Business English opt to do an English course for business.
The eligibility for pursuing a Business English course in Singapore is to be a minimum 12-year age with no academic criterion.
Anyone who faces problems in speaking or understanding English or anyone who wants to enhance communication skills and improve personality can pursue any basic English course or a  Business English course in Singapore.
Benefits of Business English Course in Singapore
There are various benefits of the Business English course in Singapore specially for the non-native English speakers as well as the high school students preparing for employment. In addition to that, the Business English course improves every individual according to his deficiencies and excels him in the field of his goal.
Following are some of the benefits of a course in Business English at Singapore: –
Able to identify strengths and weaknesses in written and spoken Business English
Understand own personality and adapt communication styles
Capable of understanding and using English properly to interact with authentic social environments
Become confident in speaking and crafting emails
Able to convey clearer ideas at the workplace
Get a better understanding and utilize basic grammar effectively
Able to communicate at the workplace in fluent English
Become professional in giving presentations, handling meetings and communicating with clients
Figure out the effects of personality on communication style
Also, apart from these benefits, students get ace tuition assignments which the candidates need to complete for better understanding of the course material. Most of the candidates of Business English course are either students of working professionals and both of them go through a tight schedule of classes and office respectively. However, they manage time for the courses but unable to make time for completing the given assessments of the course and need urgent assignment help.
Do they get any Assignment Help?
Of course, such tuition agency Singapore does exist and provide quick assignment help to the needful students unable to prepare their assignment sample. We provide help with assignments of any type of topic/ course. Our writing service assists all the Singaporean students with the best assignment writing help who look for homework help.
Stuck with a lot of homework assignments and feeling stressed ? Take professional academic assistance & Get 100% Plagiarism free papers
We provide assignment assistance for essay writing, PowerPoint presentations, dissertations writing as well as case studies also. Those students who are looking for help in homework for money can unhesitatingly contact us and place an order for their assignment.
Also, from our side, you will never get any issue regarding disclosure of your identity as we do not support the violation of the privacy of anyone.
Frequently Asked Questions
Q1. How will you complete my assignment of presentation?
Ans. When you will place an order for your assignment, we will assign an expert writer for your assignment writing purpose. In your case, for an assignment of presentation, we have many professional presentation makers who will complete and deliver your order by the deadline you will provide.
Q2. What is the duration of a Business English course in Singapore?
Ans. Generally, a course of Business English in Singapore takes 12 weeks i.e. 3 months.
Q3. Is a Business English course in Singapore available as an online course?
Ans. Of course, you can pursue an online Business English course in Singapore. You can contact the institutions and take their online course suitable for you and your goals.
Q4. Is a Business English course available in part-time or it is only a full-time course?
Ans. Yes, a Business English course is available in both. You can opt for a Business English course part-time or full time as per your convenience. In fact, you can choose to study part-time or full-time course online or offline (classroom study) as per your comfortability.
Q5. Will I be able to speak English with full fluency after the completion of the Business English course?
Ans. The course providers of Business English will assist you at their best to do so, but you will also need to make efforts for that. You will also need to give you 100% in classes, activities, practices and assignments etc.