Posted on: 15th Apr 2020
1183 Views
Graphic Design Short Course in Singapore
Creativity, designing, animation and sound (music) with the evolving technology is being loved by every student of a high school or college. If the students are given a choice between designing cum creativity and studies of any other academic field, they will surely choose the designing cum creativity. Following the chain, many Top Singapore Universities provide various courses for graphic designing. Some students want to make their career in this field and some only want to pursue knowledge about it out of interest. So, for those students, there is also a short course in graphic designing in Singapore.
A short term graphic design course also bestows every small detail related to each topic in graphic designing.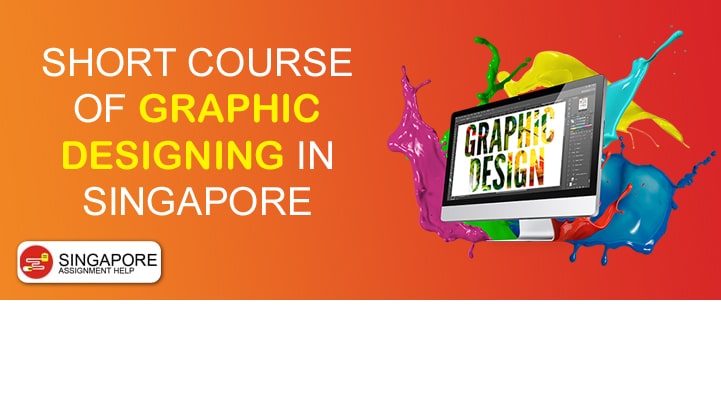 Introduction to Graphic Designing
Graphic designing is concerned with designing graphics, cartoons, animations or providing any special effect to something. Basically, graphic designing is artistry work with an aim to achieve. Graphic designing deals with solving a problem with a systematic cum creative plan using images, words and even symbols. It is visual communication and a charming demonstration of ideas and concepts employing different graphic tools and elements.
Courses of Graphic Designing
Graphic designing courses are those advanced courses which teach to create visual content for the purpose of communication. It works in various sectors like art and illusion, entertainment, product marketing, and publication etc. Graphic designing courses are available in various formats such as graduate degree course, postgraduate degree course, diploma course, short course and many more. Graphic designing is not only limited to the logo creation or advertisements but it is a vast stream which comprises of various specializations.
Types of Graphic design courses are: –
Visual Identity Graphic Design
User Interface Graphic Design
Packaging Graphic Design
Environmental Graphic Design
Marketing and Advertising Graphic Design
Publication Graphic Design
Motion Graphic Design
Art and Illusion for Graphic Design
These graphic design courses are the specialized streams of graphic designing field and the students choose to pursue a course in any of those specializations according to their interests.
What Is Short Course of Graphic Designing in Singapore
Unlike the degree courses, a short course of graphic design does not take a large time duration rather is completed in a short period. Many students do their graduation in different fields but have graphic designing in their area of interest can pursue the graphics designing courses in min time.
A best graphic designing short course is the one which is short in terms of duration and provides all the essential knowledge and skills of graphic designing.
The most popular specialization among the best short duration graphic design courses are: –
Interior Design
Product Design
Apparel Design
Jewellery Design
Universities/ Institutions for a Short Graphic Designing Course in Singapore
Graphic designing courses are available all over Singapore in most of the top universities. Those institutes provide different education programs in graphic designing. Pupils who want to make their career in graphic designing can opt for graduation and post-graduation programs in graphic design as part-time or full time as well. Those students who aspire to pursue a short duration education course in graphic design and looking for short graphic design courses details can refer to the below-suggested courses.
Following are the top universities that provide degree courses as well as best graphic designing courses of minimum duration: –
1. Mages Institute of Excellence
Motion Design Production Techniques
Interactive Environments Using Virtual Reality
Character Design for Film & Games
DD100 – Fundamentals of Digital Jewellery Design (CAD)
Designing Effective Infographics
Hire a Professional Essay & Assignment Writer for completing your Academic Assessments
---
Native Singapore Writers Team
100% Plagiarism-Free Essay
Highest Satisfaction Rate
Free Revision
On-Time Delivery
What Does a Graphic Design Short Course Assist Students With?
A job-oriented graphic design short course provides the Singaporean students with crucial knowledge of different software like Adobe Photoshop, InDesign, CorelDRAW Graphics Suite, Inkscape, Affinity Designer (illustrator), Xara Designer Pro X, and Gravit Designer etc. The short graphic designing courses educate the learners with the core skills and knowledge of designing of images, layouts, logos, creative animations, words, symbols all using the basic computer software like Adobe Photoshop and other applications.
The short course of graphic designing is associated with digital designing. As the developing modern world is getting biased towards digitalization, graphic designing is already the primary step towards digitalization in some fields like entertainment, marketing, business, production, publication, architecture and user interface.
In addition to that, the short course in the graphic designing field also assists the Singaporean candidates with many assignments like PowerPoint assignment, design thinking assignments, game design assignments or interior design homework assignments etc. All the students who hardly find time for doing anything of their field of interest, are burdened with a heap of assignments with a bold deadline of submission. To complete those outsourced assignments, the students seek academic writing help to get readymade assignments. The students even yield to pay to do homework.
Necessary Skills Required for Short Term Graphic Design Courses in Singapore
Graphic designing is useful in creating logos, brochure, magazines and advertisements etc. Graphic design is the basic mode of communication through visual composition using some computer software and other tools. It is a way to convey the primary idea, information or basic notion of something using imagery, colour, typography and form. Graphic designing is employed in creating a layout for any application like newsletter, labels, animated videos or advertisements etc.
The interest of students in designing, art and creativity is not enough for completing a graphic design course in a short period but, the students must possess more skills and enthusiasm for the graphic designing course of min duration in Singapore.
Some of the essential skills for the Singapore short graphic design course are as follows: –
Knowledge of Typography
Visualisation
Time Management
Ability to Work in Strict Deadlines
Skill in visual design
Creativity
Ability to work with detail
Knowledge of Colour theory
Ability to Work in a Team
Knowledge of Software
Good interpersonal skills
Ability to work long hours
Knowledge of Programming Languages
Good Communication Skills etc.
These universities are full of miscellaneous courses as well as assignments too. The students who barely have time to do other works lack time for these reports writing and essay writing assignments as well as thesis writing assignments. In such restlessness, the Singaporean students start looking for PhD thesis writing services or any report helper who can write their reports on time.
Placement Scope for Students of Short Course of Graphic Designing in Singapore
Not only those students who want to pursue a short duration education course pursue the short course in graphic designing but those IT students who have passed out from their degree programme since a while ago and now want to revise and get a summarization of the course also go for a graphic design short period course. As technological development will not stop, in the same way, the scope of graphic designing will automatically increase with time.
These are some of the placement scopes for a graphic designer: –
Advertising agencies
Web Design Studios
Website development studios
Graphic design studios
Print & publishing houses
E-learning companies
TV & Multimedia production houses
Some of the job profiles offered to a graphic designer are as follows: –
Web Developer
Flash Animator
Graphic Designer
SEO Consultant
UI Designer
Specialist in Content Management System
Layout Designer
Drafter (Architecture and Engineering)
Industrial/Product Designer
Art Director
Multimedia Artist/Animator
Marketing Manager
Film and Video Editor etc.
Stuck with a lot of homework assignments and feeling stressed ? Take professional academic assistance & Get 100% Plagiarism free papers
Don't Worry about Assignments! Get Instant Assignment Help from Us
Students generally misinterpret about the short term graphic designing course that in such a short course, they will not get any assignment or they will not need to complete them. But intersecting this of their rumour, we would like to inform such students that the short courses of graphic designing also comprises of different product design assignments or graphic design assignments.
The Singaporean students who struggle with their course assignments can get literature review assignment help from us. We enable the needful computer science students to submit their assignment samples to their professors on time. We have many expert writers who get paid to write essays and reports.
Our writing service delivers the perfect university assignment solutions to the students within the time limit given by the students. We facilitate every student with a unique and genuine assessment sample which is best in its form and also free from any plagiarism and error.
Moreover, we provide proper privacy to our user's identity and personal information as many students are afraid to take help from online assignment help services because of privacy issues.
Frequently asked questions
Q1. Can I become a graphic designer if I am not good at drawing?
Ans. This a very big misconception among the students that one should be good at drawing to become a graphic designer. A graphic designer needs not to draw anything by hand but to design on the computer using specific software and applications.
Q2. What is the duration of a short graphic designing course in Singapore and does it provide certificates?
Ans. There are numerous job-oriented short duration graphic designing courses in Singapore with varying course duration. It depends on the students which one they want to pursue. Generally, the short courses of graphic designing in Singapore take 1-6 months duration.
Yes, every short duration education course in graphic design provide a proper certificate to its candidate. Also, if you are looking for details of an online graphic design short course, you can refer the above-mentioned institutes to get online graphic design courses with certificates.
Q3. Do the graphic designers copy the images from google or clipart?
Ans. Absolutely Not. The graphic designing students are trained to design images, symbols, words, logos by using specific software applications and other tools on a computer.
Q4. I need help in logo designing homework. Can you make one for me?
Ans. Of course, yes. We can assist you with every type of assignment help. We can provide you with the best assignment sample with the given essential specifications.
Q5. Is a short course of graphic designing in Singapore costly?
Ans. No, not at all. A Singapore short graphic design course is not costly and any student can afford to pursue a graphic designing course of short period.