Posted on: 3rd Apr 2020
1518 Views
Graphic Designing Courses in Singapore for the Singaporean Students
Numerous Universities in the Singapore and miscellaneous courses offered by them. Most of the Singaporean students are interested in Graphic Designing and want to pursue graphic design courses after 12th. But the major issue arises in front of them is lack of guidance and information about the best course for Graphic Designing in Singapore.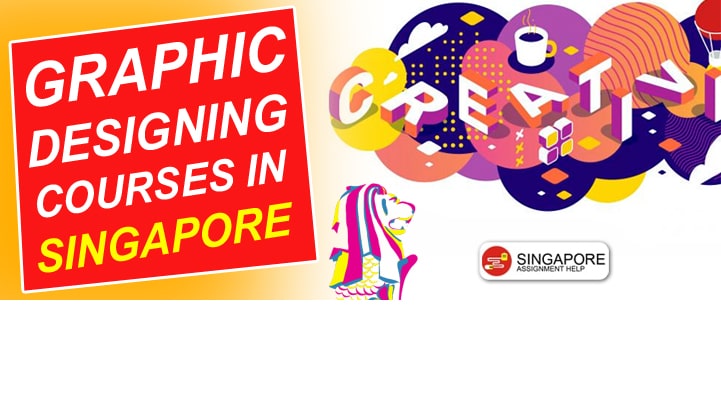 What is Graphic Designing Course?
Graphic Designing Course is an advanced course which deals with the creation of visual content to communicate. Graphic designing aims to design visual concepts using hands or any computer software which can convey the message, idea or any information. Designing of graphics is all about using visual compositions to communicate and convey the message or any information through typography, imagery, colour and form.
Hire a Professional Essay & Assignment Writer for completing your Academic Assessments
---
Native Singapore Writers Team
100% Plagiarism-Free Essay
Highest Satisfaction Rate
Free Revision
On-Time Delivery
Many students in Singapore are really interested in art and creativity and also good at computers but they do not get proper graphic design courses details and a clear direction for opting this field as a future outlook. Students do not need to have any specific qualities to pursue a regular graphic design course but the basics of computer are needed. One thing which is very important for everyone is that he/ she should be a lifelong learner as time changes, development occurs so they will need to learn new things by the time.
Singapore Universities offering Courses in Graphic Designing
There are several universities/ institutes in Singapore which provide diploma, undergraduate programmes, graduate and postgraduate programmes, a short course in Graphic Design or graphic design tutorials as well. Those students who are searching for graphic design courses college, we are providing a list of the same for them.
Different universities which offer various programs for graphic designing are as follows: –
BA (HONS) Interior Architecture and Design
BA (HONS) Digital Media
BA (HONS) Graphic Design
MTD201 Fundamentals of Graphics Design
MTD203 Advanced Graphics Design
MTD315 Computer Interactive Graphics
BAE12 Graphic Design Essentials
EAS419 Computer Systems Architecture, HCI and Graphical Interfaces
Diploma- UI UX Design Course
Professional Certificate in Packaging Design
Professional Certificate in Online Media Design
Professional Workshop in Packaging & Print Technology
Professional Workshop in Visual Communication
Diploma in Graphic Communication
Diploma in Illustration Design with Animation
Bachelor of Arts (Honours) Design and Media
5. Singapore Institute of Technology (SIT)
S35 Digital Animation
S56 Game Design & Development
S89 Interior Design
S39 Visual Effects & Motion Graphics
3D Animation & Visual Effects
Motion & Graphic Design
Concept Design & Illustration
8. First Media Design School
Conceptual Thinking Using Design Thinking Methodologies
Graphic Design Essentials (Adobe Photoshop)
Graphic Illustrations and Design Fundamentals (Packaging Design)
Typography for Design
9. MAGES Institute of Excellence
Advanced Diploma in Motion Graphic Design
Diploma in Graphic Design
Diploma in UX Designing
Insight of Graphic Designing Courses in Singapore
The platform of graphics design deals with plotting and creating some outlooks and product design using digital platforms. Various software and applications are used in designing the graphics. If someone is pursuing a degree course in graphics design, he will get to learn about all the small and big applications.
Frequently graphic designing is involved with motion design on small screens keeping in mind that the aesthetics of the work must match with the user's expectations. It completely works upon the creation, selection of colour scheme, design, organization and knowledge of tone and theme of the particular work. The Graphic Designing Courses uses Adobe Photoshop, illustrator (Affinity designer), InDesign etc.
What will you learn in Graphic Design programme?
Singaporean students who have a keen interest in designing can opt for a degree course of graphic design. They will get to learn a lot many things about the modernization, fashion, designing, creativity and different computer software as well.
If you also want to make your career in the field of digital designing, you can pursue a Singapore graphic design course. You will get a chance to discover various editing technique in Adobe Photoshop and other applications. The course will excel you with the new technology of designing, creativity and various type of graphic design styles.
Apart from teaching a lot, the degree courses of graphic designing will also come up with some graphic design assignments or some product design assignments. There no need to worry about the assignments but it is the way to learn more. Although this is true that after the regular classes of the course from morning to evening, students are not left with enough time to complete the assignment. They end up worrying for the assignment completion and look for some help to do the assignment. They search for some genuine assignment help from which they can get a readymade assignment.
Specialization in Graphic Designing Courses
The Graphic Designing Courses are not only about the logo and brochure designing but it also includes various categories in itself. Graphic designing is not only limited to the creation and designing of advertisement and magazines but also provide knowledge for the designing scope in different fields.
There are various specializations in courses of Graphic Designing: –
1. Visual Identity Graphic Design: –
Visual Graphic Design is all about the visual effect of the client. For example, a brand is a linking connection or a relationship between the organization and its clients/ audience. How an organization share its personality, theme, tone an essence, objective, emotions and experiences with the customer is called Brand Identity. The same thing is done in Visual Identity Graphic Design. It illustrates the visual aspects of the brand identity which become the face of a brand. That brand face communicates the incorporeal qualities of their product through designs, images, colour and different shapes.
Examples of Visual Identity Graphic Design-
Logos
Typography
Standard Business Cards
Corporate stationery etc.
2. Marketing and Advertising Graphic Design: –
The very first image for graphic design in the mind of people in the designs created for the advertisement and marketing purposes.
To run a company, marketing efforts are equally important as the quality of their product. Wonderful marketing interacts with the audience and engage them according to the needs, wants, understanding and knowledge about a product and brand. Marketing and Advertising Graphic Design plays a vital role in this field to run an organization successfully.
Examples of Marketing and Advertising Graphic Design-
Ads of Magazines and Newspaper
Vehicle wraps
Postcards and flyers
Brochures (Printed and Digital)
PowerPoint Presentations
Images for websites and blogs etc.
Buy high-quality essays & assignment writing as per particular university, high school or college by Singapore Writers
3. User Interface Graphic Design: –
User Interface can be described as how a user interacts with any device, system or application. UI Graphic design provides a smooth and friendly interface between the user and the device. User Interface graphic design focuses on the ease in the user's visual experience. UI graphic design works upon the design of on-screen graphic assets like menus, buttons and micro-interactions etc. It maintains a balance between the artistic call and technical functionality. Overall it deals with web design and development.
Examples of User Interface Graphic Design: –
Game Interface
Web page design
App design
Theme design (Shopify, WordPress etc.
4. Publication Graphic Design: –
Distribution of long-form pieces among the public is a great way to communicate and are known as publications. Traditionally they are in print form. Publication Design has been a prime kind of design- newspapers, think books, catalogues and magazines etc. Anyhow, there has been a significant elevation in digital publishing.
Examples of Publication Graphic Design-
Directories
Newspaper
Catalogues
Newsletters
Books
Annual reports etc.
5. Packaging Graphic Design: –
Many products need some sort of specific packaging for their protection and to preserve them. No doubt, the packaging of any product directly influences the audience and make them to take the first step towards them. Thus, the packaging is also a very important marketing tool.
Every type of packaging tells the story about the product. The Packaging Graphic Design focuses on creating a concept or a story for a product and implement it by creating a file ready to print for a product.
Examples of Packaging Graphic Design-
Food items
Beverage cans
Children's toys
Labels etc.
6. Motion Graphic Design: –
In simple terms, those graphics which moves are motion graphics. Motion graphics are simply graphics in motion. The motion graphic design is the highest and unforeseen rising graphic design in recent years. As the technology took speed, the media, video content and graphics improved and became the king. Motion graphic design also provide motion with animation in the movies, cartoons or advertisement clips.
Examples of Motion Media Design-
Promotional videos
Advertisements
Trailers
Tutorial videos
Animated movies
Video games
Animated logos
Apps
GIFs etc.
7. Environmental Graphic Design: –
The environmental graphics provides a connection between the people and places for their better experience. This makes the places more memorable, informative, attractive and most importantly easier to navigate. It provides various items in the graphics like landmarks, visual intimation or more.
The environmental graphic design consists of multiple areas for practice viz. interior design, architectural design, landscape and industrial design etc.
Examples of Environmental Graphic Design-
Museum exhibitions
Stadium branding
Signage
Public transport navigation
Office branding
Interiors of retails stores, cafes, restaurants and pubs etc.
8. Art and Illusion for Graphic Design: –
People generally take the graphic art and illustration the same as the graphic design, however, both are greatly different. The graphic designs deal with communication and solving problems whereas the art and illusion graphic design deals with the creation of original artwork.
Examples of Art and Illusion for Graphic Design-
Graphic novels
Infographics
Picture books
Comic books
Stock images
Concept art
T-shirt design
Technical illustrations
Book covers etc.
Stuck with a lot of homework assignments and feeling stressed ? Take professional academic assistance & Get 100% Plagiarism free papers
Outcomes of Singapore Graphic Designing Courses
Learning Outcomes of Graphic Designing Courses in Singapore: –
Will have rich knowledge of typography, layout, colour theory, blocking, photos and other design theory skills
Learn to edit photos and their manipulation in Adobe Photoshop
Discover different editing techniques as well as non-destructive techniques in Adobe Photoshop
Learn to create various logos and branding packages for different clients
Study about how to create various editorial spreads and magazines layouts practising on Adobe InDesign
Know the difference between Adobe Illustrator and Adobe Affinity Designer
Propose ideas for interior design
A course in graphic designing at Singapore is indeed very interesting and exciting course which will never bore anyone but everything has a dark side too. Don't panic, there is nothing wrong with the course but there is a little bit pressure of assignments during the course. Students who opt to pursue environmental graphic design course will get some interior design homework assignments. Or the students who choose to enhance their skills in UI graphic design might get some kind of game design assignments or design thinking assignment.
Similarly, different courses assign different assignments. To complete the university assignment on time, students get panicked and start typing on google that "who can do my assignment for me?" or "Who can help to do assignment?" and many more phrases like these.
In such situations, we provide the needful students with master's assignment help. Simply put, we provide writing services to Singaporean students for various assignments they get in their university. We can deliver the Singaporean students with the best quality graphic design assignment samples without any plagiarism and grammatical error.
Frequently Asked Questions
Q1. What kind of assignments are given in the Marketing and Advertising Graphic Design course?
Ans. You will get to learn many new things related to graphics as well as marketing and advertisement too. You will get PowerPoint assignments, advertisement assignment, web page image designing homework etc.
Q2. Do students need to bring their laptop and software for learning?
Ans. No, as you take admission in a university or institute, you will get a proper system and software to learn. You need not bring anything of your own.
Q3. Is graphic design course a good option for a better career?
Ans. Of course, graphic design is one of the best options in the context of career opportunities. Graphics are now everywhere. From the advertisement of small things to large ones, from pin to the plane there are graphics used. As most of the work is digital so there is a large abundance of remote work. Every business, organisation, brands etc. all need graphics for publicity, promotions and marketing. In short, the need for graphics will never have a downfall. Also, work from home and get highly paid is the cherry on the top of a cake.
Q4. Is graphic design easy?
Ans. There is a very big misconception among people that graphic designing is so easy and stress less as a graphic designer always sits in front of a computer. Graphic design is not so hard but it's not so much easy though. It is also like other professional works which require creativity, efforts and efficient output.
Q5. I am a beginner in Graphic Designing. What software is the best to work upon?
Ans. In a course of graphics designing platform, these are some of the best software-
Adobe Illustrator CC
CorelDRAW Graphics Suite
Gravit Designer
Inkscape
Sketch
Xara Designer Pro X
Q6. From where can I get online graphic design courses with certificates?
Ans. You can refer the above-mentioned colleges/ universities and get online courses for graphic designing as well as certificate too for that.