Posted on: 26th Sep 2018
2661 Views
What is the Minimum Salary to Survive in Singapore?
If you are searching for information regarding Minimum Salary Required to Survive in Singapore then you are landed on the right page. Singapore has a developed economy and business market which offers a huge range of exciting job opportunities and world-class amenities to international and local talented students. Singapore is considered to be an expensive city having high living standards.
If you are the one who is thinking to relocate or moving to Singapore for grabbing a new opportunity for your better future then you should evaluate first how reasonable it would be for you to live there or how much salary you need to earn for your better survival there.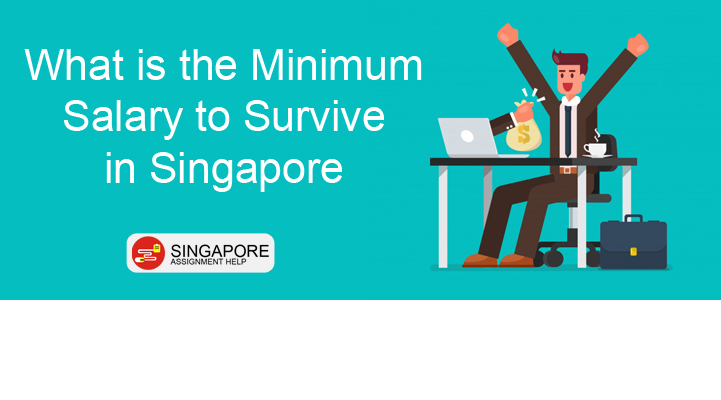 Of course, the answer would be depending on your living standards, lifestyle, and values. If you survey the different kinds of person then you get different answers. Like if you ask the one who lives a very simple life with just a regular routine then you get a different answer than the one how hardly spends his time at home after office hours and is a social climber and dream for his own flashy cars and high-class house.
Various Expenses in Singapore 
We cannot get a perfect answer by evaluating both kinds of person's life. To get a perfect answer for a minimum salary for survival we will discuss a middle-class person's lifestyle and evaluate their cost of living in Singapore.
Accommodation cost:
If you are the one who is moving to Singapore or relocating within Singapore from your parent's house, your biggest amount will spend on your accommodation. Whether you are renting a house or buying a new house, your biggest expense is housing.
1. Renting a House: If you are renting a house then the average rent in Singapore will cost you somewhere between $700- $ 1500 per month that depending on the area and what kind of house you are selecting.
If you are looking for renting a single room in a shared flat (HDB housing) or you selecting a private apartment with a shared bathroom then your expected monthly cost would be $700-$2,000.
If you don't want to share and want to rent a private one-bedroom apartment with a private bathroom it will cost you around $1500-$4,500.
The biggest difference in the cost depends on the quality of property like HDB flats with basic amenities that are very cheaper than condo apartments having some extra amenities such as a gym and pools.
Another factor is the location of flats. If you're selecting one in the centre of the city, it costs you more than the one in the city's fringe areas.
Hire a Professional Essay & Assignment Writer for completing your Academic Assessments
---
Native Singapore Writers Team
100% Plagiarism-Free Essay
Highest Satisfaction Rate
Free Revision
On-Time Delivery
2. Buying a House: If you are the one who wants to buy your own property in Singapore then you can look for either HDB flats or private flats.
Buying a new house it will cost you $1500- $3,000 per month if you can manage to buy an HDB property. New HDB flats are available at highly subsidized options where you can select one according to your income.
If you are the one with a higher income and want to buy private property then you will have to pay huge home loans.
Assuming to buy an HDB flat then you need to pay a min. 10% of your down payment and then $1500-$4,500 monthly loans for at the latest 25 years.
Cost on Daily Expenses:
One person's daily expenses are again dependent on his lifestyle but if we considered one with an average lifestyle then we can expect the following costs:
1. Food: Singapore has huge options available for cheap price daily meals. One can manage his daily basic meal for $3-$4(not including drinks).
If one goes out for dining in a middle-class restaurant then it will cost them $20-$30 for one time meal.
2. Groceries: if you are planning to cook at home then you will have to spend almost $200 on groceries.
3. Mobile bills: one can manage his mobile bills for $20 for a basic plan with 2-3 GB of internet data. If you want more data then you will have to pay more for it.
4. Gym and other sports: gyms and other activities are quite expensive in Singapore. By considering a reasonable-price option, one can manage $100 per month.
5. Coffee: coffee in a regular local Hawker can cost $1 but in a western-style coffee shop it will cost around $30-$40.
6. Drink: Costs of drinks are highly expensive in Singapore. A pint of beer at a bar will cost you around $15-$20.
Buy high-quality essays & assignment writing as per particular university, high school or college by Singapore Writers
Transportation Cost:
Transportation cost truly depends on how long to travel each day and what kind of transportation you choose for your travelling.
If you are lucky enough to manage to live near to your workplace or in the middle city then you will have to spend very less than the one who lives at periphery locations and has to commute long on daily basis.
Public transports are quite reasonable and developed in Singapore and have lots of reasonable options available such as MTR, buses, and taxis. One can manage its daily transportation cost at $100-$200 per month if using public transport.
But if you want to buy your own car then you will have to spend $1000-$2000 per month (car instalments, petrol, and parking.)
Other Expenses:
If you are the one who doesn't like to party and wants to live a basic routine life then you are the lucky one to save a lot but the one who believes in enjoying and the party will have to consider lots of extra money in their budget.
Movie: If you are a movie lover and regularly go out to watch a movie then a movie can charge $ 9 on weekdays and $ 13 on weekends.
Travelling: Love to travel every weekend then Singapore has many options for cheap flights from Singapore to near destinations but that will cost you a minimum $200 on every single weekend trip.
Drinking and dining out: A single drink and dining activity can cost you $50 per single person depending upon the restaurant.
A gym membership: A gym membership can cost you $100-$150 per month unless you select the expensive brand names.
Stuck with a lot of homework assignments and feeling stressed ? Take professional academic assistance & Get 100% Plagiarism free papers
Minimum Salary to Survive in Singapore
The one who only wants just basics to live in Singapore such as cooking food at home, watching movies on Netflix, using basic internet plans, using only public transport and renting at shared HDB housing flats can manage his survival at $1,200. This is the cheapest lifestyle for living in Singapore.
The one who wants to live middle-class or comfortably life in Singapore with shared condo flats, sometimes dining out in middle-class restaurants, sometimes using taxis and cabs and using some cheap gym facilities and moderate drinking and movies out can survive with $2,500.
Those who want to enjoy a high-end life including renting an entire apartment, dinner at a nice restaurant, using personal cars and taxis, going to clubs, dating, and travelling & wanting to live in Singapore with family have to spend $10,000 per month.