Posted on: 23rd Apr 2020
1100 Views
How to write a Business Plan
Writing Business planning is an opportunity that encourages you to think about each step of starting a business. When students pursuing Masters or graduates are asked to write a business plan they have issues in writing it. In this article, our professional is providing students with a proper guideline on How to write a business plan?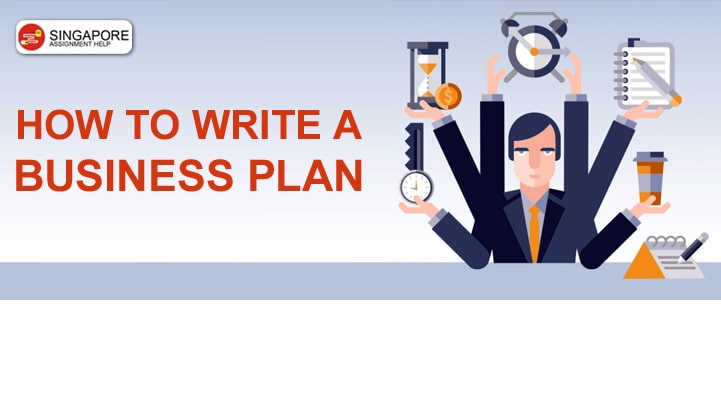 Business Planning
Business planning is an initial step towards establishing or running a successful organization.  It is a systematic process that involves the determination of products or services which you intend to offer. While developing a business plan you need to decide the place where you want to establish your company.  The other activities which you need to perform when developing a business plan include competitor analysis, estimation of demand for a specific product. You also should prepare the financial model. Business planning is considered to be a continuous activity.  It is very much important for you to make modifications to your business plan based on changes in internal and external factors.
Hire a Professional Essay & Assignment Writer for completing your Academic Assessments
---
Native Singapore Writers Team
100% Plagiarism-Free Essay
Highest Satisfaction Rate
Free Revision
On-Time Delivery
Benefits of business planning
Some benefits of business planning is that
It helps in setting up a structured business.
Business planning helps in saving time and costs.
An effective business planning assists you in ensuring the availability of a sufficient amount of funding.
It enables you to develop an in-depth understanding of business.
A proper business plan allows you to ensure the validity of assumptions.
It is through writing a business plan you can discover the strengths and weaknesses of your business idea. You will also get a chance to explore opportunities and challenges.
How to write a business plan?
The 4 step process of writing a business plan is:
Step 1: Identification of business
It is an initial step where you need to generate the ideas of establishing a business. At this step you need to determine which type of business you intend to establish. You also need to determine business operations. The other things which you are required to decide to include the name of your company, location, objectives, place, supporting members, cost of implementing the project.
Step 2:  Competitor analysis
After successful determination of name, location, objectives, etc you need to conduct surveys or market research for analyzing the level of competition in an industry. After the collection of information about industry and market, you need to analyze strength, weaknesses of your products or services.  When analyzing the information you should mainly concentrate on trends, several competitors, pricing and other strategies, needs, and demands of customers, etc.
Step 3: Determination of capital expenditure
At this step, you need to determine the capital expenditure involved in establishing a specific type of business. At the time of writing a business plan, you should also prepare a flexible budget. While preparing a budget you should include estimated money which you will spend on buying essential resources such as land, furniture, machinery and other equipment which are needed for successfully running a business.
Step 4: Need and sources of funds
At this step of writing a business plan, you need to estimate the number of funds that you will need for establishing and running a business. It is also important for you to address the sources from where you will obtain funds for fulfilling business requirements. You can obtain loans for raising the funds for fulfilling business needs.
Information need for writing a business plan
When writing a plan for the business, you need to collect a huge amount of information like:
Cash flow statement
Income statement
Detail financial projections
List of capital equipment
Letter of creditability
Buy high-quality essays & assignment writing as per particular university, high school or college by Singapore Writers
What goes into a business plan?
A good business plan is written basically in 15 to 25 pages. The length of the business plan is dependent on different factors like whether you are writing a business plan for launching new goods or services, pitching bankers for obtaining funds for expansion of business, etc.  For instance, if you are writing a business plan for pitching the bankers then you need to write a detailed business plan. In such a case, by writing a detailed business plan you will be able to positively influence bankers or investors for investing in your business.
The 7 Things to include in the business plan are:
1. Executive summary
At the beginning of the business plan, you need to write an executive summary after including the title page. In the executive summary you need to include explanations about the fundamentals of your business. An executive summary in your business plan should provide a synopsis of business ideas. It should provide a clear explanation about your business concept including information about the financial requirements. You should also clearly state the present position of your business.
2. Business description
You need to start writing a business plan by briefly describing the industry in which you intend to establish your business. Based on information gathered through the market survey you need to clearly state whether the launching of new products or services will give your profit or loss. If in case you are writing a business plan for seeking funds then you need to provide information along with reliable sources. You also need to provide detailed information about the structure of the business operation.
3. Create a market strategy
If you are writing a business plan for launching new products or establishing a new business you need to write about the strategies which you will utilize for promoting your brand. You can write the market strategies based on the information collected through the survey. In this section of the business plan you should also include analysis of the market about the size, sales, and growth potential.  You should include a distribution plan and promotional strategy.
4. Write information about competitors
By including the information about the competitors in your business plan, you will be able to design such strategies that will help you in gaining a competitive advantage. You will be able to design tactics for creating barriers to preventing competition. While writing a business plan you need to explain the reason because of which you think that your business will succeed.
5. Design and development plan
When writing a business plan it is very much important for you to describe the design of the product. You also need to provide detail about the techniques or procedures you will use for producing and marketing specific products. It is also very much important for you to specify the budget for product/ business development. It is the tactics that will help you in reaching your goals.
6. Operation and management plan
In this section of the business plan you need to specify the business functioning.  If you are going to manufacture products then you need to provide a description of the procedure and list of equipment' you are going to use in creating a particular product. In this section of the business plan, you also need to provide detailed information about working facilities, legal environment, suppliers, inventory, etc.  You can utilize the business canvas model for systematically presenting all such information.  When writing a business plan you also need to highlight the roles and responsibilities of all people in your management team.
7. Financial factors
It is considered to be an important element of the business plan.  Here, you need to include a financial plan, cost sheet, financial projections,   estimate sales, and profit. In this section of the business plan, you need to provide information about the number of funds you need for establishing a new business or launching new products. You should also provide detail about how and where you are going to invest in funds. While writing this section of the business plan you require demonstrating cash flow statements and break-even analysis.
What are the different types of business plans?
The different types of a business plan are:
a) Working plan
It is a plan where you need to provide information about the tools or techniques which you will utilize for operating your business.  Such types of plans you can create for explaining your business ideas to your team.
b) Mini plan
Sometimes investors or bankers might ask you to submit a mini business plan. It consists of a summary of your main business plan.  While writing the mini-plan you need not provide detailed information and explanation. Min in the business plan also consists of similar elements as of detailed business plan.  It consists of 1 to 10 pages. The different elements which you need to include in a mini business plan are business concepts, financial requirements, marketing plan, income projection, balance sheet, etc.  You can use t mini-plan for presenting the idea to business partners or investors.
c) Presentation plan
The presentation plan also consists of some kind of information as a normal business plan.  Such types of business plans are design for those who do not have any kind of knowledge about business. You can write a presentation plan for influencing the investors for investing. While making the presentation plan you need to consider that investors might intend to get knowledge about risks, competitions threat, etc. They also might intend to get information about financial projections. You can present your business using PowerPoint presentations.
d) What if plan
It is also recognized to be a contingency plan. What if the plan is a plan which you can implement at the time of uncertain or unfavorable situations?  An entrepreneur or business manager creates such type of plan for dealing with the unfavorable situations in business such as heavy price competition, loss of market share, etc.  It is the plan which business manager design by assuming the changes in external and internal factors that could adversely affect business.
Conclusion
It has been concluded from the above that a business plan is a blueprint that helps in identifying suitable ways of establishing and expanding business. Another fact which has been found is that a business plan can be utilized for different purposes.
Stuck with a lot of homework assignments and feeling stressed ? Take professional academic assistance & Get 100% Plagiarism free papers