Posted on: 22nd Aug 2019
2163 Views
What Is An HND (Higher National Diploma )
An HND (Higher National Diploma) is a stream of study which prepares the students in a particular job field where he or she can make their career. Apart from theoretical studies, a large portion of course knowledge is imparted through practical elements also. It prepares a student for a particular career and provides all types of needed professional teaching and training in order to excel in that particular career.
In Singapore, Higher National Diploma courses are imparted in plenty in many colleges and universities. Moreover, these courses are quite popular among Singapore students. HND assignment tasks and academic works are specially designed for work in various industrial sectors.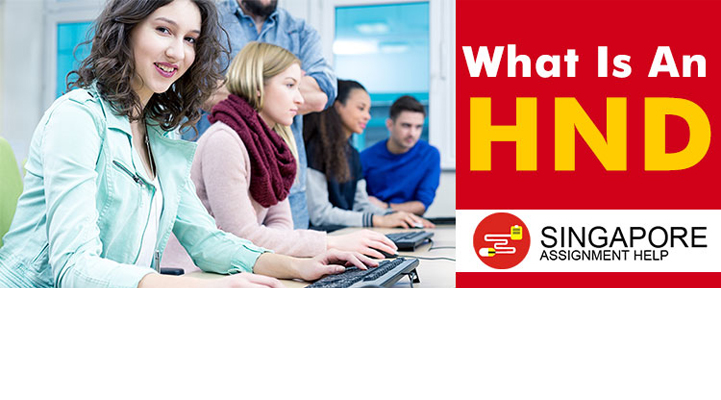 In fact, due to this reason, most of the companies and employers offering jobs in Singapore prefer to hire only those students have completed the study course of HND (Higher National Diploma). It is a trend in Singapore to hire students pursuing or have completed HND courses. This is because they have practical experiences of the job-oriented courses which they were studying.
"Are you pursuing HND diploma courses in Architecture? If yes then get all types of diploma assignment writing from the experts at SingaporeAssignmentHelp.Com".
What Is An HND?
An HND (Higher National Diploma) is an educational qualification which is offered in various countries including Singapore. Some educational institutes offering HND degree in Singapore also has tie-ups with even foreign countries like UK, USA, etc.
Though it is exactly not called the official higher education degree, this qualification is considered enough to gain admission at colleges and universities in the final third-year degree program. This is because the HND qualification is equal to the first 2 years of a bachelor's degree program. The HND courses are a type of vocational training which is imparted in areas of engineering, management, etc to suit career choice of various students.
What Is The Education Level Of HND (Higher National Diploma )?
The education level of HND is of level 5 and is awarded by various organizations such as BTEC HND and the Confederation of Tourism & Hospitality. You can pursue HND via Singapore colleges and universities or through long-distance learning programs.
Hire a Professional Essay & Assignment Writer for completing your Academic Assessments
---
Native Singapore Writers Team
100% Plagiarism-Free Essay
Highest Satisfaction Rate
Free Revision
On-Time Delivery
What Is The Eligibility Of Gaining Admission At HND Courses?
If you are an aspiring student seeking to get admission at Singapore colleges and universities to study HND course of your choice then you must prove your eligibility. If you have completed "A" level certificate or equivalent then you can gain a seat at premium colleges and universities of Singapore offering quality HND courses. Most of the students also join HND after completing their 6th form college. It is simply called "A" levels or Scottish Highers.
Students can also join HND after doing HNC or from full-time jobs too. If the students also have some past qualification such as "A" level or a BTEC then it is also considered eligible to take admission at HND courses. Lastly, before the students aspire to take admission for HND courses at Singapore colleges and universities then they must check with the admission officials regarding the admission criteria and other requirements of Eligibility.
"If you are pursuing Commerce or Accounts as your HND then you must get best commerce assignment writers at SingaporeAssignmentHelp.Com to help you write commerce diploma assignments at cheap prices, that too within the deadline".
Fees Structure of HND Courses at Singapore
It is important to also know about the fees structure of HND courses. The fees vary from one HND course to another. The HND fees range in between $4000- $8000 per year. Students can easily take an education loan with lower interest rates at designated banks of Singapore. If you want to know the exact fees structure of HND courses, it is advised to check directly with the educational institutes offering HND courses.
What is an HND useful for?
Pursuing HND courses as your higher education can help you achieve job training and also the required skills to do that job. It will help you to have a bright career and a glorious future ahead. Therefore, having HND as your higher education course has many benefits, these are:
HND course training will allow you to have a taste of the work and job which you will do after completing the course.
You can join HND after school. This will help you to work and earn early than your other counterparts who have chosen to study non-vocational and other regular degree programs for a long-term duration.
After completing your HND, you will also be able to take admission at the degree course in the final third year itself.
The HND qualification will help you to develop confidence and gain special knowledge and demanding skills required to get a job for that particular work field.
It also saves your time and money both.
What subjects can I study at a Higher National Diploma?
HND offers courses in the following subjects and industries which are:
Agriculture
Computing and Information Technology
Civil engineering
Architecture
Mechanical Engineering
Health and social care
Nursing
Business and management
Sport and Physical Education
Performing Arts
Retail and Marketing
Business Management
Tourism
Hospitality management
Photography and many more vocational courses like diploma in counseling and other technical HND courses.
Stuck with a lot of homework assignments and feeling stressed ? Take professional academic assistance & Get 100% Plagiarism free papers
How are HNDs Graded & Credited?
The grading system of Higher National Diploma courses is a Pass (P), Merit (M), Distinction (D). The grade of Merit (M) is higher than the Pass (P). The highest grade given in HND is Distinction (D). Moreover, the total worth of HND is 240 credit points.
Career Options after Doing HND
There are huge job opportunities available after you complete a particular HND course. You can get jobs after completing HND in a particular course.  You can get jobs like Mechanical Engineer, Sports Coach, IT & Software Engineer, Technician, Electrician, etc.
Conclusion
If you are or have pursued HND courses as part of your higher education program then you can greatly establish yourself with a bright career ahead. HND can earn you a guaranteed job and also fetch you a degree at the same time. HND takes about 2- 4 years of course duration depending upon the choice of full-time or part-time courses you have taken.
You can get practical skills which can directly land you in a job. Moreover, after you get admission at HND courses it is likely that you will get daily assignments and academic projects. If you require any help you can contact the assignment helpers online at SingaporeAssignmentHelp.Com. They provide the best and cheap services of university assignment writing related to HND.