Posted on: 27th Jul 2019
3135 Views
Consequences And Penalties of Plagiarism For Singaporean Students
Plagiarism in the writing field is committed personally, professionally, ethically and legally. There are various consequences of plagiarism if you are caught. Most of the educational institutes and corporate offices in Singapore discourage plagiarism. They also use various plagiarism detection tools to avoid plagiarism in the fields of academic and professional writings.
So, due to this step taken many people are caught on a larger scale. Students are usually given scolding, punished, given fewer grades or expelled. In the same way, professional writers also lose their reputation and jobs. Once a person is found to be guilty of plagiarism they are always looked down upon by others.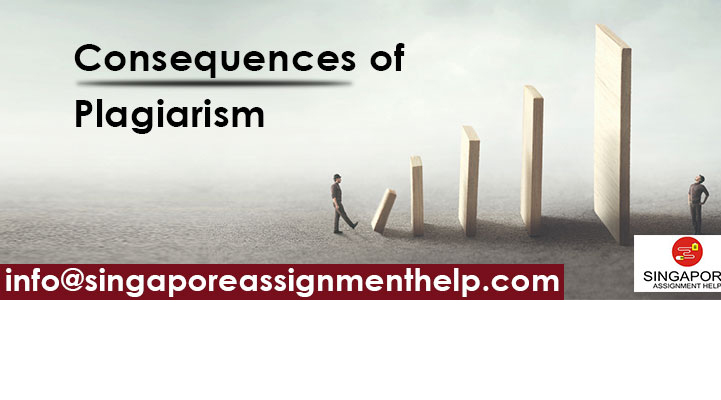 Usually, In Singapore, most of the peoples caught using plagiarized writings are academics, professional writers, students, authors, media persons, etc. In this piece of writing, we will discuss various consequences of using plagiarism. Moreover, you will also be informed about various ways to avoid plagiarism.
What Are The Consequences And Penalties Of Plagiarism?
What happens when you plagiarize? There are various consequences of plagiarism which have the brutal capability to provide a negative result on the academic career of the students.  It also provides very bad effects on the career among the professionals. Here are the main consequences of plagiarism which are:
No. 1 – Destroys student's reputation:  When a student from Singapore is alleged of writing plagiarized content which is copied from an author or from any books or online sources then he or she is found guilty of committing plagiarism.
The punishment they get is either suspension for days or weeks, or expulsion from the school, college or university. This kind of allegations clearly reflects in their academic records.
All the educational institutes of Singapore take plagiarism very critically and very often students were even detained or not promoted to the next higher class.
Hire a Professional Essay & Assignment Writer for completing your Academic Assessments
---
Native Singapore Writers Team
100% Plagiarism-Free Essay
Highest Satisfaction Rate
Free Revision
On-Time Delivery
No. 2 – Destroys An Academic's Career & Reputation:  The rampant increase of plagiarism is widely seen in the world of academics and the book publishing industry. It is widely reported that many unscrupulous writers have copied other people's work or stole from them and published it under their name. If it is found that a specific writer or an author has published copied works under their name.
If found guilty, is an end to their writing career. Moreover, their reputation in front of society is also degraded. If the writers and academic people have known about plagiarism facts then they have never should have done this unethical work. Sometimes unscrupulous writers intentionally copy other people's work and publish it under their name.
No. 3 – Legal Impact:  It is very serious when due to plagiarism; legal action is being taken upon the law. There are many bad authors and writers who violates the copyright laws. Copying content from a renowned writer can even land you in jail.
The persons who are susceptible to such kinds of plagiarism issues are authors, journalists, and professional writers. A professional writer who writes frequently is aware of the copyright laws and also avoids plagiarism. Thus, plagiarism is a serious ethical issue and also a big legal issue and legal crime too.
No. 4 – Monetary Fines or Penalties: You must have seen in newspapers and TV news that journalists, authors, researchers, and artists are accused of plagiarism. Sometimes, it happens that when a journalist or an author found a person to be guilty of plagiarism and sues them.
In some cases, you have seen that the matter has been solved by paying huge monetary compensation to the original creator of the work.
No. 5 – Destroys Professional Fame & Name:  If a journalist or a professional writer is accused of plagiarism then their whole career life is damaged. They would be either fired or be demoted much lower than their current job position. Moreover, it will be also hard for them to seek a job in other companies.
Thus, these are the reason which conveys what will happen to you after the consequences of plagiarism. In some cases, the result of plagiarism is a prison, loss of reputation, job or academic life and even loss of people's lives out of sheer shame.
Thus, it is important for the people of Singapore to know that they must learn how to summarize without plagiarized the entire writings.
How to Avoid Negative Effects of Plagiarism?
The consequence of plagiarism is far-reaching in every sector such as research, academics, and the professional world. There is no immune from it and the best way to save from plagiarism is to totally avoid plagiarism at any cost.
When a person is accused of committing the crime of plagiarism, their ignorance and social position are not seen by the law. So, it is very important to learn about plagiarism before you get involved in any writing project and writing assignments.
Find out about all the plagiarism facts and learn about them. Moreover, you must also use some online plagiarism detection software such as Turnitin. This is used for checking plagiarized content in various writing projects.
Thus, there are also other ways to avoid plagiarism and save your career & reputation also from legal action. These are as follows:
You can avoid using plagiarized content by just playing and moulding the words and sentences in many ways. You can take an idea from a particular source, but you must write that idea by using your own imagination and unique writings.
You can take writing ideas from more than one source. You can also cite the references of the sources to maintain the authenticity of the written paper by you.
Buy high-quality essays & assignment writing as per particular university, high school or college by Singapore Writers
100% Plagiarism Free Writing with Singapore Assignment Help
If you are a student in Singapore and were given assignments in the form of essays, research, thesis, report writing, etc then you can take students assignment help from professional writing companies in Singapore. The native writers are qualified to write the assignment and are free from plagiarism. They write in an authentic manner with unique creative ideas. These writers are available at SingaporeAssignmentHelp.Com and most of the students who are studying at Dublin, Cork, etc prefer to take their writing help. Scholars studying at University College Cork, Dublin University, etc prefer to get assignment help from these writers in order to avoid plagiarism in the assignment copy.
Conclusion
Therefore, now you are informed about the ill-effects and consequences of plagiarism. You must never follow plagiarism or use plagiarized content in your writing projects. This will make you avoid any kind of legal problem and other punishments which are associated with this offence.
There are also some ways discussed which can help you avoid plagiarism. So, present a unique written academic assignment writing or professional writing which is free from plagiarism.