Posted on: 14th Sep 2018
1659 Views
How do I publish a research paper online for free?
Many academic writings need to be published in a peer-reviewed journal. This is a part of the academic process. It allows you to create a network and connect with other scholars and refine your ideas and research. Moreover, it gives your name 'recognition' and your paper to be reviewed by others.
When a student writes a paper which is going to publish, he conducts high-quality research, collects the information & data based on the hypothesis with using appropriate research methodology and creates a manuscript for publication in the peer-reviewed journal.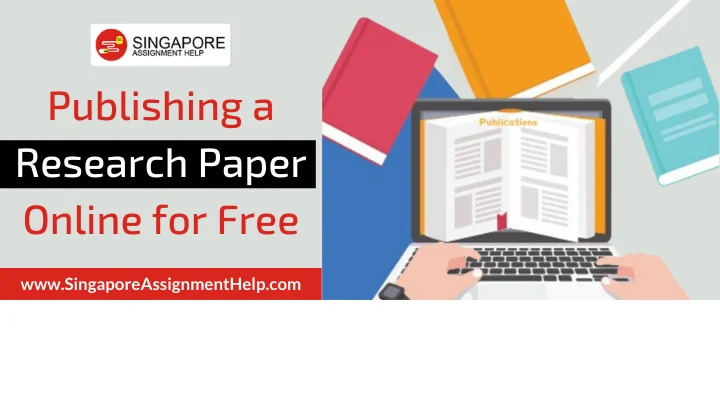 Get Research Paper Help in creating a research paper which will get submit easily.
Usually, this is so commonly seen that whenever a student attempts to submit its paper he has to face many rejections but when a student writes its paper with considering all the shortcoming of the manuscript and the process of submission then it will increase the probability of manuscript to be got published.
Getting the research paper published is not such an easy task but a student can increase the chances by writing a technically sound and creative research paper and then selecting a suitable journal for your paper.
Steps of getting publish your paper online for free:
1. Create a proper error free paper:
To get your paper to submit you need to write an appropriate paper and then need to follow some steps:
Review your paper by your faculties: A research paper should be written in a very clear and understandable language so the audience can easily understand this. While writing there is lots of chances to mistakes so better get your paper check with your respective facilities so they can check your paper with any grammatical mistake and spelling & phrases check and use of proper tone.
Get your paper proofread by proofreading and editing help of singaporeassignmenthelp.com
Get it check with your 2-3 colleagues: It is always beneficial to get your paper check with your colleagues because they can give you many ideas for improvement.
Revise your paper: When you will get your paper check with your faculty and colleagues they will give you so many suggestions then you give extra efforts and revise the only content which is best suitable and makes your paper more clear.
Hire a Professional Essay & Assignment Writer for completing your Academic Assessments
---
Native Singapore Writers Team
100% Plagiarism-Free Essay
Highest Satisfaction Rate
Free Revision
On-Time Delivery
2. Select a publication for your research paper:
Once you feel that you have written an appropriate manuscript and now the paper is ready for publication, you need to select one publication that suits to your paper.
Decide on one publication: There are so many publications which publish papers without charging anything, choose the best suited publication for your paper which will publish your paper easily. Each publication has its defined audiences and specific writing styles so select one wisely which technically suits to your paper.
Format your paper layout according to the selected journal: There are so many publications which have their own specification related to the paper layout, font size, font type and word limit. Read all the requirements carefully of your selected publisher and revise your paper with such required changes.
Read the available published papers: This is a very helpful procedure. When you will read the other available and published papers you will get to know so many things. Or you can ask a good list from your faculty so can observe many things and increase the chances of your paper to be published.
3. Submit your research paper:
When you have selected one publication for your paper and corrected all the required changes, now you feel that your paper is up to mark and ready for submission. Submit your paper.
While submitting it is advisable to add your university email account and some university detail. This will present that you are a scholar and increase your credibility.
4. Don't panic if your journal is rejected:
Only a few journals get accepted at the first time, don't worry if your journal gets rejected, the only little adjustment will be required and then again try for the submission.
Buy high-quality essays & assignment writing as per particular university, high school or college by Singapore Writers
5. Rewrite and Resubmit your journal:
When your journal got rejected it must have given you some suggestions and comments. Based on such comments and suggestions revise your work and try again for the submission.
6. Keep try till your paper get published:
Try at least 4-5 times on the specifically chosen publication, if even after those many rejections your paper will not get submit by such publication then re-write your paper and submit to other website.
Every publication has its own criteria; a rejected paper doesn't mean that paper is a bad paper. Maybe move to another publication will get your paper submitted but remember try till your paper get submitted.
Once your paper is accepted by a publication, it will further processed for formatting, proofreading, editing and then the final proof will be sent to the author for further verification. When the author will accept your paper, your paper is finally published.