Posted on: 28th Aug 2019
2238 Views
What is a Capstone Project
In Singapore, when you talk about a particular project management writing task, Capstone projects are always on the forefront. If you are a student of Singapore colleges and universities who are soon going to complete your graduation and post-graduation degree courses, then Capstone Projects has always been a part of your academic task in order to earn your degree without any fail. At the beginning of the term, your professors might have told you about Capstone projects which are to be done before you complete your degree courses.
Here, in this blog, you will be informed about the capstone project's meaning and why it holds a significant role in completing your degree program successfully. Moreover, students were also given a complex capstone project. If any of the students face difficulty in completing a capstone project perfectly then you can get extra help from the academic experts at Singapore AssignmentHelp.Com.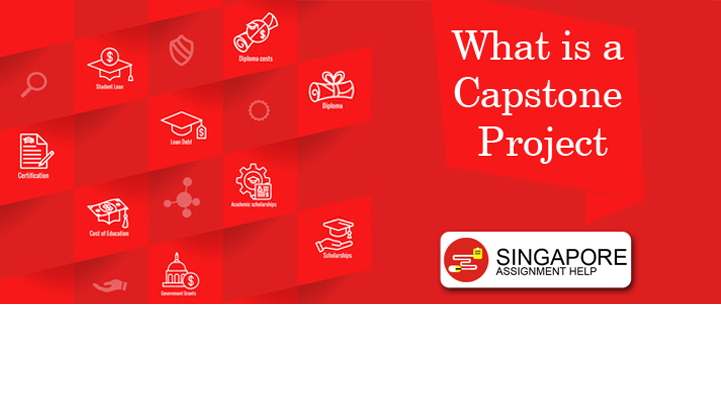 Meaning of Capstone Project
A capstone project is defined as an assignment task given to the students of high school, college, or graduation to provide intellectual experience and examine academic skills and knowledge in multiple dimensions.
What is a capstone project in high school?
Capstone project work is also given to the high school students also. For the high school students, Capstone project is a type of assignment for overall learning and development of the students, and given during the final year, or at the end of an academic program. This assignment project is the same as a thesis project. Here you will be making reports in capstone projects. Moreover, capstone projects are also done in the form of a product, concert, or presentation.
Hire a Professional Essay & Assignment Writer for completing your Academic Assessments
---
Native Singapore Writers Team
100% Plagiarism-Free Essay
Highest Satisfaction Rate
Free Revision
On-Time Delivery
What is a capstone project in graduate school?
A capstone project is a final project before graduation from graduate school. It slightly varies from the high school capstone project. A capstone project in college requires an in-depth study of a topic selected by the student in order to exhibit skills, competence, and knowledge.
Mostly, the students of Singapore colleges are being handed out various topics of Capstone projects. These projects are given to you to determine how much you have grasp knowledge in your specialized subject. The project topic could be a practical question or problem and issues related to the topic of the subject of your specialization.
A normal Capstone project can be an analytical business case study and creating a policy proposal. It can also be developing an original web or mobile application or writing a research paper with deep analysis and explanation.
It is very important to complete and submit Capstone projects perfectly and also that too in time so that you will get good credit rates and higher grades to complete your graduation without any problems.
How to do a Capstone Project?
Capstone projects are done in various ways. It is also just a series of highly developed courses and an all-inclusive exam. Sometimes even the schools in Singapore gives Capstone projects to the students as a part of school academic task.
The first phase of the Capstone project includes choosing a particular topic or idea. It can be complex topic ideas that require a lot of statistical analysis. These complex topics are regarded to be one of the worst topics like market analysis assignment writing since it is very difficult for the audience to understand.
In addition to this, the best of the Capstone projects involves using a particular code of examining a plan or scheme. Here is the step wise process to do a Capstone project:
Before you attempt doing a Capstone project upon a particular topic you must submit a project proposal or project plan to your advisors and professors. The proposal must be prepared 45 pages long or more. This is treated as an introduction to your Capstone project.
After that, it defines and gives shapes to the present theories. Moreover, the proposal paper also provides a review of the topic in which you intend to do research in your project. It also talks about the writing style and thesis of this Capstone project.
If your proposal is accepted by the advisors, then you must immediately start begins with your research. This includes reading and understanding the topic along with strict research.
The length of the Capstone project is quite long and time-consuming. Most of the Capstone project requires about 40 hours of total work time. Moreover, it also takes 4 to 8 weeks of revision and review.
Capstone projects need to be submitted at the end of the year or semester. You will also receive credit and grades for this after you submit it.
Buy high-quality essays & assignment writing as per particular university, high school or college by Singapore Writers
Why Capstone Projects are Given to the Students?
Capstone projects are given to the students so that they can develop their skills in research and also accomplish educational tasks. Here is how capstone projects can benefit the students in many ways:
Capstone projects are given to the students to demonstrate their learning skills. It makes the students upgrade their critical thinking and reasoning skills. Also, it teaches the students about problem-solving skills too.
Capstone project tasks make a student expert in the skills of public speaking and writing. It also makes your presentation skills flawless.
A Capstone project if done with immense success it will be an important milestone for you to earn you're a degree.
What is the Grading & Reward System of Capstone Project?
The grades in Capstone projects are awarded the standard peer grading system. On the other hand, Capstone projects are awarded grades automatically or by experts. In some academic specialized subjects, you will be awarded grade only after you submit the finished project successfully. While in other specialized subjects, you will get separate grades for each project section.
You will also get outstanding rewards and bonuses associated with Capstone projects. In some specialized subjects, you will receive awards and recognitions your college or university and industry partners. You will get the facility of virtual meeting with instructors and recognized industry professionals. Your best Capstone project will also get media attention after it is promoted on a popular TV channel or at a famous publication house or press.
Conclusion
Therefore, now that you have the known about the Capstone project and its significance in a student's academic life. Capstone projects may be quite tough to handle sometimes. But, it is important to solve due to grades and credit points.
If you also have any issue related to doing a Capstone project, you can take project assistance from the Singapore experts at SingaporeAssignmentHelp.Com. You can also get capstone project example from our professional writers. If you have any request like "I want quality Singapore assignment help" then the experts will be always ready to help you.
Stuck with a lot of homework assignments and feeling stressed ? Take professional academic assistance & Get 100% Plagiarism free papers