Posted on: 9th Oct 2020
1160 Views
Differences Between TMA and TOA Assignments
Due to the recent outbreak of the coronavirus, the Universities and Colleges in Singapore are starting to shift their assessments, classes, and examination towards the online format. Now the students of Singapore are required to attend their online classes.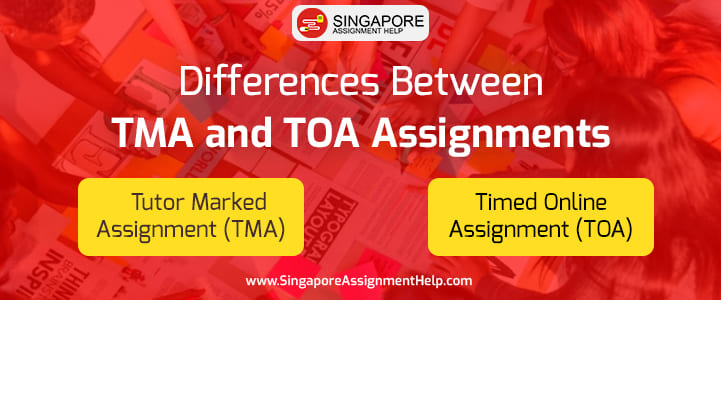 To assess the students the Universities and Colleges have come up with a solution to take online assessments and assignments. Students are taking advantage of the situation by taking assignment writing services to gain good marks in their academics.
TMA vs TOA Assignment
The two forms of the assignments TMA and TOA stands for tutor marked assignments and timed online assignment respectively. We are discussing the difference between the TMA and TOA in this article and the differences are as follows
| | |
| --- | --- |
| Tutor marked assignment (TMA) | Timed online assignment (TOA) |
| These types of assignments are targeted to keep the learners with the study and learning habits. | These types of assignment are not as regular as the Tutor marked assignments. |
| It contains a total up to 20% of the marks in final year of the graduation. | It doesn't contain a percentage but are marked after the submission. |
| As these are regular it can be given to check the understanding of the topic by the tutor. | Timed online assignments are taken on fixed date and time which is informed in advance by the teacher. |
| The pattern is simple and it contains writing as per the students' choice before the submission date. | This pattern is similar to exam as the time and dates are pre fixed. The pattern is similar to that of the exams. |
| The questions or topic are given in advance. The student knows it before writing the assignment. | The questions or topic are not given In the advance. Student will only know them when the time starts as in exams. |
| Tutor marked assignment involves marks deduction if the student fails to submit the assignment. | The timed online assignment does not involve the deduction of the mark. If the student fails to submit or attempt the assignment, they are considered as auto withdrawal from the course. |
| The Tutor Marked Assignment is submitted on canvas, which is an online learning management system. | The TOA is submitted on canvas but with a time limit and a fixed date. |
| It requires basic preparations and practice to attempt this type of assignment. | It requires preparations and practices like an exam to write the TOA. Students are required to get ready as they would do it for an exam. |
| Generally, the time limit is in days or will be given by the tutor. | The time limit is the same as an exam plus an additional half an hour. |
There are many differences between the two forms of the assignment. They both help the tutor to assess the students in academic knowledge. The students can get more time to prepare for a timed online assignment by taking good writing services for their assignment. Many students have gained good grades by taking services from genuine companies.
Hire Professional Singapore Essay Writers to Write Academic Assignments