Posted on: 17th Dec 2020
1205 Views
Open Book Exam Guide For Singapore Students
After lockdown and covid-19 pandemic in the entire city of Singapore, many universities and colleges are moving towards timed online assessment (TOA), open-book examination (OBE), and tutor-marked assignments (TMA) as a new format of taking assignments and exams.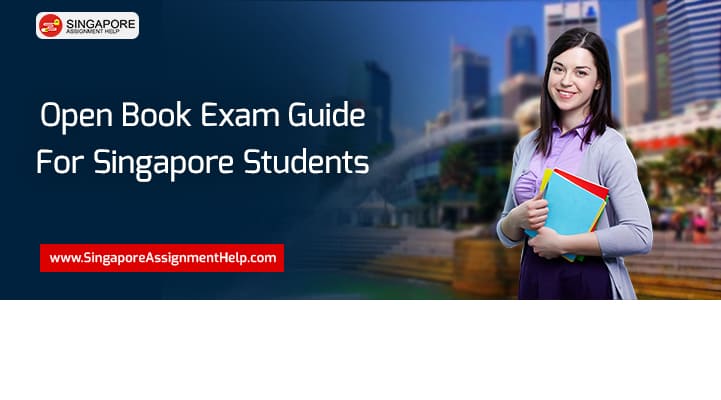 It becomes a daunting task for many students as they cannot run from these exams as they are time-based and can affect their grades.
They take advantage of such situations and search for academic writing assistance in Singapore to get stress free.
What are the open book assignments?
Open book assignments or exams are the types of exam situations where a candidate is allowed to take resource materials, textbooks, or notes with them.
Open book exams require the application of knowledge. They may include delivering solutions, problem-solving, or essay-style questions.
For example, in a law subject, the question may involve a hypothetical fact situation.
Open book exams or assignments are of two forms:
 Take home open book assignment exams- these are types of exams or assignments a student does at home. The detailed answers for the questions are to be submitted within the stipulated time to the professor or your responses can be submitted in web learn.

Traditional sit-down assignments or exams- these are limited-time exams in which you can access limited references or resources.
Hire a Professional Essay & Assignment Writer for completing your Academic Assessments
---
Native Singapore Writers Team
100% Plagiarism-Free Essay
Highest Satisfaction Rate
Free Revision
On-Time Delivery
Objectives of open-book examination (OBE)
Unlike the traditional method of closed-book exams (CBE), It overcomes the last-minute memory test and Rote learning.

Open book exam is suitable for teaching programs whose objective is to develop creative and critical thinking skills among students.

To test the ability of a student to find and then apply the knowledge and information. These kinds of exams are used in subjects where direct reference to the written material is required such as acts or statistics of parliament or law statutes.

To equip candidates with intellectual skills and abilities and not just simply repeating or memorizing the textbook information. 

To deliver well-presented and well-structured solutions and arguments after quickly finding the relevant information.



Listing advantages of an open-book examination
Open book examination permits more conceptual and realistic based examination questions. 

There is more flexibility and freedom while constructing examination questions due to the reference material available to students.

It does not support rote memorization or cramming else emphasizes gaining high-order skills.

It has a broader scope as students can study more information as they are not expected to memorize them.

The responses are required to be integrated from multiple sources by the students and questions asked can be more involved and longer.

Easier to involve multi-step problems.

Can extend the amount of work done in exams or assessments.

It encourages developing new learning strategies among students that can ensure their success.

It enhances the information or knowledge retrieval skills of scholars.
Buy high-quality essays & assignment writing as per particular university, high school or college by Singapore Writers
How to take an open book exam?
Just like any other normal exam, the first thing you must make sure of is that you are well prepared in advance.
Collect all reference materials, course guides, lecture notes, textbooks before an exam begins.

Ensure you have all the required equipment like a pencil, pen, calculators, and graphs, etc.

If the use of the internet is allowed, then you should have proper access to it, if you need to type an exam, then you need Microsoft Word or maybe a scanner for handwritten answers.

You must have access to your email account, exam passwords, candidate ID, or roll number while taking the exam.

Students must create their exam conditions by having quiet space, a proper desk, adequate lighting, and a comfortable chair.

Proper snacks and drinking water while taking exams if you require.

Regular alarms monitor the time and give you an alert. 



Is cheating allowed in open book examinations or assignments?
Cheating is said to be any violation of the regulations or rules set by the instructor. The instructor designs what all resources are allowed and what not.
For example, the use of the internet for finding information can be allowed by some and not by others.
Although cheating is not allowed as Students are required to follow the set code of conduct.
The possibility of cheating may be a collaboration, looking for the answers in online forums or on the internet, a student playing someone else for taking the exam.
Want to earn outstanding grades?
If you are looking for the best and reliable assignment writing services for students in Singapore, then Singapore assignment help is the best option.
You can take online exam help in Singapore by hiring expert writers at affordable prices.
We also provide free assessment answers for all sorts of subjects related to any educational institution in Singapore. 
Don't hesitate and reach out to us as our only motive is to provide help to the students so that they can score the best grades in the exams.
Frequently asked questions
Question 1 is open book exams hard?
Answer: yes, it can be quite difficult because an open book examination requires an understanding of the textbook and material. A student must be able to think critically, be able to interpret and present well-written and organized answers.
Question 2 what sort of questions are generally asked during open-book examinations/ assignments?
Answer: the questions included in open book exams are generally formulated to enhance a student's ability to evaluate, synthesize, analyze, apply, compare/contrast the information. They test your ability to understand the concepts of the course.
Stuck with a lot of homework assignments and feeling stressed ? Take professional academic assistance & Get 100% Plagiarism free papers