Posted on: 9th Oct 2020
1137 Views
Self-Plagiarism, Its Reasons & Consequences
We all that the presenting of someone else's idea or theory as you own without acknowledging them or citing the source of the writing is called plagiarism but can we plagiarism ourselves.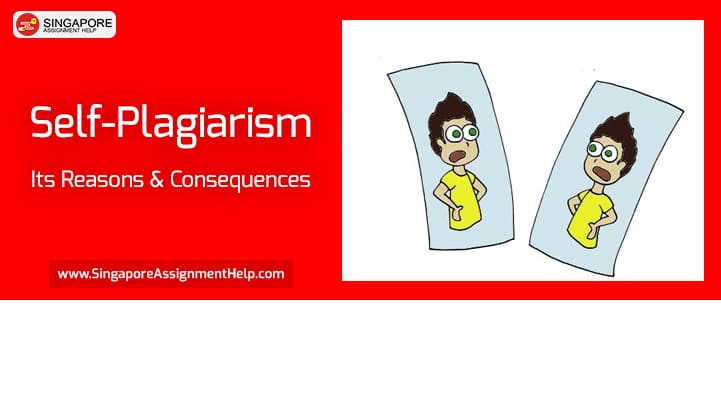 The students of Singapore spend so much time on writing assignments for their college and university but there some guidelines that they have to follow in order to write an acceptable assignment whether it is an essay, article, dissertation, thesis, or something else. College and universities in Singapore have strict policies in accepting assignments.
In this article, we will discuss self-plagiarism, its consequence, and how you can avoid it.
Meaning of Self-plagiarism
The meaning of self-plagiarism is reusing the work that you have already submitted as an assignment or have published as an article, paper, etc. The recycling can be for resubmitting or for new writing work. The copying and the paraphrasing of the old content and the data also come under self-plagiarism. Singaporean students try to present the old data or content as new and fresh content which is not acceptable at Colleges and universities.
The students in Singapore are required to cite their own work as they would do to acknowledge other writers to avoid plagiarism. The writing can be from your old published papers, from an assignment that you have already submitted in another class, the data which you already used in your bachelor's, and now using it in your master's without citing the sources can cause the self-plagiarism.
Buy high-quality essays & assignment writing as per particular university, high school or college by Singapore Writers
Reasons for Self-plagiarism
Self-plagiarism happens then students are not able to research new data and end up writing their own data or content without citing the source. To avoid this student can take homework help to avoid self-plagiarism and can actually score good marks.
Consequences of self-plagiarism
When the students in Singapore use their old work for presenting new knowledge it affects the fundamentals of an assignment or research paper. The readers expect new knowledge and finding from every paper and presenting old data to support a theory or answer to the research question without citing your own old sources is not a good practice.
As in academic the consequences totally depends upon the guidelines and plagiarism policy of the college or university. In general, the student can be suspended or expelled and also sometimes can a zero grade for plagiarism of any type.
If it is a research paper that you have written under supervision during your academics the self-plagiarism can result in rejection of the paper or it can be delayed in publication.
So talk to your supervisor or teacher about the guidelines of plagiarism. The submission requirements include the plagiarism allowance on general plagiarism and on self-plagiarism
Colleges and Universities in Singapore have various restrictions and rules for Singaporean students on academic writings Students can share the guidelines and can get assignments done from the Singapore best assignment company for plagiarism-free and quality content for the college and university.
Stuck with a lot of homework assignments and feeling stressed ? Take professional academic assistance & Get 100% Plagiarism free papers