Posted on: 22nd Sep 2018
1213 Views
What are the selection criteria for the national university of Singapore for MBA?
The National University Singapore is one of the top leading destinations in Singapore to study MBA. Over the last decade, NUS is attracting a big crowd of aspirant students and helping them to develop their skills and established them as a leader in the competitive global world.
Being a part of NUS MBA, a student proud itself to be a part of more than 34,000 business School alumni in more than 50 cities and counties. Students are coming all over the world in NUS so a student gets global experience multi-racial and multi-cultural environment in the campus.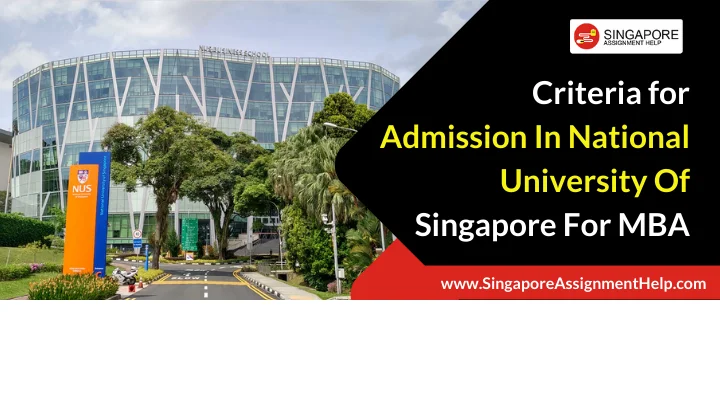 NUS provides the transformative education to its students and has a dynamic research centre which enables the students to lead in Asian countries and beyond to this. The MBA curriculum is provided through experimental learning methodology that will impart the students a singular view of the business.
NUS are constantly ranking among the global top 15 universities in the QS World University Ranking. NUS follow a long tradition of excellence and have a very good reputation in all over the world.
The National University Singapore offers two options to study MBA programme
Full-time programme- 17 months in campus courses where a student can take admission once a year in July/August
Part-time programme- 24 months or 30 months course which is specially designed for working students to enhance their leadership and working skills. NUS take intake for this programme once in July/August.
Admission Requirement at NUS for MBA programme:
Those students who are self-motivated, mature, and career-focused and want to make an impact on global business can choose NUS as the only destination for MBA programme in Singapore. NUS always prefer those students who have strong capabilities and want to achieve the academic excellence.
Hire a Professional Essay & Assignment Writer for completing your Academic Assessments
---
Native Singapore Writers Team
100% Plagiarism-Free Essay
Highest Satisfaction Rate
Free Revision
On-Time Delivery
To take admission in NUS a candidate must have some following requirements:
A student must have an undergraduate degree: To apply in NUS for MBA, a student must have an excellent academic record and must have completed their graduation from one of the reputed academic institutes with good grades.
Working experience requirement: Only those students can apply for the MBA programme in NUS Singapore who has a minimum of 2 years of full-time work experience in his postgraduate field.
GMAT/GRE Test: One of either GMAT or GRE test of their professional or academic background is compulsory for admission in NUS.
Securing the good grades in such test doesn't guarantee the admission or lower grades don't mean that you are eliminated. The electing procedure is depended on a holistic approach.
You need to put your GMAT/GRE and TOEFL/IELTS scores under "other test" section in your application portal.
TOEFL/IELTS/PTE Test:
This is an English language proficiency test which is required for those students whose under-gradation was not studied in the exclusive English language. These students have to submit their TOEFL/IELTS/PTE scores and a student should clear such test with minimum passing marks.
TOEFL- this is an internet-based test and must have a minimum score of 100
PTE- minimum score of 68
IELTS- minimum score of 6.5
The requirement of Referee Report: Minimum of two referee reports are compulsorily required within the application deadline and these referees can be your current employer, previous employer and any corporate client.
While applying online you are required to send all the information details of referees that are essential as NUS can contact your referees. Before submission of your application form, you are required to send an outline referee form and the Email will contain all the information of referees regarding how to access and submit the referee form. You need to send online referee form within the two weeks after you initiate to send out.
After submission of the referee report, an application form is considered as a complete form.
Buy high-quality essays & assignment writing as per particular university, high school or college by Singapore Writers
An interview:
An interview will be conducted for only short-listed candidates only. This is not a compulsory step, an interview will be conducted for further evaluation if the deemed necessary.
This is a procedure for applying in NUS other to above requirements the students have to follow proper admission procedure which required many things such as:
Fill the proper online application form
Select your preference of programme
If you want to apply for double degree MBA programme then you need to apply for the both universities, the NUS and the other respective partner university.
If you want to apply for NUS MBA specializations then you need to state the specialization preference.
You need to attach a copy of all the supporting documents when applying online
Undergraduate degree scores
Your resume
Undergraduate marks sheet
GMAT/GRE score
IELTS/TOEFL report
Passport and student pass
Passport sized photograph
Financial supporting document
You need to complete 3 essays with 300 word limit for each.
2 referee reports are essentially required
Submission of non-refundable application fee is required.
Only fully completed forms will be reviewed and further processed. All completed forms will be processed in 6-10 weeks.
I hope you have got a proper view of the admission requirement and the admission procedure.
If you have decided to take admission in NUS for MBA courses then you must plan your studies in advance. With the help of our management assignment helper, you can score extraordinary marks and be in the good books of your faculties.
We are Singapore based Online Assignment writing service which is writing assignments for the National University of Singapore from a decade.