Posted on: 27th Aug 2019
1769 Views
What Is HNC – Higher National Certificate
You have known about what is HND, and it will be easier for you to know about HNC also. HNC means Higher National Certificate qualification which is awarded by Edexcel in England and another certificate qualification of a Higher National awarded by SQA.
This is a vocational course where most of the students in Singapore choose as higher education. Various small scale companies and industries regard HNC as a good career option and also prefer to hire HNC certified candidates in various technical and non-technical jobs.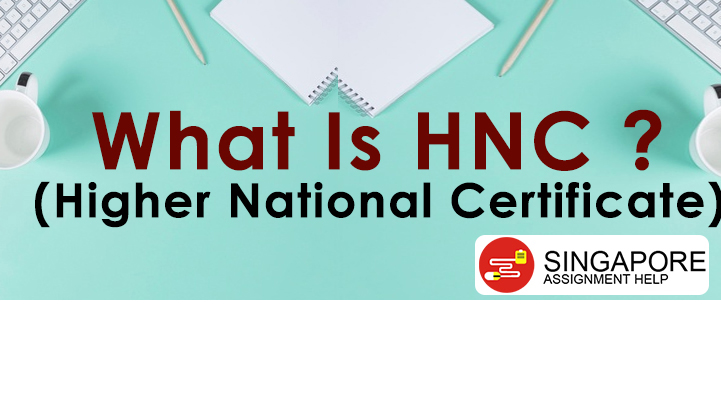 HNC takes 1 year to complete if you pursue as a full-time course. If you opt for part-time courses it will take 2 to 4 years to complete. Moreover, HNC can also be pursued as a distance learning course.
What Is HNC – Higher National Certificate ?
HNC or Higher National Certificate is a vocational study which is treated in the lines of higher education pursued after you pass out from your high school. It is specially designed as a job-oriented course where it enables the students to earn early. When you are pursuing an HNC, and after you successfully complete it, there is a huge number of career routes for you in various industries.
All the academic courses which consist of an essential part of HNC enables to teach the students with practical skills. This is very important for the jobs since develops your career. HNC qualification can also allow you to go for a further undergraduate diploma or degree programs such as HND or Higher National Diploma.
What's the difference between HNC and HND?
Before you enroll yourself in HNC courses, you must also have knowledge about HND. If you want to know what the difference between HND and HNC is, then you should know that HNC is a certificate course while HND is a diploma course which is equivalent to two years degree course at university. Moreover, you must also be aware of both qualifications. HND has a greater value than HNC.
What Is The Education Level Of HNC?
HNC is level 4 and level 7 qualifications in Singapore. I ask about its educational value then it is equivalent to the first year of university.
Hire a Professional Essay & Assignment Writer for completing your Academic Assessments
---
Native Singapore Writers Team
100% Plagiarism-Free Essay
Highest Satisfaction Rate
Free Revision
On-Time Delivery
What Is The Eligibility Of Gaining Admission At HNC Courses?
If you want to enroll yourself in HNC then you must require your past qualification certificates of school or high school.
Fees Structure of HNC Courses at Singapore
If you have chosen HNC as your preferred course of higher education then you must know that an HNC course fee is charged anything in between $4000- $8000 in a year. Normally, the average fees are $6000 per year. The fees may vary from institute to institute and can also be paid in per unit basis.
Students in Singapore can apply for a student loan with affordable interest rates at various good banks. Moreover, if you want to know the exact fees charged for HNC courses, you can check and confirm with the education institutions directly who were offering HNC courses.
What is the benefit of studying for an HNC?
You will get a variety of benefits for studying HNC courses. The benefits are as follows:
Most of Singapore students choose HNC as a route of higher education studies. If the students are confused about which course of study is to choose while studying at university, then an HNC allows you to choose an interesting purely practical course to study without paying exorbitant fees like universities. HNC is purely based upon practical learning of various jobs – oriented courses.
An HNC is also an appreciated qualification which has its own goodness. It helps to build up students' knowledge and skills in a particular field. Moreover, it leads to the students to get an early job with an early earning.
What subjects can I study in a Higher National Certificate?
There are wide varieties of subjects you can study in HNC courses. Each and every course study provides a route to your next milestone of higher education and career. You can study various HNC certificate courses such as:
Computing and Information Technology degree
 Agriculture
Construction and civil engineering
Health and social care
Sports and Physical Education
Business and Management Studies
Performing Arts
Retail Management & its Distribution
Hospitality Management
Construction and Civil Engineering
Thus, if you are considering taking a particular course study at HNC level, then you must carefully choose a subject in which you are strong and have an interest in that particular HNC course. If you still not sure about your selection, then you can take advice and counseling from your teachers and other career advisors. Finally, you must not be influenced by somebody else. The selection of the HNC course study is entirely your selection.
Buy high-quality essays & assignment writing as per particular university, high school or college by Singapore Writers
What Are The Types of Assessments And Assignments in HNC?
The course duration of HNC involves various assessments and assignments in the form of practical works, assignment writing, projects, etc. Each of the assignments and assessments is specially created to test your knowledge and also check the skills you have achieved while you learned in the course.
Conclusion
Therefore, now that you have known what is HNC and what are the courses and subjects associated with the learning of HNC. If you want to excel and pass the certificate course of HNC then you must pass all the assessments and projects. Moreover, you must also do the assignments perfectly. This is important to have the best grades.
If you are facing problems in solving HNC assignments and assessments then it will be best that you take assignment help from best online tutors who have extensive knowledge about HNC courses. These tutors can be obtained in Singapore at SingaporeAssignmentHelp.Com where they can provide perfect assistance in solving all kinds of HNC diploma assignments.