Posted on: 21st Aug 2019
1793 Views
Difference Between HND and HNC
After completing your schooling you need to take a very important decision in life regarding your higher education. This is an important milestone in your life. It will be a tiring and tricky task for you to choose what course type you want to pursue attaining higher education. Whatever decision you take, it will impact your life and future career.
In Singapore, there are wide job opportunities and career-related course choices available in areas of higher education such as diploma and certificate courses. For example, if you choose the stream of commerce then you can either go for commerce diploma courses or commerce certificate courses.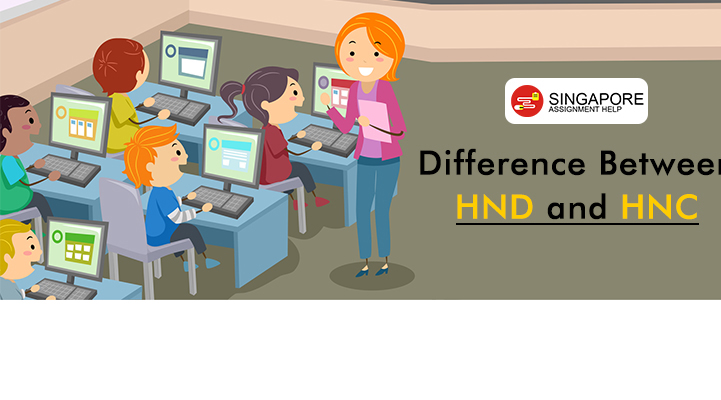 It is up to you regarding what you choose. Mostly, the students of Singapore either go for HND (Higher National Diploma) or HNC (Higher National Certificate). You might think that these two popular higher education paths are similar, but it is very different from each other. You must clearly know the difference between HND and HNC before you choose the preferred higher education path of your preference.
What Do You Mean By HND (Higher National Diploma)?
An HND (Higher National Diploma) courses are career-oriented courses which provide various open paths to various job-related courses. HND courses are practical with modern industry updated courses. The value of doing HND is greater than the HNC (Higher National Certificate).
It provides a deep study of various job-specific courses which require 2 years duration to complete it as a full-time course. If you are pursuing HND courses in part-time it will take about 3-4 years to get completed. Moreover, the completion of HND depends upon course to course.
Singapore students who are pursuing HND courses in various Singapore colleges and universities like Beacon International College, National University of Singapore, TEG International College, Singapore Management University and many more such premia Singapore based educational institutes consider HND courses equivalent to a University degree. These type of career-oriented diploma courses involves more practical teaching than a theoretical one.
What Do You Mean By HNC (Higher National Certificate)?
HNC (Higher National Certificate) courses are career qualification which is awarded by England's Edexcel and also Scotland's SQA. This is industry-specific and career-oriented certificate courses which are very popular among the Singapore students who are looking for pursuing short –term career courses.
When students pursue these courses they are likely to start their career earlier. These students generally choose these courses instead of the long-term degree or diploma courses to save time. HNC is highly recommended by many companies and organization in Singapore and also other parts of the globe.
These short- term certificate courses are based upon practical teachings and training. It is also customized and easy to pursue so that the students will find no difficulty in learning the trades of a specific job and the task associated with it.
"While pursuing HND courses, if you require the assistance of university assignment help, then the online Singapore academic experts are there to help the Singapore students. At SingaporeAssignmentHelp.Com, you will get the best experts to help you excel in the given assignments in HND and HNC courses".
Hire a Professional Essay & Assignment Writer for completing your Academic Assessments
---
Native Singapore Writers Team
100% Plagiarism-Free Essay
Highest Satisfaction Rate
Free Revision
On-Time Delivery
What Makes HND and HNC Differ From Each Other?
It is clear that most of the employers in Singapore prefer to hire only those candidates who have done HND. This is because comprehensive HNC courses carry less weight than HND courses.  The HNC certificate courses are just to increase the qualifications and the HND diploma courses are considered equal as university degree programs.  The differences are explained as follows:
Course Duration:  Whatever courses are taught in HND and HNC are quite same and common. Singapore colleges and universities have just paid attention to imparting practical skills to the students rather than theoretical studies. The duration of the HND and HNC courses differs a lot. On one hand, the HND courses take almost 2 years to complete, and on the other hand, the HNC courses take just a few months or a year to complete.
Courses Qualification Value:  The value of HNC course qualification is lower than HND course qualification. In the case of HNC, the QCF (The Qualifications and Credit Framework) is of level 4 qualification. Whereas in the case of HND, the QCF (The Qualifications and Credit Framework) is put on level 5 qualifications.
If you are pursuing HND after doing HNC it is good, but doing HNC after HND is unnecessary and sheer wastage of time, energy and money. Moreover, most of the employers in Singapore values diploma courses more than the certificate courses. Thus, it is up to you whether you choose HND or HNC for higher studies after school.
"If you are pursuing HND in Engineering or Management field, then you might need some assistance to excel in your course study. So, at SingaporeAssignmentHelp.Com, you can get best quality diploma assignment help from the professional experts who offer reliable support in various academic assignment writings, academic projects, and thesis and dissertation tasks".
Benefits of Pursuing HND & HNC Courses
Most of the school passed out students in Singapore prefers to go for an HND and HNC due to various reasons. These reasons are explained as below, which are:
Craze Of Earning Early:  Most of the students prefer to work and earn soon after they leave high school. It is possible only through HNC where students will be able to earn early. HNC allows students to get certificate knowledge and skills of particular job-oriented courses where they get jobs at various companies in Singapore after spending just a few months or just a year pursuing HNC courses.
Prepare For Career Early:  When students opt for HNC, in a very short span of time, such as a year they get accustomed to learning new career skills.  Rather than taking a year gap, they can learn a certificate course in just one year. Moreover, it will also prepare for then directly for a glorious career. Choosing an HNC will also be beneficial for them. Moreover, if the students prefer to go for HND it will make them explore various career fields and job opportunities.
Saves Time & Money:  When you are doing an HND course for two years you will be able to complete your higher education in just 2 years. In such a short period of time, you will land upon a good job. Rather than spending 3 years of regular degree courses, a two-year diploma course on HND is beneficial for your career also. Moreover, if you have done HND and wish to opt for a 3 –year degree courses then you will easily get admission at the third year itself. In this way, you can save two years while pursuing a degree course. If you think about the money, the tuition fees of HND and HNC is cheaper than the 3 –year degree courses.
Conclusion
Now that you have known the difference between HND and HNC courses, you are also being informed about the positive approach of both courses. It is all about your decision regarding which course you would choose after completing high school. You must remember that choosing any of option- HND, and HNC will greatly impact your future career.
Moreover, if you are pursuing any of these courses, constant online academic help is the thing which you would never fail to get it. If you have any query related to Singapore assignment help, the online Singapore academic professionals will help you with all the academic tasks and assignment writings.