Posted on: 10th Dec 2018
1224 Views
How to write a movie review
Writing a movie review is a common assignment assign to the Singaporean students in their college and high school. Though it seems to an easy assignment to the students, it requires proper organization and a long time effort.
Writing a review doesn't simply mean, watching a movie and write whatever you have seen on the screen, it goes much deeper than this. But writing a movie assignment can become easy for you if you will have proper knowledge on what is a movie review, how to write a movie review, what is the purpose of writing a movie review.
Therefore, our essay writers have designed a diagram to give you a proper information on movie review so let's first understand what is a movie review?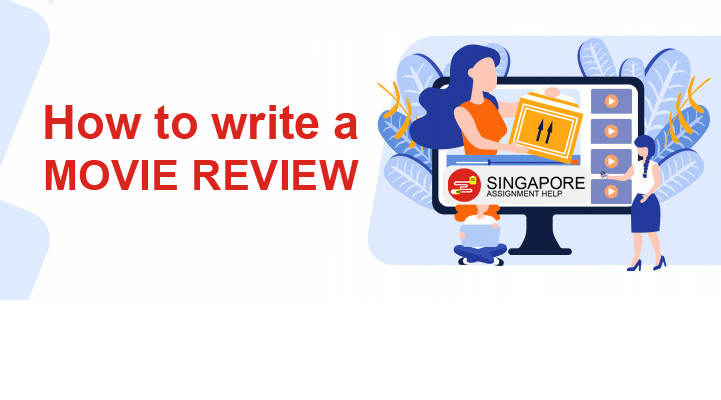 What is a movie review?
A movie review is a well-balanced personal opinion and synthetic analysis of a movie's technical and thematic contents.
Though writing a movie review seems a simple task, preparatory work takes a few days. So you need to leave procrastination and start working on it as soon as you get it, never leaves it on a last-minute assignment.
Writing a movie review needs creative artwork so you need to consider both an analytical and creative approach to write a movie review.
Therefore, it is a combination of exhaustive and persuasive paper so in order to produce a high-quality movie review assignment paper; you need to figure out how to write a movie review, what is the purpose of movie review?
Thus we have created this blog to give you intense information on a movie review.
What is the purpose of a movie review?
The main function of a movie review can be understood as to inform the reader about the movie and its content and quality. Without having basic knowledge, it is impossible to write a quality movie review. If you only write about the technical terms and issue of the movie without having a word of the genre of the movie and its cast, then your movie review is not informative enough.
If you think that the movie is worth watching then you have to be persuasive enough to convince your readers that your evaluation is correct and the movie is good to watch. On the other hand, you think that movie is just a waste of time then you have use of the power of persuasion and convince the reader to not to watch the movie.
Some readers need a detailed analysis of the movie so they can get an idea about the most important element of the film. Finally, you need to write a catchy and interesting movie review because nobody reads a boring movie review.
Now, you must aware with the purpose of writing a movie review. Let's move on the next section.
Hire a Professional Essay & Assignment Writer for completing your Academic Assessments
---
Native Singapore Writers Team
100% Plagiarism-Free Essay
Highest Satisfaction Rate
Free Revision
On-Time Delivery
How to write a movie review?
There are lots of advice out there to write a movie review but the main idea behind every advice is, don't write a complicated movie review. Rather you need to write an honest discussion on the movie.
Before you start writing a movie review, it is important to do some preparatory work of a movie review. You need to do some research to write a movie review. Below are some steps, you need to follow before you organize your movie review paper.
Watch the given movie and documentary twice: 

Whether you have to write a review on a documentary or a movie, you need to watch the movie at least twice a time and prepare notes of some important events, breathtaking scenes, key moments and character. If you totally rely on your memory then there is a huge probability to overlook or forget some important things.
Conduct a thorough research: You can't know everything about the movie just from watching it, you need to conduct some research on the movie to find out details such as name of filmmaker, his/her motivation to make this movie or documentary, historic events that serve as an inspiration to create this movie, some location or characteristics that have played some role in the motivation.
Basically, you need to research and collect some more information about the movie that may not be presented in the movie.
Analyse the movie: Once you have watched the movie, sit relax and analyse the movie, don't write even a single word if you don't understand the movie well. If you find it confusing, then re-watch the movie and then analysis the movie from start to end.
You can write a quality movie review only when you have understood every part and scene of the movie.
Create an outline: 

Once you have understood the movie well, you need to create an outline of the movie in a concise and cohesive manner that will help to organize every event of the movie in a sequential manner.
Include some examples: 

Find out some examples and scene in the movie that you think, is affected the quality of the movie. If you want to persuade your readers with your opinion then it is essential to claim with evidence. But remember it should not seem like you are appraising or criticizing a movie without any reason.
Consider the quality and originality of movie and scene: Finally, you need to explain the quality and originality of the movie; where it stands and whether it just uses the same approach that some previous movie has already used.
Once you have completed your preparatory work, next, start organizing a movie review.
Buy high-quality essays & assignment writing as per particular university, high school or college by Singapore Writers
How to organize the movie review?
Writing a film review is a time-consuming procedure that you can't complete in one snapshot. The quality of the movie review depends on how well you have organized the things. You need to divide the events of the film review into some steps.
A catchy introduction: You need to create an informative first paragraph where you should provide information about the title, genre, director's name, and release date of the movie.
Other than general information, you need to plot a thesis, which is a critical part of your review that presents a connection of the movie and recent scenario or the similarity between to the theme of the movie and your personal experience or interrelation between the thematic content and formal content of the movie.
Present your evaluation at the beginning: 

Most of the readers don't read the full content of your review paper so you need to mention the evaluation of the movie in the beginning. Don't reserve them for the conclusion part.
Compose a brief summary: 

Describe 5-6 major events of the movie but don't reveal the ending because you should destroy the suspense.
Describe your overall impression: 

The main purpose of writing a movie review is to describe what the film is all about. You need to describe what you have felt, not what you have seen. Mention your thoughts and emotions by describing the most touching scenes and the moments in the movie which have touched to your heart. You need to share your personal experience.
Write about the purpose of the movie: 

Here you need to describe; why was the movie created? You can get the answer in the interviews of the direction team or the purpose can be obvious too.
Provide some information about film-making: 

You need to provide information about those elements which you consider the most significant part of the movie. You should comment on the technical aspects of the movie such as cinematography, sounds and editing.
Provide some examples: 

You have to add some examples to your movie review to provide a significant look. Such as if you are saying the sound is good and the acting is tremendous then you have to portrayal some specific scene which exactly presents the relevant information.
Write down a strong conclusion: 

Finally, create a strong conclusion that presents the elements which have impressed you the most in the movie. Add some recommendation and specify that for whom this movie could be interesting and why?
Read, edit and re-write: 

Lastly, read your review paper two-three times and find out the mistakes such as grammatical error, spelling mistake, wrong usage of the word, typo mistake etc. never submit your paper without proofreading because a mistake has the power to spoil the quality of professional movie review paper.
Stuck with a lot of homework assignments and feeling stressed ? Take professional academic assistance & Get 100% Plagiarism free papers
Mistake you need to avoid while writing a movie review:
Avoid writing about unnecessary details such as the history of cinematography, other genres etc.
A movie review is your personal experience and feeling about the film but that doesn't mean that you will always write as a first person in the paper such as I disliked that, I noticed this, I saw that etc.
Never provide any wrong information of the movie such as release date, casting etc.
Giving your opinion without presenting a solid reason about "why you felt so?"
Writing a movie review without following a proper structure.
Writing a review without proper analysis of the events.
Take help from singaporeassignmenthelp.com in writing a movie review:
If you think writing movie reviews is not your cup of tea then take help from movie review writers at singaporeassignmenthelp.com, who are helping Singaporean students from a decade. We can provide you with superior quality movie review paper at an affordable price.
Other than movie review our 24*7 available writers can help you any kind of assignment such as dissertation writing, report writing, essay paper, case study etc.