Posted on: 22nd Jul 2019
1214 Views
Best Ways to Improve Presentation Skills
Most of the times whether you are in school, college or at work, there is one thing which is definitely not leaving you behind. That is presenting a topic at your college or giving any business presentation at work.
Well, if you ask a lot of people in Singapore like students or working professionals then they will tell that almost every week they need to give a presentation or two in front of a crowd. Moreover, they have also admitted that it is tough to give a nice presentation.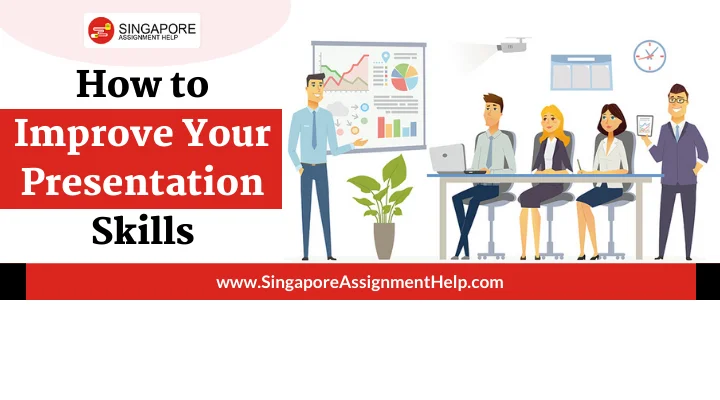 For those who are not born with the natural skills of fluent and natural eloquence and remarkable talent of public speaking, giving presentation just freaks them out.
When the idea of giving a presentation just gets into your nerves then there is no harm in getting any kind of help in presentation writing services or advice to improve your presentation skills.
You must figure out the best ways to improve presentation skills. If you want to get extra help online then the presentation writing experts at SingaporeAssignmentHelp.Com could be of great help to you in need.
Best Tips to Improve Your Presentation Skills
You just can't deliver any sort of presentation without taking any prior preparation. There are lots of little things which you need to take special care to cool down your mental stress.
So, to set up for good presentation experience here is the best tips to improve your presentation skills. These are as follows:
Practice Hard:  You might have heard the famous saying "Practice makes a man perfect". So, if you practice enough for your speech and presentation then you will be able to deliver a perfect one in front of a crowd. You can write down your speech and practice it by reading it over and over again. You may be nervous or try hard to figure out the words which need to be spoken.
In this case, you must treat your written script for presentation as your best friend. If you are to deliver the presentation at a hall or room practice it there. Rehearse the speech in various positions like sitting, standing and also by using hand gestures.
You may also record the rehearsal and listen to it over and over again to see what faults you have done and also find what changes you need to make it to the speech including your way of speaking.
If you need to give a presentation at school or college then you must write your presentation for the speech perfectly. You can always get help in academic writing from experts and other known persons who can help you.
Hire a Professional Essay & Assignment Writer for completing your Academic Assessments
---
Native Singapore Writers Team
100% Plagiarism-Free Essay
Highest Satisfaction Rate
Free Revision
On-Time Delivery
Avoid Getting Nervous: You must stop getting nervous every time you give a presentation. In fact, you can beat your nervousness by getting enthusiastic. This idea might feel absurd to you but it will work out great to replace that nervous energy into the energy of passion.
You can have an energy drink and just chill with your upcoming presentation. This is the best tip to keep your mind fresh and be in high spirits before you give a presentation. Keep your mind cool and hit it off this presentation as hard as you can.
Take Preparation By Listening Other Presentations:  It is always better to avoid giving your presentations first and let your fellow classmates or colleagues give presentations first.
In this way, you will be able to figure out their presentation skills, way of talking and also get a better perspective of giving a perfect presentation in front of an audience. Moreover, if you listen to other people's presentation it will help you learn a lot of things.
If you allow your fellow members to give a presentation first then it means that you are giving them the honor and chance to speak up first. Moreover, in the same place, you will be able to detect the mood of the audience.
Help From Experts: There are lots of people out there at Singapore in places such as Jurong East, Seletar, etc who usually employ professionals to help them write presentation speech on almost every topic.
Even the Singapore students from best colleges and universities such as Nanyang Technological University, National University of Singapore, Singapore Management University, etc prefer to get online assignment help from the experts who can write best presentation speech on any topic, subjects, and issues.
Moreover, these experts also provide you the best tips, advice and video tutorials to show you how to give the best presentation to capture the audience's attention.
Bond Well With The Surroundings:  You will feel more comfortable if you adjust and bond well with the surroundings where you are all set to give a presentation. The feel which you will get at the surrounding will make a great impact on your performance.
If you are going to deliver your presentation with a microphone and in a room full of lights then you can create those surroundings at your home to practice it with a feel.
Don't Make Presentations Lengthy: Usually, a normal presentation session lasts for just a few minutes such as 10- 15 minutes. In a 10 minute presentation, you must not make it lengthy one exceeding those 10 minutes by covering up too much information of a specific topic or issue.
Your presentation of 10 minutes must be full of useful information and actionable information which will spread awareness among the audience.
Thus, if you follow those tips which are discussed above, then you will be able to deliver a presentation which will attract the audience's attention with a great round of applause.
Conclusion
You must take good preparation while giving a presentation. The most important thing is to learn the best ways to improve presentation skills which are discussed above.
Apart from making your own preparation, you must get a best-written script which will sweep the audience instantly the moment you speak it publicly. You can employ the best writers which will write a good copy of the presentation on almost every topic in the world.
In Singapore, these writers are available online at various academic and assignment writing companies at cheap prices. You can also get the help from these experts at the renowned SingaporeAssignmentHelp.Com.
These experts are able to write any presentation topic and provide the best report writing within the deadline. Moreover, these experts also provide unique ideas and tips to present a good presentation. They also provide the best ways to improve your presentation skills.