Posted on: 9th Aug 2018
1658 Views
What is Reflective Essay [ Introduction, Conclusion & Topics ]
Definition
What is Reflective Essay?

A reflective essay is a different type of writing where a student needs to look back on his academic year or at some specific period of time and has to write on a paper about what they have learned. A reflective essay is not more different than other types of Paper Writing the only difference is that it should have a reflection on the experience.
A reflective essay is a part of coursework in Singapore which reflects a student's life in a certain period of time; a student will get a specific topic and a student has to reflect his own learning, memories, experience, feeling and emotion during that period of the past.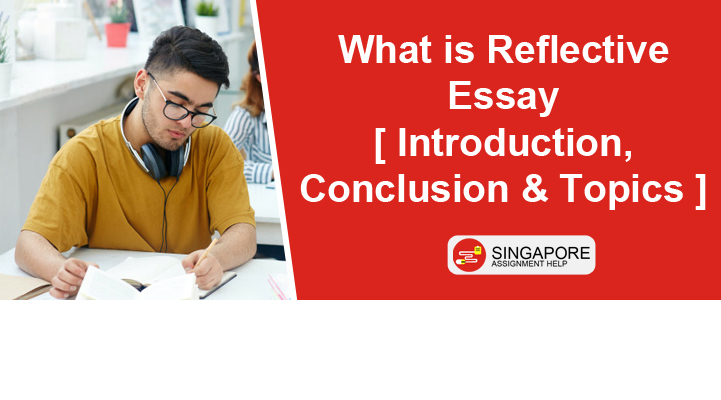 This is quite interesting essay to write but sometimes it becomes difficult because nobody can remember the whole thing of the past but whatever a picture of that event in the student's mind he has to write on that. It is necessary to choose attractive words and phrases while writing so the reader cannot get bored during reading it and get a clear image of the learning.
Types of Reflective Essay:
In this kind of writing students generally asked to write an essay to reflect what they have learned and developed within a specific period of time. Below are some types of such writing
Type 1 -Professional writing: In this kind of writing a professional person such as a doctor, an engineer and a teacher analyze their own performance in the specific training period.
Type 2 – Literature writing: In such writing, a student needs to summarize literature to better understand and then relate it with his life.
Type 3 – Educational writing: In this type of writing teachers will ask their students to write on a specific topic or lecture to analyze their own behavior.
Type 4 – Personal Growth: This kind of writing helps the writer to understand his own development throughout their life experiences.
Plan before writing a perfect Reflecting Essay:
To start a perfect essay student is required to make a plan where they create an outline and get a clear picture of how to connect all the events correctly in a sequence and write a flawless paper. Write a proper attractive paper student can ask writing tips from experts at SingaporeAssignmnetHelp.com
Hire Professional Singapore Essay Writers to Write Academic Assignments
Benefits of making a plan before writing
It helps the student to recall the whole event thoroughly so they cannot leave any of the special points of the event.
Planning works as a time saver. While planning you can decide what comes first and what event should come next so in short, it works as a map. When you start writing you don't have to bother, you have a way to move on.
Give quality to your paper. Once you have organized everything in advance then you give attention on sentence making and phrases that make your paper looks more attractive.
Once the planning is completed you are ready to write a quality paper.
Outline to write a Reflective Essay:
Before start writing a reflective essay, it is necessary to organize all the information in a specific format
Select a topic
Gather all the information
Refine information resources
Make a draft
Write all the important part
Provide references
Instant Services to help you with your academic essays for Singapore universities
Structure of Reflective Essay:
Writing a reflective essay does not follow a strict pattern of writing but according to expert writers at SingaporeAssignmnetHelp.com, it should follow a basic Essay Writing pattern
Part 1 – Introduction – All the academic assignments start with an introduction and follow with a topic and thesis statement. The selection of the topic is the most appropriate step of writing an essay as this is an opening line of your writing that explains what you are going to tell in this essay. An essay should always start with a hook sentence that helps to grab the reader's attention and attract them to read further.
The thesis statement is a brief summary of your experience in such an event.
The introduction should be short and informative and at the end of the introduction don't forget to give a quick overview of your experience.
Part 2 – The Body part – This is the middle part of essay writing where a student needs to describe what they have learned, how they and later on they have to explain what things have caused such changes in them.
As an example, an internship student is asked to write about their experience, how that period of the internship has changed them and what they have learned at that time. Then those students share those all the incidents and events they have learned such things.
Part 3 – The Conclusion Part – In the conclusion part the student has to sum up all the things and explain what all changes have happened in them afterward and they have to describe what they were before that time and what they will become in the future. Here the student will compare their past and future on their own.
Writing a good conclusion student should explain the thesis statement in other words; conclude all the experiences with logical proofs.
The conclusion part should be written in an effective manner and should present an understanding of the whole story.
If you are still confused to break down the event according to the format, you can ask us for help at SingaporeAssignmnetHelp.com
Hire a Professional Essay & Assignment Writer for completing your Academic Assessments
---
Native Singapore Writers Team
100% Plagiarism-Free Essay
Highest Satisfaction Rate
Free Revision
On-Time Delivery
Choose a good Reflective essay Topic:
Even you are good at writing a reflective essay but still you couldn't find a topic to write an essay then these below mentions topics can help you
What you think is a special quality in you?
How do you see yourself after 10 years now?
What do you think is helpful in your internship?
What inspires you the most?
What is your main dream?
How to overcome stress in exams?
I hope all the information provided here will help you to write a quality reflective essay. Some people enjoy writing but for many of them, it is a nightmare.
Let Our Professional Write One for You!
If you need to write a reflective essay but you don't have an idea on how to even start with it then don't worry let our professionals assist you with the reflective essay writing help in Singapore.
Our professionals at SinagaporeAssignmentHelp.com always ready to help you with your writing and proofreading.