Posted on: 1st Jul 2019
1162 Views
How Do You Write A Good Academic Assignment?
When you are pursuing a Bachelor's degree or Master's degree at Colleges and Universities of Singapore then you must know that college life is not a bed of roses and a fun life. You will be burdened with many homework tasks and assignments by the professors which are required to be completed within the given deadline. Well, if you start early then you will never fear of the approaching deadlines.
Most of the students want best grades and in this context, they usually have only one question in their mind "How do I write a good academic assignment?" The best answers is provide enough work and time to plan your homework task, do research, write and revise your assignment and lastly submit the assignment within the deadline. Additionally, if you want to submit good quality academic assignment writings then you can get assignment help from the Singapore assignment writers at SingaporeAssignmentHelp.Com.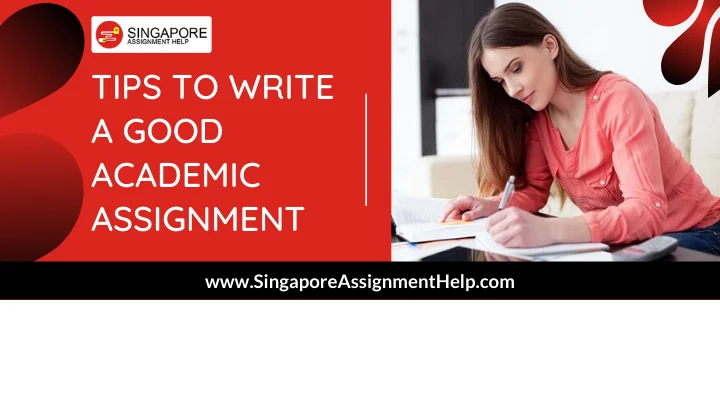 Perfect Manner to Write Good Academic Assignment
You can draft a good quality assignment paper if you keep focused upon these tips and guidelines which are discussed below. These are:
Assignment Planning- You must make a full proof plan to complete the assignment successfully. As per the plan you must check how many assignment you have to do and divide equal amount of time to spend on each assignment task. If you see a particular assignment has more mark scores then you must attempt that successfully in the first attempt. In order to complete an assignment with best writings you must equally distribute time to do research, writing, editing, revisions, etc.
Understand The Questions & Analyze It- Before writing the assignment you must first read the topic and question, and then try to find the meaning of it. You must check to find out what exactly you need to do. In other words, you must understand the concept of the assignment topic and questions.
Create an outline- When it comes to writing your assignment, you must draft an outline to provide a broad structure of the assignment copy you are writing. This will help you write the assignment using proper structure. Most of the assignments given to you are essays. So, you must write good and appropriate introduction, discussion body of the paragraphs and lastly a good conclusion which will have the summary of the written and explained ideas and information which you have written in the introduction and discussion body part. The conclusion does not reveal any new information. For the students, it is advised to write the introduction in the last to make the essay effective and related.
Proper research & gathering of information- Before you write any assignment topic, it is important to do proper research to gather the most appropriate information to write the assignment content. You must look for course materials, library and online sources or take homework help from experts to find the right information to write the assignment.
Assignment Writing- The main part is writing high-quality assignments starting from introductions to the conclusions. If you want a good academic assignment, then you just write it with all the information which is true and original. Moreover, you must never write any copied assignment or phrases which can hamper your grades. After finished writing the assignments you must check the entire assignment paper to check any loopholes by editing and proofreading. You must also check for mistakes and errors of any kind and fix it immediately.
Hire a Professional Essay & Assignment Writer for completing your Academic Assessments
---
Native Singapore Writers Team
100% Plagiarism-Free Essay
Highest Satisfaction Rate
Free Revision
On-Time Delivery
Proper organizing & Referencing- You must refer to the given guidelines of your educational institute to write a good academic assignment. Most of the institutes of Singapore like National University of Singapore, Nanyang Technological University, James Cook University, etc prefer to have the assignments written in the reference styles of APA, Harvard, Oxford, etc. So, you too need to prepare the assignments on these given guidelines.
Timely Submission- Your writing of good quality assignment writing is of no use if you cannot submit that to your professors in time. Thus, it is important to submit it in time.
Thus, if you take the advice of the above tips and guidelines then you will be able to write a good academic assignment. Moreover, if still the above tips does not works for you then you can take university assignment help
Good Academic Assignment Writing From Online Experts
You can even get to write good academic assignment papers from academic experts which are available online. The most reliable academic assignment service provider at Singapore helping many students to write good quality assignments is SingaporeAssignmentHelp.Com. They provide help using the right method to solve all types of academic assignment issues.
The writers here offer customized essay writing services, dissertation writing services, coursework writings, etc. These writers are very qualified and also possess the highest knowledge in terms of their respective subject. They offer the best help as per the university level as well. Moreover, all the written assignments are done with scratch and are also free from plagiarism.
These writers offer the best cheap essay writing services at an affordable price and also deliver within the deadline. They are also able to solve all types of' academic queries and makes sure that the students understand the concept of the assignment topic.
Conclusion- Therefore, these tips must be positively followed in order to write a good academic assignment. Moreover, students of Singapore studying at cities like Seletar, Kampong Glam Jurong East, etc can access the assignment writing services of our native Singapore academic writers at any place via online. Thus, at SingaporeAssignmentHelp.Com, you will get the best assignment writing services at cheap prices.