Posted on: 25th Jun 2019
1179 Views
How Do You Focus On Boring Homework?
Do you find homework boring? Do you want creative advice to focus on boring homework? If yes then we can provide you some awesome ways to make your boring homework look funny. You can even make your boring subjects like CPM or Math homework tasks interesting if you tackle the homework tasks by incorporating creative ideas.
Homework can be sometimes very difficult to handle. In some situations, we see that students usually struggle to complete their homework due to lack of knowledge of the subject. Moreover, students are also confused regarding homework topic since they don't understand the asked question in their homework task.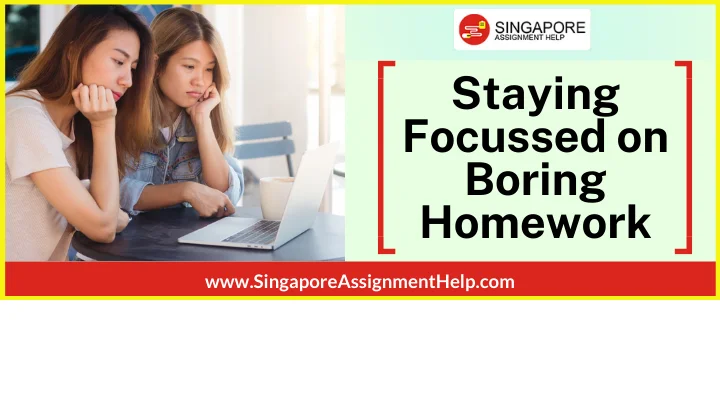 Since students feel that homework tasks especially in subjects of CPM, Math, History, etc are boring and hence they get de- motivated to do homework. Thus, you must need proper planning and expert advice to tackle boring and complex homework task and make it a fun task.Moreover, if you don't have any mood to do the boring homework task then you can get online homework help from many academic writing companies and agencies which are available in abundance in Singapore.
One of the best examples to get best homework help online is SingaporeAssignmentHelp.Com. Here, you will get best homework assistance from the best homework writing experts who can provide you reliable and high quality homework writing support.
Suggested Ideas to Focus On Boring Homework to Make It Interesting
Following are the best ideas and suggestions which can help you gain interest in doing even the most boring homework tasks. These are as discussed below:
Decorate Your Study Desk In A Jolly Style- The place where you do your homework must be free from any kind of disturbing elements. You must make your room along with the study table where you usually sit for doing all kinds of academic tasks including studies as a motivating place for you. Some things such as pictures of your friends and family, posters of positive thoughts, colorful cards and many more such positive things can put you in a cheerful mood whenever you sit there for doing homework. The dull and boring element of even Math will not destroy your cheerful mood. You will do your boring Math homework in a very cheerful mood. Moreover, you will even gain interest in the subject and will never feel that Math is boring.
"Are you still struggling with your Math homework? Do you avoid doing Math homework and find it boring? Don't worry at SingaporeAssignmentHelp.Com you will get the best Math homework help from expert Math homework and assignment writing professionals at cheap prices".
Planner To Track Progress- If you want to know how much you have progressed with your homework tasks, then you must make a planner. This planner is needed for letting you complete the homework on time. In addition to this, it will also let you keep track on your finished homework tasks and will even motivate you in future to successfully accomplish the rest of the homework quickly within the deadline.
Hire a Professional Essay & Assignment Writer for completing your Academic Assessments
---
Native Singapore Writers Team
100% Plagiarism-Free Essay
Highest Satisfaction Rate
Free Revision
On-Time Delivery
Reward Yourself With Some Cool Time Before Doing Homework- It is not absolutely healthy at all to do homework right after you return home.  Get a shower, grab a drink or snacks, or play half an hour in some games. This will keep you refreshed before doing homework.
Do Homework With Friends And Classmates- If you do your boring CPM homework or any other subject with your friends and classmates then you will get the best experience and fun in doing even the boring homework. Most of the times proper attention and free talk with one of your brainy and studious friend or classmate regarding homework issues can solve all the issues which you had earlier with the homework. Doing homework in a group will increase your knowledge. You will also be able to focus upon doing boring homework tasks and complete them in no time.
"Does the long homework task of CPM bore you a lot? If yes then break your boredom and get expert help to write your boring CPM homework. CPM Homework writing professionals will provide you best CPM homework help with error-free and best quality homework writings for you at SingaporeAssignmentHelp.Com".
Take Online Homework Help from Homework Writers- If you have boring homework tasks which needs to be completed at a definite period of time then you must take online homework assistance from the best homework writers online. Though you are required to pay a certain amount of price to the online homework writers, but if you are getting best quality writings for your boring homework then it is fully worth it. Moreover, these writers will complete your homework in no time and deliver at your email address within the deadline.
Thus, with these suggested ideas you can get to increase and gain your interest upon doing all the homework tasks which you think is quite boring. If you apply the right approach and right method then you can find even the boring homework funniest and interesting enough to do it quickly.
Buy high-quality essays & assignment writing as per particular university, high school or college by Singapore Writers
Best Online Services for Tackling Boring Homework
It is common feeling that the subjects whom you don't feel like studying, you will not even have the mood to do homework. But still it is important to do and submit homework due to grades which can affect your performances. If you don't want to do boring homework tasks but still anyhow need to be completed due to grades, then you must take homework writing services from a reliable homework helper.
These homework writers are very qualified and you can access their services at SingaporeAssignmentHelp.Com. They are very qualified and expert to provide homework writings of all types. It can be essay writings, report writing, solving boring Math problems, dissertation, research & thesis paper writing, etc.
All the homework writings are done in a scratch and are submitted before the deadline at your email address. Moreover, they also provide academic services of revision, original and plagiarism free writings, editing & proofreading at short time and also within the deadline at fairly cheap price.
Conclusion- Thus, get fast and instant homework assistance from our homework writers to write your boring homework at SingaporeAssignmentHelp.Com. Through our given advice and expert help you can face all kinds of boring homework issue. You will be able to focus more and ensure that the homework task is done.