Posted on: 19th Sep 2016
3540 Views
Singaporean Students Stress & Mental Health Statistics - 2019-20 to 2020-21
Singapore is a global hub for business, culture, and tourism and it has also been listed among the world-class education centre. It is quite unbelievable to think that such a fantastic city where everything is so perfect could provide an 'autoclave' pressure of cultural belief that leads to the maximum level of stress on the students.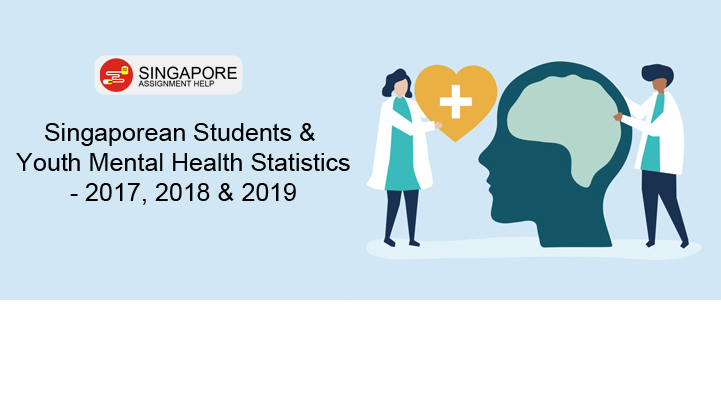 Coming to Singapore and pursuing higher studies is a dream for several international students but they need to know very well about the education system of Singapore and then prepare themselves accordingly.
Do Singapore Students Get a lot of Stress?
The Singapore students are not pressurised at all for anything to do, but eventually, all the situations fall into a place that creates tension and stress for the students. There are various reasons for the students to get tensed. Most of the students are living under a high level of pressure, and the biggest reason is the education system. This is a common belief among Singaporeans that to get a successful life, you need to achieve academic success. All the parents and students are running towards achieving academic success.
Hire a Professional Essay & Assignment Writer for completing your Academic Assessments
---
Native Singapore Writers Team
100% Plagiarism-Free Essay
Highest Satisfaction Rate
Free Revision
On-Time Delivery
For these students, the school has become a place that guarantees them the best future and is no more remain a place where you can socialize and grow. From the age of 5, Singaporean students start to indulge in such activities which ensure their learning instead of outdoor activities which ensure physical growth; they do not at all play like the other students of this age.
This voracious competition remains till the age of their graduation and that brings lots of stress to Singaporean students. Although the education system is not the only thing to pressure students there exists another too. These are the reason why during the past year, a number 27 students between the age of 10-19 have killed themselves. This is the biggest number of suicides that have been in 15 years.
If these incidents do not prove that students suffer a lot of stress and trauma, then we don't know what can.
Singaporean Students & Youth Mental Health Statistics – 2017, 2018, 2019, 2020 & 2021
The students who are learning the research program on "Singapore Students Stress Statistics – 2017, 2018 & 2019, 2020, 2021" can easily understand how much pressure is donned on the Singapore students. Due to the challenging nature of Singapore University, students can potentially undergo high levels of PSLE stress that can affect their health and academic performance.
Indeed, an increasing number of university students appear to be experiencing significant mental health issues. In addition, the proportion of students enrolling in university is increasing. These trends indicate that stress and mental health concerns are likely to become an even more remarkable phenomenon among Singapore university students.
Singapore's education system regularly ranks at or near the top of the global evaluation list for success, however, it is also criticized for placing too much stress on students.
The education system in Singapore has traditionally been extremely demanding, a meritocracy framework that pushes stakeholders to accomplish academic excellence, so that students can be molded into productive units of labor in the future.
According to the research, the OECD (Organisation for Economic Cooperation and Development), which conducts the triennial tests called the Programme for International Student Assessment (Pisa) has confirmed by giving various facts and examples that compare to the other countries, students of Singapore are highly anxious about their grades, percentage and the result of pass or fail.
Buy high-quality essays & assignment writing as per particular university, high school or college by Singapore Writers
Factors of stress for Students studying in Singapore?
There can be various reasons for everything that happens; there is a valid reason for what a person does or what someone is freaking out for or anything else. But there is a genuine cause behind everything. It's just the problem that we are not capable enough to find out the root cause of miscellaneous suppositions. The stress will become a real headache if the reasons are not found and solved as soon as possible.
There are various reasons behind disturbed youth mental health & student's mental health in Singapore.
No.1 – Many young people find it difficult to talk about their educational struggles and to express the pain they are feeling inside. They tend to hide their pain behind a facade, not knowing where, how or whom they can approach for help.

No.2 – Family relationship issues are the most common reasons.

No.3 – Peer competition as well as greater academic load and sometimes realistic expectations from parents.

No.4 – Conflicts with landlords, classmates, friends etc.

No.5 – Getting bullied in school/ college

No.6 – Homesickness

No.7 – Singapore students doing part time job while studying

No.8 – Lot of Expenses

No.9 – Meritocracy on the education system

No.10- Performance anxiety

No.11- Fear of losing social status

No.12 – Lack of teacher's focus on the students

No.12 – Lack of time due to different activities after classes like attending tuitions, sports or cultural activity classes, and incapability of completing the homework assignments

No.13 – The students don't get 'me' time. They are full-day busy with the school and other activities they even don't get a good time to sleep, etc. and many more reasons.
Root Cause of stress- Education System
Among all the causes, the education system has come out to be the common one that is highly responsible for stressing out the students which leads them to do unethical things like suicides.
The education system plays a vital role in making the students' life tough and stressful that they cannot help with it in any way. They get a lot of work as well as direct and indirect pressure for scoring well in the assignments, quizzes, group tasks, and eventually great marks in final course results.
Some of the reasons for "why are students so stressed due to the educational system of Singapore?" are as follows: –
Heap of University Assignments which are almost impossible to do for any student on time.
Tutor Marked Assignments (TMA) and Timed Online Assignments (TOA) which are to be completed within a time limit.
Final year project submissions
A lot of report writing, dissertation writing assignments to be written with managing tedious guidelines.
Emphasis on grades and rank and no priority for other activities
Fear of losing marks in case of non-submission of TMA on time
Automatic withdrawal on non-submission of TOA before the pre-set timeline
All these and several more issues are faced by Singapore students while learning even in the top Singapore universities.
Is there an overemphasis on grades in Singapore Education System?
Singapore ranks among the top international places for education. But a higher proportion of students and parents emphasize the grades compared to the skills.
Exams are coming shortly; the drop date is near to approach and the stress of midterms is encroaching all around. This is a general scenario among Singaporean students.
In the present scenario, the grades have become a main focal point more than ever. Exams, quizzes, homework, syllabus, papers, maths problem and keywords, all have taken place in a student's life to grab higher grades.
Do really getting good grades are such important in life? Why does this emphasis exist?
Once you get your first job, your college grades will be irrelevant, only our skills and capabilities will help us to achieve on the top.
Here raises a question raise a question; what is the purpose of grades, do the grades really present our aptitude, learning, and intelligence?
While studying in high school in Singapore; every student might think in the same way but after graduation, they will understand that grades are just a significant paper of the degrees, grades do not tell us much of anything.
Grades are just our abilities to perform in the exams and the rote memorization of the course material. Many studies have shown a negative correlation between the use of grades and performance.
Our problem-solving abilities, critical analysis, curiosity, creative thinking ability, and skill development restraint by the grades as the focus is just on memorizing the material not learning the material.
In our society, the students are forced to grade high in their examinations and the teacher and parents both are equally blamed for this. Teachers want to prove their teaching techniques and the parents want to prove their child among the other Children.
There are several students who struggle at high-end to please their parents and spend hours and hours sitting and studying just to score high in their examination, these students don't know about the outside world.
Though these students score high when it comes to present their skills, they have nothing more to show. There should be a balance between studying and fun. Children need to go out and connect with others and nature, only study with no fun makes a child a dull child. This might even affect their health.
It a time to change, we need to get over to our obsession with getting A+ grades and we should focus on more important endeavors. Many scientific studies have shown that overemphasis on grades leaves people with unnecessary stress, fear of challenges, and a negative reflection on the motivation of a child.
Our grades should be dependent on their talent, skills, and creativity but the emphasis on getting high grades is diminishing student's talent, interest, and creativity. The students are forced to select those subjects where they can score high, it is reducing the quality of thinking of a student and even a high-achieving student has a fear of failure.
When a general survey is conducted and asked the current working people that how many of them got their position based on their high school or graduation grades? Only a ratio of 25% says that grades did work for them but that too at their initial level of the job. The overwhelming majority say that their abilities, intelligence, skills, and talent help them to achieve such a position.
Then why do we still give emphasis on the grades? We should provide a healthy environment at the schools so the students find their own motivation for learning and achieving. Rather than running behind the grades, students should get a chance to enhance their interests, skills, and abilities.
We should focus on the process more than the results. Many researchers have proved that a focus on effort can help to resolve helplessness and achieve success. Ask your child what their expectations are with the college and why they want and turn them to achieve the best out of it, so they can gain confidence and can succeed with their own victories.
Hence, the Singapore education system is needed to be improved and emphasize other skills development and extra-curricular activities as well as equal to the studies and grades. The over-emphasis on the grades and assignments will make no sense until the students are groomed equitably in all areas.
Stuck with a lot of homework assignments and feeling stressed ? Take professional academic assistance & Get 100% Plagiarism free papers
How does homework play a major role in Singapore student's stress?
One of the most important academic tasks – "Homework" is given to the students from their school, college, and university to increase their knowledge in various subjects when they are not in the classroom. The task of giving homework teaches the students the best uses of managing time, living an organized life, and also learning various skills and capabilities to do accurate reasoning.
These are the skills which the students learn at home while doing self-study. It helps them learn new things every day and this is the way students were able to increase their knowledge. Though homework is very beneficial for students, the excess task of homework can also cause stress among the students. More homework means more stress the student takes.
Excess Homework tasks can provide a negative impact on students. If the given homework is of bulk quantity then it can increase the stress of the students since they cannot have a normal and healthy lifestyle. This will also affect their grades since stressful minds cannot give a good performance in academics.
Moreover, when students get so much homework, they avoid eating with their family members and usually eat fast food late at night while doing homework. Besides, when students are so much stressed in life, most of them also rely upon drugs to decrease their stress. Moreover, when they are not to write their homework on time, they get reprimanded by their teachers and also get low grades. In this way, homework makes students' life stressful.
Regardless of all the positives of homework, it is also counted as the major factor for Singapore student's stress.
What to do with the Stress of Homework Assignments
After knowing about all the general as well as root causes of stress in secondary school students, or the students pursuing graduation or any other degree courses in Singapore, there comes the challenge to find ways to reduce stress for students in Singapore.
All those tensions including tuition stress in Singapore, assignments, shortage of time to complete homework need some solution to get the Singapore students out from the bog of the stress of homework. As, it is clear from all the above discussion that the education system pressurizes the students to write assignments and submit them in time in order to get good marks, so now we need to research the question "how to reduce the stress of homework and improve grades?".
No student can do with the Singapore stress ranking so all he can do is to find a flexible way to complete his assessments and score well.
How to make homework less stressful and improve grades?
At certain times in our lives, we all have to deal with stress, and sometimes it can be worse than others. For a lot of people studying can be very stressful, and this stress can even be worse if studying in Singapore. However, don't distress, because there are always some ways of coping with stress before it all becomes too overwhelming.
Be organized and reduce stress level: – The best thing students can do to keep stress at a manageable level is to get organized and plan everything. If you already know what you have coming up in the week ahead then you are less likely to get behind, or suddenly remember something you have forgotten at the last minute and have a big panic about it.
It's time for the rest: – You also need to make sure that you have some downtime. Join a few societies and sports clubs so that you meet a range of people. Not only this will give you some time off from thinking about your studies, but also give you the chance to make some new friends.
No to nostalgia: – You should not obsess over your life back home. Constant messages and calls from a loved one could just make you feel very homesick and depressed, and you eventually want to enjoy your time studying abroad and experience a new culture. Try and get the best of both worlds, because coping with stress while studying abroad is all about getting the balance right in every possible way.
There are also various other ways which can make homework less stressful for you. One of the reliables helps you can get is from your parents since they are the students' first teachers in their life. Parents are the only ones who can ensure that their child leads a stress-free life and better homework experiences.
Moreover, parents can also help their wards with their homework and also make them follow a proper study schedule. Moreover, the biggest help parents can do to decrease the stress of their child is not to scold them for getting low grades. Instead, they encourage them to study well further and also not to coax them to get high grades which might be impossible for them.
On the other hand, online homework help can also help the students to decrease their stress levels. The only thing students can do is to search online for the best and reputed academic assignment and homework writing companies and agencies which provide all types of homework services in Singapore. SingaporeAssignmentHelp.Com is the best online destination to get homework help which is the best way to beat your stress.
Hire a Professional Essay & Assignment Writer for completing your Academic Assessments
---
Native Singapore Writers Team
100% Plagiarism-Free Essay
Highest Satisfaction Rate
Free Revision
On-Time Delivery