Posted on: 20th Sep 2016
988 Views
How to Manage Finances During Academics?
In an ideal world, your sustenance expenses abroad will be equivalent to the costs you would have at home. Though, this is not always the case. If you are moving abroad for your first year, it is not easy to understand what to anticipate or how much money you will need and to manage a budget. We have come up with a few tips and guidelines to assist you better to manage your expenses while studying in Singapore.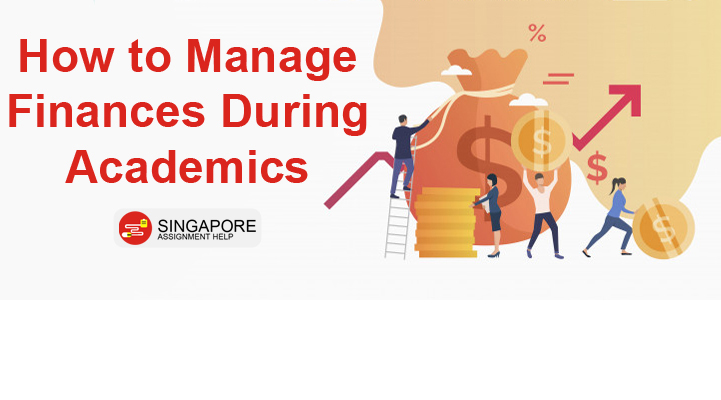 Consider currency exchange rates

– You can save much money by keeping an eye on the Singapore dollar v/s yo

ur home currency. What the Singapore dollar is worth today in association to your home currency, may not, and most reasonably will not be the same amount in a week, month, or even a year or two. So, if you imagine the rate is as good as it is going to get, transfer over more money sooner.

To pay your tuition fees– Luckily, paying your tuition fees has gotten a lot easier to manage and handle with the help of peer transfer. Not only does it provide the best rate guarantee when transferring your money to your college or an online assignment helper, and it also sends you reminders for upcoming bill due dates so you will never miss a deadline.
Create a budget

– Note down all the fixed costs you have per month and split them up into weeks. These expenses may include food, books, the internet, cell phones, study materials, etc. Factor in some of the fun stuff like movie tickets, night outs, and trips. Stick to your share and soon you will get a hang of living with your budget, and it will grant you peace of the mind, determining where your limits are.

Save on travel costs

– Take advantage of your student I.D. for concessions or discounts on transportation. Either it is public transportation in the city, airfare or trains, try to advance booking, save money with off-peak travel, and examine prices online and use student travel sites.

Shop wisely

– It is significant to get all your vitamins and eat well. Check out your school's or college's cafeteria option plans, and try to prepare food at home instead of eating out. This can be an excellent opportunity to learn how to cook your favorite dishes easily! Shop at cheaper supermarkets and look for sales and discount coupons. You can also split bulks with your roommates and friends.

Opening a local bank account

– If you decide to opt for a part-time job, the local bank account will be helpful. Additionally, you will not have to pay hefty service charges for using your local debit card.
Hire a Professional Essay & Assignment Writer for completing your Academic Assessments
---
Native Singapore Writers Team
100% Plagiarism-Free Essay
Highest Satisfaction Rate
Free Revision
On-Time Delivery
Accommodation

– Usually students with most universities require them to stay by default in on-campus housing units. The on-campus accommodation offers a sense of safety and security and fosters the spirit of community living. It gives you the chance to interact with international students from other countries and learn about their culture. Off-campus accommodation in the form of shared apartments and student hostels may also be considered.

Service utility bills

– If you stay on campus your rent covers the electricity charges, rules regarding internet usage vary. If you stay off campus, your bills will vary on your usage, so plan your budget carefully and do not waste electricity. Learn to do your laundry, wash and iron your clothes; you will save a considerable sum of money.

Books

– Textbooks keep getting upgraded with a new edition every year. Buy only those books that you need and use the library for reference material. Used book shops offer good deals on text books; verify the edition and year of publication and buy these books at a lesser cost.

Part-time jobs

– Different countries have different immigration and labor laws. Verify that you are not breaking any local immigration and labor laws and then apply for a part-time job. The pay varies based on the job. However, also remember it is very easy to get stressed so focus on your studies, not your part-time job.
In the end, your lifestyle plays a significant role in the amount of money that you spend. Hence, with the help of these suggestions you can manage finances during your academic career and can perform accordingly.