Posted on: 23rd Aug 2018
1311 Views
How to Write a Persuasive Essay
As the name defines itself a Persuasive essay is a form of academic writing which is written to convince its readers about a particular topic, fact and idea, usually, with the writer's/student's belief. This kind of academic writing is also known as an Argumentative Essay– where a student uses sufficient arguments to defend his position.
This is a very common type of essay writing given to the Singapore's students by their faculties to enhance their critical analysis skills. This essay required lots of efforts, proper planning, long time research to formulate an impressive essay that make the reader's think the way a student is thinking.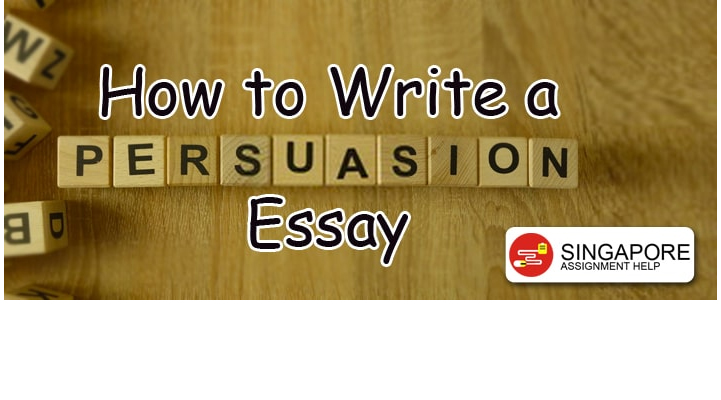 Essential criteria to formulate a Persuasive Essay:
Select your Position: Firstly, a student needs to decide his position: "at what side of an argument he is on"?
Reason: A student needs to formulate a reason that would specify "why he chooses this side of an argument". And why he thinks this side is a true side and why a reader needs to think the way he is thinking.
Evidence: A student needs to collect and present the evidences to prove his position true.
Counterargument: A student should be well aware with the other side of his position and he should collect the proper evidence that provides information regarding "why another side of the argument is not a valid side".
Write a Persuasive essay:
Like any other essay persuasive essay also should be written in a specific format to make it more attractive and easily understandable by its readers:
Introduction of a persuasive essay:
At the very starting, a student is required to captivate its reader's attention and present a "hook sentence".
The topic should be defined in a very precise manner so it will clearly state the "main purpose" of the essay.
Formulate a strong "Thesis statement" that frames a picture of the student's position and take a proper stand for the student's position.
The thesis statement should be written in 2-3 sentences and it should come in the last part of the introduction paragraph.
Hire Professional Singapore Essay Writers to Write Academic Assignments
The Body part of a persuasive essay:
The middle part of the persuasive essay further sub-divided in 3-4 paragraphs.
Each paragraph presents new evidence that proves the student's position.
Each paragraph of the body part should defend its thesis statement.
Each paragraph consists of a new outside evidence that a student used to formulate the idea.
Conclusion of a persuasive essay:
This is the last paragraph of a persuasive essay where a student winds up all his arguments.
Restate his topic and thesis statement in a different manner.
Wind up by using a quotation or a phrase related to his topic to leave an impression on the reader's mind and help to convince the reader from the student's point of view.
The Transition should be use to create an attractive flow.
Use the bold where is needed.
Citation:
Proper use of the citation format given by the university or faculty.
All the citation is required to be listed with the references.
Instant Services to help you with your academic essays for Singapore universities
Useful tips to formulate an effective persuasive essay:
A student should make a plan before he starts writing then he should write all the information in a rough format.
Selection of the topic should be very clear and related to the recent trends so the readers get an interest while reading it.
A student should conduct proper research on the topic and should be aware with all the aspects of the topic so if he would be asked any question, he should have a proper answer.
A student should have well evidence to prove his position a true one as well as he should have proper evidence to prove the other side of the argument the wrong one.
To create a proper effect of his writing, a student needs to be very precise. He should formulate his essay by putting only the important information.
A student should use the bold letters and highlighters to make important terms and information visible.
Once you finish with the writing, you need to read it, again and again, to make it error free.
Lastly, don't forget to edit and proofread it by the professional editors.
If you break down all the findings and information in this presented format then writing a persuasive essay will no more remain complicated for you.
If you want furthermore assistance in writing a persuasive essay contact our Expert Essay Writers who have enormous knowledge of writing an essay.
Essay writers of Singaporeassignmenthelp.com can help you in any process of essay writing. They can provide assistance in the selection of a topic to proofreading your essay in a very economical price.
Contact our 24*7 available CSR team today..