Posted on: 8th May 2020
1161 Views
Research Process
The research process is referred to as a set of activities that the researcher performs for finding an effective solution to the problem. Ph.D. scholars are generally asked to perform research in their respective fields. If you are performing research for the first time then you might have to face several issues. In this article our research paper writing team is providing the proper guide that will help you in systematically performing research.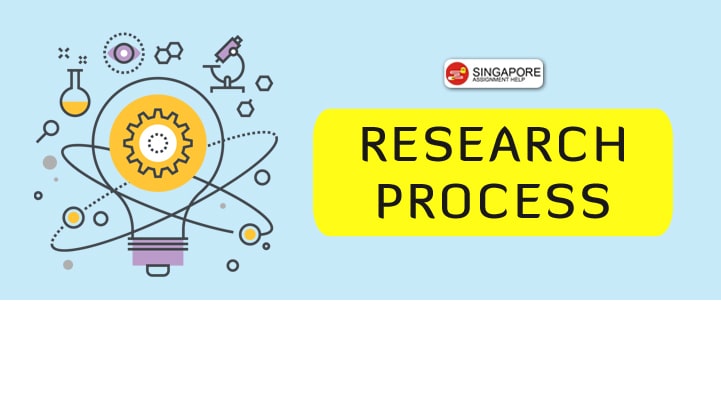 When students are asked to write a dissertation or thesis, it is quite difficult for them to make decisions about where to begin. There are few steps which they can follow. At the initial step of the research process, it is very much essential for you to develop ideas about the Research topic on which you want to undertake the study. You can perform preliminary research, as this strategy will help you in identifying a problem. After identification of the issue you need to design research Questions and prepare the structure for writing a research paper. You can select any research design as a basis for writing a research proposal that provides outlining ideas and plans.
How to conduct the research process?
The 5 steps of conducting the research process are:
Step 1: Selection of research topic
At the initial step of the research topic, you need to make a selection of interesting topics for undertaking study.  It is very much important for you to make sure you have chosen a broad topic for performing research. You should analyze the field in which you are interested.  It is a good idea to make a selection of topics about which you already have some knowledge.  You can read books, newspapers, journals, and articles. It is the strategy that will provide you an ease in narrowing down a topic. Researchers can conduct preliminary research on recent issues and can select one topic for performing research.  If at the time of preliminary research you found any article to be interesting then in such case you can check its bibliography or reference list, these tactics will help you in finding other related sources.
During the preliminary research, you should prepare the notes and should take the initiative for identifying problems, debates, and questions. It is also very essential for you to address the knowledge gap in the existing literature. At this step your aim of research should be to narrow down a topic from broad to specific.
At the time of making the final selection of the research topic, you must think about practicalities.  You should also review the college or university guidelines.   Before finalizing the research topic, you should also determine the extend up to which it would be difficult for you to access different sources for collecting information.  You can discuss the research topic with the supervisor.
Hire a Professional Essay & Assignment Writer for completing your Academic Assessments
---
Native Singapore Writers Team
100% Plagiarism-Free Essay
Highest Satisfaction Rate
Free Revision
On-Time Delivery
Step 2: Identification of the issue
You should clearly state your aim and it is also very crucial to explain the thing you intend to achieve.  It is a step where you need to define the research problem as it is the tactics that will provide your research project focus and would help in accomplishing objectives.  At the time of choosing research or specific issue, you should ensure that it is practical.
For example: specific machinery which is not working properly, the poor performance of the company, issues faced by people in society, etc.
Alternatively, you can also make a selection of theoretical issues as a topic for performing research.  You can implement a research process for exploring unseen phenomena or identification of the relationship between two or more things.  At this step of the research process, it is very much important for you to decide the research objectives. You also need to write a problem statement. It is very much important for you to provide detailed information about people who will get affected by a particular problem.
Step 3: Design research Questions
At this step of the research process you are required to design research questions based on a problem statement. Before designing research questions you need to determine what exactly you want to find out. At the time of formulating research questions, the researcher may emphasize comparison, evaluations, explanation of the research problem.   You are required to design specific and relevant research questions.  If in case you intend to perform in-depth research then you should create complex research questions.  In a few types of research at this step you need to create a conceptual framework and testable hypothesis.
Buy high-quality essays & assignment writing as per particular university, high school or college by Singapore Writers
Step 4: Select a research design
Research design is a framework for answering research questions. At this step of the research process, you need to determine the type of information you will require. You will also require making decisions about the research method which you will utilize for performing research. At this step, you are also required to determine the time scale and location for performing the study. There are many different paths that you can use for answering research questions.  You can decide based on setting priorities.  For example, you need to determine the relationship between cause and effect.
You are required to determine whether to utilize primary and secondary data. You must determine the tools or materials which you will utilize for the collection and analysis of information. It is also very much important for you to detail information about the criterion you will use for selecting participants.
Step 5: Write a research proposal
After completion of the above steps, you need to write a research proposal. Its research outline consists of information about background information related to the topic, research question. You should also include a literature review in your research proposal. In the research proposal you should define the approaches which you will use for conducting research.
Conclusion
It has been concluded from the above that conducting research is a very lengthy process. Other facts that have been found from the above are that systematically performing research is very much essential for accomplishing desired objectives.
Stuck with a lot of homework assignments and feeling stressed ? Take professional academic assistance & Get 100% Plagiarism free papers