Posted on: 8th Apr 2020
1706 Views
Defining Research Problem    
A research problem is a specific issue which the researcher intends to solve by conducting the study. While making the selection of topics for writing a research paper you should mainly concentrate on practical problems.  It is a broad topic of interest and type of research which helps you in making a selection of specific issue for research.  You need to include the problem statement while writing the research proposal.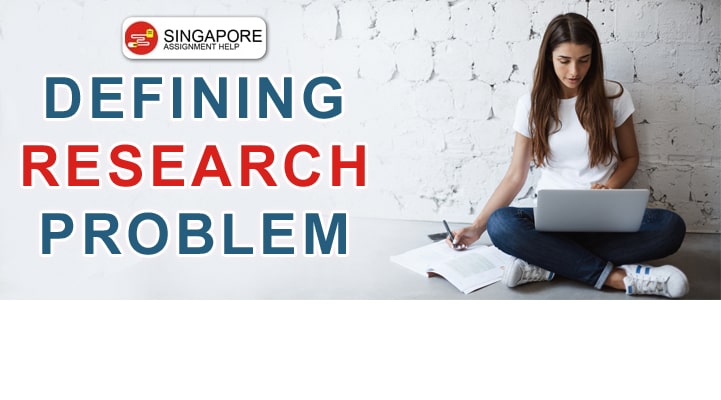 What are steps of defining a Research Problem?
The 2 steps of defining the problem in a research paper are:
Step 1:  Address Problematic area
After successful identification of the research topic, you need to execute preliminary research. AS it is the tactic that will help you in exploring the different aspects of the problem.  By performing the preliminary studies you will also able to identify the knowledge gap which you can fill by performing research.  The research problem can be categorizing into two these are:
Practical research problem
If you are performing an investigation on the practical issues then reading the reports can help address the problem.  In the business field, there might be several practical problems such as:
Problem-related to the poor performance of workers
Ineffective processes
Decline in productivity
Practical research problem example

The voter in UK is declining continuously in relation to other nations.
In the context of NGO, a child care foundation is facing the funding issue which has a significant influence on its operations.
Theoretical research problem
Researcher generally performs research on a theoretical research problem for increasing their knowledge.  Reading of present research report can be helpful in the identification of theoretical issues.  You should search the type of issue on which the study has not been yet executed.  It is very much important for you to first develop an understanding that theoretical issue has great significant practical effects. By researching a particular theoretical issue you can not find a quick solution to the problem.
Theoretical research problem:  Example

There is no proper research has been performed for analyzing the influence of deficiency in vitamin D on heart.
In a similar way no studies have been performed for analyzing the relationship between race, gender and income.
Hire a Writer to Write your Research Paper before Deadline
Step 2: Gather more information about the issue
At this step, you need to accumulate more information about specific problems. By gathering more information about the problem you will be able to identify its different aspects. After successful identification of different aspects of the issue you need to select one part of the problem that you are going to address in your research.   At last you need to define the problem.  The things you should include when defining the problem in a research paper are:
Background information:  Here you need to provide information such as people who will get influence by a particular problem, duration of the issue, existing literature, etc.
Specificity and relevance: In this section, you need to specify the time, place and people on which you will mainly concentrate on during research and when defining the problem. It is also very essential for you to clearly state which aspects of the problem you are going to cover in your research. You should also provide a list of people who will get benefit from resolving a particular problem.
 Specific research problem: Example

An organization is concentrating on retaining its existing customer base, but management in the enterprise does not have knowledge. The management in an organization needs to conduct the research for finding an effective customer retention strategy.
Why the problem statement in an academic paper is essential?
The inclusion of problem statements in the research paper is very important about maintaining relevancy and managing the research project.  You need to share information about other people. By including the problem statement in research you can demonstrate the contribution of research and provide people with a new aspect of the issue.  In the research problem, writing a statement of the problem is the First step.
Note: If in case your research is associate with an internship or job it is very much essential for you to address the practice relevance of your company.
Conclusion
 From the above article it has been concluded that specificity and relevancy are two important things which you should consider while defining the problem. Another fact which has been found is that theoretical issues in research could have serious consequences.
Quick Support from Singapore Writers in Completing Research Paper