Posted on: 9th Apr 2020
1540 Views
Thesis statement in Research      
Writing a thesis statement in the introduction can be helpful in making it interesting. Students often face issues in writing the thesis statement. In this article, our professional is providing guidelines about how to write a thesis statement?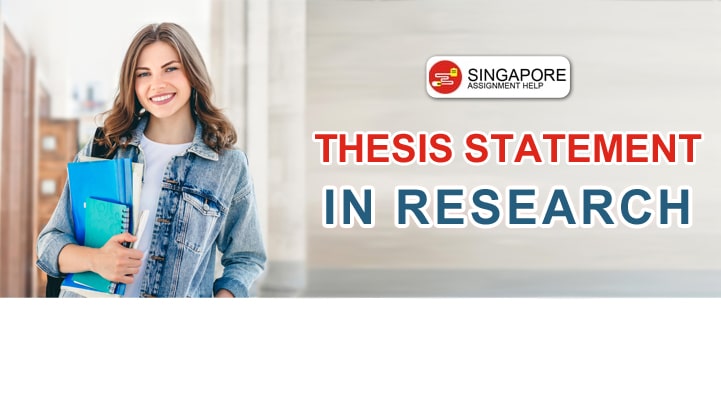 How to write a Thesis statement?
The 3 step of writing a statement of thesis for a research paper includes:
Step 1: Formulation of research questions
It is a step where you need to design such research questions that you want to get answers. While designing the research questions you should make sure that it is clear, specific and relevant.
Example of research Question

What are the main external factors that influence business operations of the company?
Step 2: Funding an answer
After developing research questions you need to conduct preliminary research for finding answers to questions. This step mainly includes researching and writing. In relation to an argumentative academic paper, the answer you are writing should hold a strong position on the problem.
Example of thesis statement:

Business operations are highly influence by changes in economic factor.
Quick Support from Singapore Writers in Completing Research Paper
Step 3: supporting answer by providing evidences
At this step, you need to search for different sources for gathering evidence in order to support your claim or answers. It is very much important for you to continuously develop and refine the thesis statement when writing research paper.  The thesis statement in the above example consists of an overall summary of the main arguments.
Changes in the economic situation of nation has highly influence the business operations of companies. Globalisation is the main cause of changes in economic condition of nation.  Management in an organisation has design effective strategy for dealing with changes in economic factor.
Thesis statement: Examples
You need to write thesis statement considering the main aim of your research. The 4 examples of thesis statement are :
a) Argumentative
If you intend to motivate reader to accept claim then you need to write a clear and specific thesis statement. Here, you need to provide reason for making such argument along with proper evidences.
Example: The main reason for the UK leaving EU is increase in frustration among working-class people because of political instability in nation.  It is basically an austerity policy which has diminished the public services and resulted into high level of frustration among working-class people.  Status Quo or implementation of laws is considered to be as an alternative option for dealing with such issue.
In above example, there is supporting amount of evidences for positively influencing reader to accept claim.
b) Analytical
In case you just want to perform analysation, interpretation and evaluation about different aspects of specific subject. Then while writing the research paper you should make sure that you cover main points at the time of analysis. It is a step when you can write conclusion which you have drawn from it
Example:  The relationship between the UK and EU is very much complex. UK sometime plan to integrate with EU culturally and economically.  But there has been continuous change in the politics of EU during last few years.
The example above is more specific as it provides reader with guidance throughout the historical analysis of research paper.
c) Expository
In case your intention behind performing research is to provide explanation and facilitate discussion about the facts related to topic, then you should provide summary of your main points.
Example: Surveys and polling emphasizes on demographics of Brexit that can be categorised on the basis of age, gender, region, educational level and ethnicity.
Above example consists of sources and categories of information that you are going to focus on during study.
Hire Research Paper Writing Services in Singapore Now
Why writing thesis statement is important?
The statement of the thesis is considered to be an as most crucial sentence in the research paper. The main function of the research paper is:
It helps in determining the objective for research paper.
Thesis statement research helps researcher in showcasing their knowledge about specific subject or topic.
It provides reader with guidance throughout research paper.
A strong thesis statement helps researcher in increasing relevancy and assist in making it more interesting.
Note:
It is very much crucial for you to consider the thesis statement when writing research paper.
You can do expansion of main body paragraph in research paper on the basis of thesis statement.
What makes a strong thesis statement?
The 3 important characteristics of good thesis statement are:
1. Concise
A strong thesis is built considering the main arguments.  When writing a thesis for a research paper you need to consider that it demonstrates your understanding of specific issues.  At the time of writing a thesis statement you should include one or two sentences about your main argument.
2. Contentious
Important characteristic of strong thesis statement n research is that it contains evidence for supporting main arguments. In relation to argumentative research paper , if someone raise questions or argue with the statement which you have wrote then it is consider to be as symbol of strength.
3. Coherent 
It is considered as an important characteristic of a strong thesis statement that is completely relevant to research paper.  After writing a thesis statement you need to ensure that it consists of all key points.
Conclusion
From the above article it has been summarise that thesis play important function in research paper. Another fact which has been found is that good thesis statement is designed considering the main argument in a research paper.
Hire a Writer to Write your Research Paper before Deadline