Posted on: 15th Apr 2020
1064 Views
How to Choose a Dissertation Supervisor
Before beginning to write a Master dissertation you must identify the best supervisor in a possible manner. In this article, we will learn about how to select the supervisor for getting guidance throughout the masters or Ph.D. dissertation/ thesis writing process.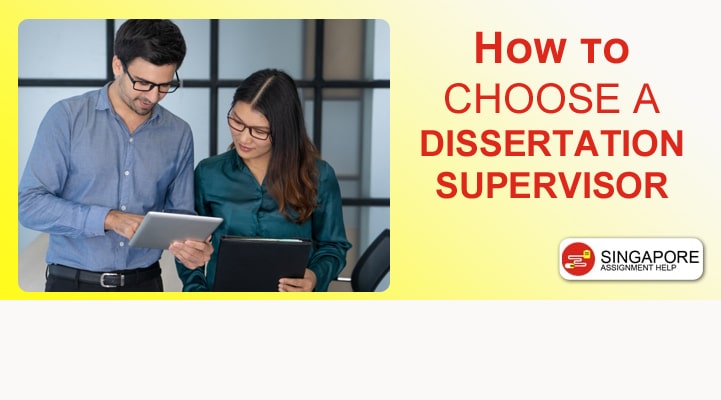 Who is the dissertation supervisor?
A dissertation supervisor is a person who helps students in deciding a research topic for writing a dissertation. They are people who provide you with proper guidance and instruction throughout the dissertation writing procedure.
What does a dissertation supervisor do? – Role of Dissertation Supervisor
A dissertation supervisor is also recognized to be as faculty of university or college whose main role is to guide to graduate students related to writing a dissertation.  Another important role of the dissertation supervisor role is to help students by giving then advice and guidance related to preparing, producing and improving thesis.  The supervising master dissertation is another crucial role of the supervisor.
Hire Professional Singapore Writers to make your Dissertation Paper
Selection of Right supervisor for your subject
You need to ensure that the supervisor you are selecting is supportive. The best way to select someone you already know. It is very much important for you to select an expert person in a specific field on which you are writing a dissertation.  As the in-depth knowledge possessed by the supervisor and academic field surrounding them will help you in getting guidance throughout the dissertation writing procedure.
How do I choose a good supervisor?
Many students in colleges and universities tend to approach those dissertation supervisors who have a high profile. Some other students prefer to select important members of the university or college as their supervisor. Students select such supervisors as they perceive that these advisors have expert knowledge about the dissertation structure. Below are certain tips which you can apply for making selection of good  thesis supervisor for you these tips are:
Tip1: You should select a supervisor with whom you have worked with or with whom you already have a strong professional and productive relationship.
Tip 2:  It is very much essential for you to avoid it. Selection of such a supervisor who makes you feel anxious and nervous.
Tip 3: Dissertation writer should choose such a supervisor who enables you to share your ideas.
Tip 4: It is very much important for you to choose such a supervisor who helps you in exploring your full academic capabilities.
Tip 5. You need to select such a supervisor that supports you and enables you to do experiments using new ideas.
Tip 6. Writing a dissertation is a task that includes a high level of pressure, therefore you need someone who can motivate you throughout the writing process.
Quick Services for Dissertation Writing by Singapore Writers
Importance of selecting a good supervisor
Making a selection of a good supervisor is important due to the following reason such as:
To complete the dissertation in a successful manner and on time.
Choosing a good dissertation advisor is essential for getting proper guidance throughout the writing procedure.
It is a good Dissertation supervisor who will provide you with guidance about the proper style of writing a dissertation. By providing important in-depth information will help in becoming an expert dissertation writer.
The selection of a good supervisor for writing a dissertation is essential as they are people who will provide you with a Dissertation example.
It is a good and expert supervisor who knows about every section such as literature review, methodology, discussion, results and finding sections. They can help you in the completion of different dissertation chapters effectively and efficiently.
Conclusion
It has been concluded from the above that the selection of a good dissertation supervisor is very much important to complete a dissertation on time and in a successful manner. The advice to students is that they should select supervisors with whom they feel comfortable and already worked.
Take Help of Experts to complete your Dissertation on Time