Posted on: 6th May 2020
1304 Views
Textual Analysis Research Method
The textual analysis includes a systematic analysis of content. College going students studying masters or undergraduate courses often faces issue in performing textual analysis. In this article, our expert team is providing you with a quick guide on How to do textual analysis.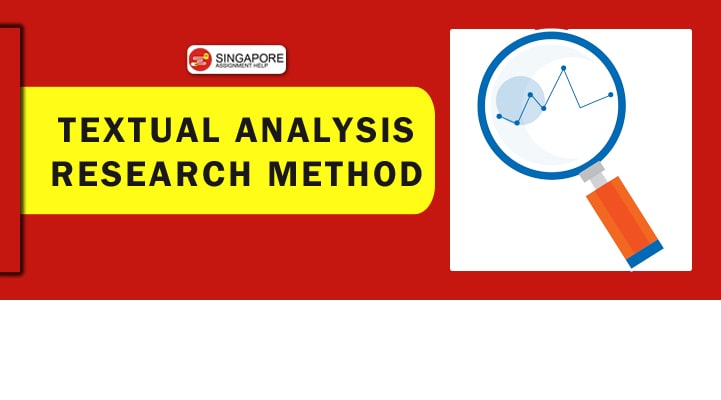 What is text?
Text can be referred to as a piece of writing like a book, an email, or transcribed conversation.  In a few cases text can be any object whose meaning and importance you intend to interpret in detail.
Hire a Professional Essay & Assignment Writer for completing your Academic Assessments
---
Native Singapore Writers Team
100% Plagiarism-Free Essay
Highest Satisfaction Rate
Free Revision
On-Time Delivery
Textual Analysis: Definition
A textual analysis is a method of communication that the researcher utilizes for describing and interpreting the characteristics of the recorded or visual message. The main purpose of textual analysis is to:
Analyze short story and you might emphasize imagery, narrative perspective, and structure of the text.
To analyze a film and also cinematography. You can utilize sound that could be relevant to the analysis.
A building may be analyzed in the context of architectural features and the way it is navigated by visitors.
You could analyze the rules of a game and what kind of behavior they are designed to encourage in players.
While Textual analysis is most commonly applied to written language, you need to consider how broad the term text is and how varied the methodology involved can be.
Textual analysis in Cultural and media and media studies, textual analysis is an important element of research. Investigators in these fields take media and cultural objects. For example social media content, music videos, billboard advertising, etc.
At the time of working in a particular theoretical framework, researchers intend to link components of their texts with problems in contemporary politics and culture. The researcher may analyze different aspects of texts such as:
Choice of words
Design elements
Source of text
Target audience
Relationship with other texts
Textual analysis is creative and qualitative. Investigators can intend to illuminate something about the underlying politics and social context of the cultural objects on which they are performing an investigation.
Textual Analysis in Social sciences
In the context of social science, you can apply textual analysis such as surveys, interviews, and Transcripts to different types of media. The textual analysis research method is used by scientists for drawing empirical conclusions about social relationships between people.
Textual analysis in social science research has a quantitative approach. It means that researchers can measure the text numerically. For example, investigators might intend to study how often few words or phrases are repeated in social media posts.
Content, Discourse, and thematic analysis are three techniques that you can use for analyzing texts in social science research.
Buy high-quality essays & assignment writing as per particular university, high school or college by Singapore Writers
Textual Analysis in literary studies
Textual analysis is considered a crucial research methodology in literary studies. All work in literary studies includes an in-depth analysis of texts such as poems, stories, plays, etc. As it deals with literary writing, textual analysis mainly focuses on the deliberate construction of elements of a text. For instance, the meter in a poem, narrative perspective in a novel, etc.  An investigator intends to develop understanding and provide explanations about the way different elements of the study contribute to adding meaning to a text.
However, in the context of literary analysis includes discovering the meaning of the texts which the author intends to share. The literary analysis helps in exploring unintended corrections of different texts. You can ask what texts reveal about the subject.
Conclusion
From the above article it has been summarised that it is the textual analysis that helps researchers in addressing those words or phrases which are adding meaning to the text. Another fact which has been found from the above is that textual analysis in literary writing mainly focuses on exploring unintended corrections between texts.
Stuck with a lot of homework assignments and feeling stressed ? Take professional academic assistance & Get 100% Plagiarism free papers