Posted on: 23rd Jul 2019
1247 Views
Personal Essay Topics
Are you searching for the best and trending personal essay topic ideas? We have a good bunch of ideas for you.
Personal essays are the most commonly asked assignments by school and college students of Singapore. Personal essays are the form of nonfiction writing that is written into a variety of writing styles.
Personal essay topics generally consist of experiences, stories, and opinions from the real life of a person.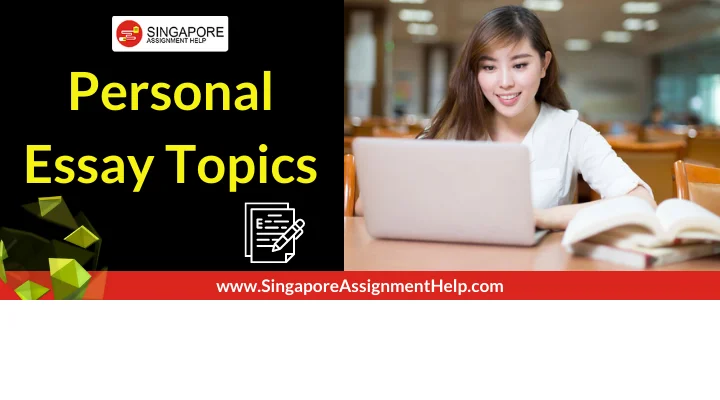 For writing an essay on the personal essay topic, the essay writer needs to use his or her own thoughts or real-life experiences to generate a quality paper.
You can generate a successful essay paper only if you merge both your opinion and narration. This article consists of a free list of topics having 135 personal essay topics from a wide range of personal areas and interests.
The Singapore scholar can choose any topic or subject that looks interesting and engaging to you.
Cause and effect personal essay topics:
The causes of my burn out.
Reasons to hate or love TV.
What makes the college-going student an independent person?
What interests me in sports?
What is the role of my parents in my whole study life?
How does social media impact of daily routine?
What is the reason for my revolt against my parents?
How I became stronger after my failures?
Books that changed my views to see the world.
What is the effect of exercising regularly on my health?
What makes me choose computer science for my graduation?
What is the influence of pets on my personal life?
What are the pros and cons of being a single child?
What is the impact of my parents on my life choices?
What is the significance of math for making my future career effective?
Persuasive personal essay topics:
Why the students are recommended to study abroad?
What is your opinion about distance learning and online education?
My priorities at the age of 85.
Listening to music can help to finish the homework earlier.
Why I hate or love smoking?
Can hobbies help to get a better job?
What makes a person to spend more money on online shopping?
Is it safe to buy products that are experimented on animals?
Should we forbid zoos?
What is the significance of volunteering?
How a person can deal with stress?
Which is your favorite restaurant and what makes it so?
How can we make the world more beautiful?
Things that are must survive in the world.
Personal essay topics for college applications:
Your biggest motivation in life.
Do you ever felt what love is?
List 5 commitments of your life.
What is the agenda of your life?
Which outdoor activity do you like the most?
What is the meaning of success, according to you?
What have you learned from your failures?
What is the significance of freedom in your life?
Describe intellectual challenges you would like to solve.
Have you ever come out of your comfort zone?
Describe your first job interview experience.
Things that you appreciate in your life.
What are your plans to spend a gap year?
What is your biggest hatred?
What was your experience with your roommates?
Outsource Your essay writing Assignments to Professional Singapore Writers
Argumentative personal essay topics:
Which is your favorite holiday destination?
The thing that is meaningless in your life.
Importance of living a healthy life.
How one can deal with environmental issues?
What do you understand by cosmetic surgery?
The importance of your ethnic identity.
What do you understand by fashion craziness?
Why personal development is important?
Are you crazy for a tattoo?
What are the different roles of male and female in your family?
Which one is more important in life: happiness or wealth?
What do you understand by feminism?
The most memorable moment of your life.
As a human, what are your key responsibilities?
Personal experience ideas higher English personal essay topics:
Have you ever break up with a friend?
The things that make you happy.
Have you ever take lead in any group activity?
Do you like eating healthy food or junk food?
What do you do when someone provokes you?
Your experience with Christmas celebration.
Describe terrifying nightmares.
Do you like pet animals? Which pet do you own?
Your experience of a concert.
Your first experience with driving.
Share the experience of your most devastating trip.
Your first experience with a celebrity.
What makes you get hurt?
Enemies also teach. Do you ever experience something like this?
Have you ever being a witness to an accident? Describe the incident
Hire Professional Singapore Essay Writers to Write Academic Assignments
Best Narrative ideas high school personal essay topics:
What is your biggest fear? What do you do to overcome it?
If you ever been to abroad, share your experience.
An unlucky experience of your life.
Do you believe in helping others?
How did you learn to cook your favorite dish?
How was your first experience in school?
The first time you were alone at home.
Your best childhood memory.
Your first experience with a wild animal.
The best memory of any family event.
Do you like to learn new things?
Have you ever encountered a failure?
Do you have any memory from your first birthday?
Which was your favorite childhood game?
The biggest challenge of your life that you have dealt with.
Interesting personal essay topics for college students:
Which is the best method by which you study?
Who is the most special person in your life? How you met him or her?
Which commercial do you like?
A person in your life who is your admiration.
Is life possible without money?
The best place to visit in your city.
The latest song that becomes your inspiration.
Your favorite place where you can spend your life.
Are you technology addicted?
Art becomes your inspiration.
Your everlasting family traditions.
Discuss your dream job.
The thing that annoys you the most.
The most disappointing experience of your life.
A book that inspires you.
Family and friends personal essay topics:
A walk with a friend in the dark is even better than a lonely walk in the light.
What is your definition of family?
How one should deal with misunderstandings?
If you have to compare your family members with animals, what kind of animals do you have in your family?
Do you and your friend have any interests in common?
What is the story behind your name?
Should good friend provide moral support in troubling situations?
The biggest life that you learned from your father.
How does the internet make communication easy?
Explain your relationship with your brother or sister.
For whom you felt for the first time?
Social media makes communication easy with family.
Tell us about your best friend.
Do you find your family supporting or discouraging in terms of education?
Do you find your friends supporting while starting a new enterprise?
Music and movies personal essay topics:
Your parent's favorite genre of music.
With which movie character you can relate yourself?
Did your music choices influence by your peers?
Write an essay on your favorite actor or actress.
Tell us about your favorite singer.
If you get a chance to act in a movie, which kind of movie you would select?
What is the impact of music on human lives?
Write about your favorite movie genre.
Who is your favorite singer?
Does horror films influence your life?
What attract people towards karaoke?
Which actor or actress would you like to look like?
Which genre of music is inspirational to you?
Do you have any good memory with any movie? Discuss
Which movie has a great impact on teens?
Here we have tried to make a perfect collection of personal essay topics that looks interesting to both you and your readers. The perfect choice for personal essay topics is most essential.
If the topic is good, the essay will be fine. We are sure that these personal essay topic ideas will help you to structure an awesome essay.
You can use this topic idea directly or by modifying them a little. We hope that this list is useful for Singapore students to structure captivating essays.
If you are still in dilemma about writing the perfect essay, buy our Singapore assignment help services. Our help is available round th3e clock for the customers.