Posted on: 27th Jul 2019
1416 Views
How to Write a Persuasive Speech Step By Step
Are you stuck while thinking about the meaning of persuasive speech?  Stuck with the question that how to write a persuasive speech as you don't have any prior knowledge?
By persuasive speech, in short, we can say that it is a written piece of vital information containing your outlook about a particular topic to attract more and more audience.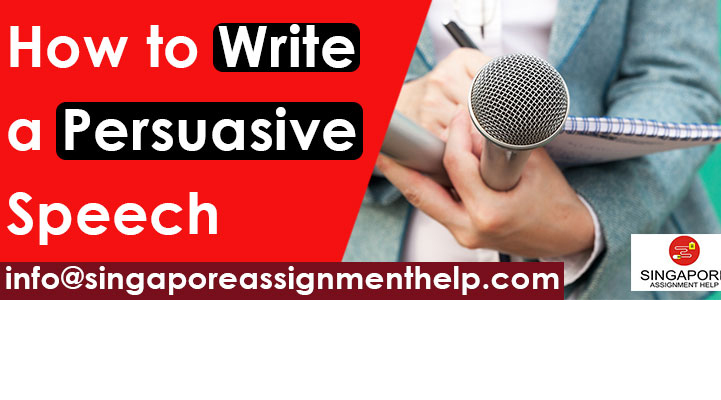 For writing an efficient persuasive speech, your thoughts should be lucid, brief and argumentative in the form of sentences. It is strongly advised not to include difficult and unclear sentences that confuse the audience to get its proper meaning.
The topic for writing a persuasive speech can be picked up on any issue for which you have a certain strong opinion and want your thoughts to get publicized. It may be an issue related to society or any other facts.
The primary purpose of persuasive speech writing is to draw the reader's attention on that particular issue and convinces them to take action on it. If you want to get rid of such writing work without investing your precious time, then hiring an essay writing service is the best alternative.
What is Persuasive Speech? Definition
We have already discussed above that a persuasive speech is the depiction of your own thoughts about a particular topic that sounds pleasing and inspiring for the audience to take action.
When it comes to the structure of a persuasive speech, it is very straightforward. It should consist of a thesis that contains the main idea of your speech.
The purpose of the thesis is to show that the author's only goal behind delivering a persuasive speech is not only to convince the audience to take action but just circulating information also might be the agenda.
The main body of a persuasive speech consists of certain evidence and a satisfactory note on how to solve that particular problem that the writer is discussing. The end consists of a suitable conclusion along with the call for action.
Instant Services to help you with your academic essays for Singapore universities
Purpose of Persuasive Speech for students:
Provide all the relevant information about the topic, to the audience.
Explain the significance of the persuasive speech topic to the reader and how they can relate it with their everyday life.
Give proper knowledge of the common problems and solutions of the topic, to the audience.
It will be more beneficial if you collect feedbacks on that particular issue.
How to write an effective Persuasive Speech: Step By Step
Writing with proper planning is the key to come up with a fine and convincing persuasive speech. The exact format should be followed along with the lucid outline that must have the power to touch the reader's heart.  The relevant steps that should be followed to write the reader-oriented persuasive speech:
Discover enough: Researching is the foremost and most vital step to write a persuasive speech. Without filling your brain with lots of thoughts, it is almost impossible to complete the task appropriately.
Mostly the persuasive speech is written on a controversial issue, so it requires a lot of research work from various sources. The writer must show himself or herself as a specialist of the topic holding all the knowledge that is necessary for the reader.
It is important to pick up the correct style and language that suits your target audience so that they can connect with it.
Collect all the necessary and fascinating information. Making notes of it can help you a lot while writing. You should stay up to date before beginning with the actual writing work.
Select genuine sources: Choosing genuine and relevant sources is the key to ending up with efficient writing. Though there are plenty of sources available for collecting the necessary information, academic sources are always proved to be more relevant. You should always choose genuine academic sources such as books, journals, etc. If going with an online source, it should be genuine in terms of academic importance.
You also have an alternative to go with the best essay writing service to take guidance for choosing authentic sources. This can help you to create professionally written persuasive speech.
Outsource Your essay writing Assignments to Professional Singapore Writers
Understand your persuasive speech writing goal: The main purpose of writing a persuasive speech is to keep the reader engaging from starting till the end. The only way is to make them aware of the issue and its main points right from the start. Their interest in the topic should never go away. You can achieve this by preparing a significant thesis statement to inform the reader about what they are going to learn as a whole.
Give a proper and sturdy opening:  After completing all the research work, now it's time to start writing. The right format is very crucial for an effective persuasive speech. The introduction should begin with a quote, picture, video, etc that seeks the reader's awareness and persuade them to read. The speech should also look interesting to keep the reader connected.
Along with the problem and solution, the thesis statement should also focus on the goal and reason responsible for writing a persuasive speech on this particular topic. The introduction can also be written, at last, the only thing that matters is the right format.
Give support with evidence: Motivation and power to influence are the keys of persuasive speech, but this is not enough to get succeeded in it. To add up to your thoughts, it is necessary to give support of reasonable evidence. Explain glance each of your thoughts with strong evidential support.
Discussion on counter-arguments: Counter arguments are the facts adding up to your persuasive speech showing your efforts on research. Here the audience gets answers to their commonly occurred questions.
Give a proper end with a call to action: The adequate conclusion of a persuasive speech should always contain a call to action, as there is always need for the audience to take action after reading your persuasive speech.
Hire Professional Singapore Essay Writers to Write Academic Assignments
Persuasive Speech writing tips for college students:
Now as you have completed your persuasive speech writing work, make it free from all the errors. Verify the speech for the sort of errors such as punctuation, grammar, etc. Now the best idea is to practice delivering in front of an audience such as friends, family members, etc.
Ask for their feedback and apply them to make it better. Some people also use the method of practising in front of the mirror. It can help you to adapt the appropriate body language. These are certain tips to lead you to the path of success.
In the whole article, we have tried to give you complete knowledge on how to write a persuasive speech and essential tips. It is completely your choice to write the speech by yourself or can hand over your task to the professional essay writing service.
There are several benefits if you hire a professional writer for completing your job. You can get the best persuasive speech at a competitive price and can save a lot of time. Writing on yourself is also an opportunity to enhance your writing skills.