Posted on: 7th Jul 2021
3041 Views
Writing a Perfect College/University Application Essay for Singaporeans
(here you can get step-by-step writing tips for an application essay that can impress your college/university. also read about what we don't do during admission essay writing, different ways to implement a good methodology of application essay writing )
When you are being given to write a college application essay, you should know that it's the essay writing style that varies from an academic essay. Most of the students in Singapore usually think – "How to write a college application essay?" The type of essays that you used to write at school is different when you are writing a college application essay.
A typical personal essay usually starts with writing an introduction, topic explanation, writing accurate facts and information in at least three paragraphs, and lastly, a good conclusion, to sum up, the essay.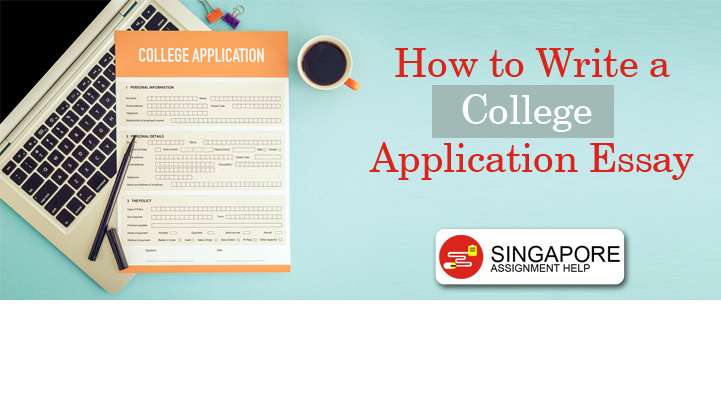 But, writing a college application essay is totally different from the usual academic essay. You should make your college application lively so that it captures the real you. In this essay, you must present your real personality in your writings.
How to Write a College Application Essay perfectly? Tips
Here are the tips to write a college admission essay in the perfect manner:
1. Start with an impressive introduction
You must know the importance of an application essay writing in order to start with an introduction can't keep the reader's eyes off in the beginning.
2. Explain the purpose of admission in that college
You should go ahead by explaining the right purpose to get admission to the college. Mention why you need the specific course with some benefits of the college.
3. Write about your knowledge and skills and why college needs you
It is probably the most important part of a college admission essay. Here you need to show your academic competence and answer confidently the question of why college needs you as a student so that you can impress the admission committee.
4. Show your individuality
carrying an example of others is good but you need to show your individual personality to allow admission officers to distinguish between you and others. Bring out a unique and genuine personality. It increases your chances of getting selected in the college.
5. Express your thoughts and ideas   
Essay of a college application is meant to know how students think about the world around and themselves as an individual. You need to mention the way your thought process works and how you construct your point of view towards others. Also, how the course matter to you and what motivates you to pursue this particular course.
6. Proofread an essay and edit if needed
Make several drafts before writing the main essay. Once you have prepared the final essay, proofread it over and over again until it doesn't satisfy you. Add on the sentences what has been not included or in case left.
So, you must know that a good quality college application essay is necessary to impress the admission committee of a reputed college or university. A good quality college application essay is important to help you grab admission at the best colleges and universities in your region or even abroad.
Your college application essay needs to revive your application. It should catch your real character, clarifying who you are apart from a progression of evaluations, test scores, and after-school exercises. You must explain the real you away from your grades, test scores, and extracurricular activities.
Yet, that is not close to as terrifying as it appears, in light of the fact that it is up to you what to write and how to write in the college application essay.
It would be very tacky to get admission to the best Singapore colleges and universities for your higher studies.
This is because the written college application essay must be best and genuine enough to convince the admission committee to give you instant admission after reading your college essay.
What Is the Perfect Way to Write a College Application Essay?
The college application essay which you target to submit to the admission officials must have the details about your personality, aims, authority, challenges, achievements, real-life incidents that happened to you, or lessons learned by you.
Moreover, it is also important to mention in the essay why you consider yourself worthy of this particular college or university. You must also state why you prefer to take admission to this particular college or university in Singapore.
How long your college application essay should be?  
Also, it is important to take into the importance that a typical college application essay is of 650-word length. Most of the students often have issues about fitting everything into the essay which is not good and it may also exceed the essay length of 650 words.
It will also create problems in their selection. It is absolutely not possible to present the entire life achievements and activities into a 650-word essay. Instead, you must select a single achievement of life moment to perfectly describe and pay full attention to describing the story behind it in your own words.
Instant Services to help you with your academic essays for Singapore universities
What should you not do in a college application essay?
Here are some guidelines that will help you with your problem of "how to write a college essay about yourself" –
No. 1 – Expound on something that is critical to you – It could be an experience, an individual, a book—whatever has affected your life.

No. 2 – Don't simply describe—reflect! – Anybody can expound on how they dominated the great match or the late spring they spent in Rome. While reviewing these occasions, you have to give more than a detailed breakdown or agenda. Portray what you gained from the experience and how it transformed you.

No. 3 – Being amusing is hard – A student who can make an admission official snicker never loses all sense of direction in the mix. But be careful. What you believe is amusing and what a grown-up working in a college believes is entertaining are most likely to be different. We alert against jokes, limericks and anything crude.

No. 4 – Start early and compose a few drafts – Put it in a safe spot for a couple of days and read it once more. Put yourself in the shoes of an admission official: Is the essay intriguing? Do the thoughts stream coherently? Does it uncover something about the candidate? Is it written in the candidate's own voice?

No. 5 – No rehashes – What you write in your application essay or individual proclamation ought not to oppose some other piece of your application–nor should it rehash it. This isn't the spot to list your honours or examine your evaluations or grades.

No. 6 – Answer the inquiry being posed – Try not to reuse a response to a comparable inquiry from another application.

No. 7 – Have at least one other individual to alter your application essay – An instructor or school guide is your best asset. Furthermore, before you send it off, check, check once more, and afterwards triple check to ensure your paper is liberated from spelling or syntax mistakes.
How to Implement Best Steps and Guidelines to Write a Good College Application Essay?
Here are the steps and suggestions which can help you write a good quality college application essay and solve your issue of "how to start a college application essay" which is as follows: –
Before you start the process of essay writing or think of the ways to "write my essay" or "what should I write my college essay about quiz", you must relax your mind first and formulate a smooth college application essay outline. In this way, you can have ample time to understand the essay question being asked to you. While you prepare to write your essay, you must fully understand the question of the essay asked. While writing the essay, you must remain firm to the essay prompt. You must carefully read and understand the essay questions or prompts so that you can make creative ideas for the essay.
The task of brainstorming is very important yet tough in creating the actual college application essay. You must brainstorm or think about every probable idea which comes to your mind. Writing an essay is easy, but brainstorming ideas is quite hectic. You must also choose your own story which you can demonstrate well.
Before writing the essay, construct the best outline which consists of sections like an introduction, 2 or 3 body paragraphs with facts and explanations, and lastly the conclusion.
After you gather the ideas and facts, you will start writing the essay on the outline which you have created. You should focus upon writing the essay to be narrow and personal. You must captivate the readers with interesting writing elements in your college application essay. Moreover, you must be specific to the essay topic and avoid using any kinds of clichés, or generic phrases. Moreover, the detailed events of your essay writing must be concise and specific. The addition of quotations, examples, and reasons will make your college application essay writing more attractive.
The last step is proofreading for detecting any kind of errors or mistakes to maintain the essay quality. An experienced proofreader can help you give the finishing touches to the completed college application essay writing. You will get online proofreading and editing services from the experts at SingaporeAssignmentHelp.Com. Here most of the students from places such as Jurong East, Seletar, Woodlands, etc prefer to take proofreading services from this academic writing service provider. So, whenever they think "write an essay for me", the writers, editors, and proofreaders at SingaporeAssignmentHelp.Com come to their aid.
Hire Professional Singapore Essay Writers to Write Academic Assignments
Get Online Help to Write a College Application Essay
Admission officers while selecting the right candidates does strict checking of the way the written college application essay is presented. They know that good writing skill is not presented in every student, so that try to select only those students who can write high-quality college application essay which stands out from the rest of the crowd. So, while writing the essay you must wisely take steps to design and carefully implement it.
Moreover, you must brag about the real incident or achievement of yours which no one can tell ever. If you lack high-quality writing skills to write an essay about yourself and are worried about "who can make my college essay in English", then you can get online expert help to write a perfect college application essay.
While writing a college application essay, you must also take online help from the best university assignment makers. These are specialized academic writers who can write a perfect college application essay for you on your behalf. There are various online academic writing service providers in Singapore who can help you write a good quality college application essay as well as can provide you with a variety of free college admission essay examples about yourself.
The most renowned SingaporeAssignmentHelp.Com offers talented and experienced essay writers to help you write the best college application essays that can provide you guaranteed admission at the desirable colleges and universities in Singapore. We also offer college essay tips from admission counselors.
Who knows, you might be the lucky one to gain entry at the premium Singapore colleges and universities like Nanyang Technological University, National University of Singapore, Singapore University of Social Sciences, etc.
So order asap to get the best college essays 2020 in order to get admission in your favorite college.
Conclusion
Therefore, these are the steps and unique ways which can guide you to write a perfect college application essay. You must take help from these guidelines to go into the path of successful writing of a good college application essay.
Your smart writing of college application essay is the ultimate weapon to land you in getting admission to one of the best colleges or universities in Singapore.
Moreover, if you need expert help, the finest university assignment makers and essay writers at SingaporeAssignmentHelp.Com are always to give you non-stop support.