Posted on: 23rd Jul 2019
1164 Views
How to Write an Evaluation Essay?
The academic system of Singapore involves the students studying here in writing various types of essays. Essay writing is considered as one of the most important academic writing here.
The Singapore students studying at renowned colleges and universities of Singapore Management University, LASALLE College of Arts, National University of Singapore, James Cook University, etc are being given various types of essays to write as part of their academic assignment.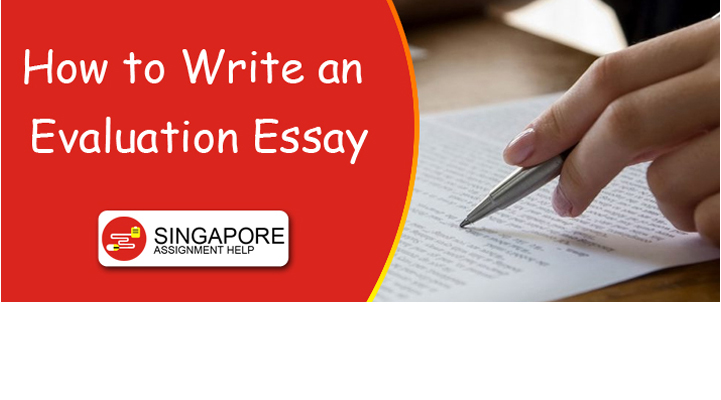 One of the essay types are called Evaluation Essay, and writing this essay is mainly to provide information about validation for the quality of a particular service or a product. In other words, it is mainly to write a review of a certain product or services.
What is an Evaluation Essay?
The main purpose of writing an evaluation essay is to give validation or justification for the quality of the specific product, services, business, program, movie, book or any other thing. It also reveals that if any specific thing like product or services lacks some appeal or not.
The evaluation essay is written to evaluate or justify your opinion or public opinion about a specific product, services or any other thing.
Since evaluation essays contain information about various opinions and thoughts. A good evaluation essay must be written correctly and also must not be totally based upon opinions.
It should be written with true and correct facts and information which are logical and unprejudiced. When you are writing an evaluation essay, you must follow the rules and guidelines of CJE. It means – Criteria, Judgment and Evidence.
If you have never written an evaluation essay earlier, then it is recommended to use the following tips discussed here to write an evaluation essay or any other descriptive essay writing.
Writing an accurate Evaluation Essay
While you write an evaluation essay you must keep in mind the 3 guidelines which are:
Criteria: The rule of criteria shows what can be estimated as a logical result for the product or service being evaluated. If you establish to write short criteria bout the product, services or any business then it will not make the essay fully prejudiced.
Judgment: The concept of judgment in an evaluation essay comes only if the criteria are met.
Evidence: In an evaluation essay the evidence part includes all the facts, proofs and the information which is used to support or hold up the judgment.
Therefore, while you write an evaluation essay of any topic or issue, only the main information is explained in a Para in details, judgment, and evidence to support the case.
Hire Professional Singapore Essay Writers to Write Academic Assignments
What Are The Potential And Probable Topics For Writing An Evaluation Essay?
The potential and probable topics are given to the students for writing an evaluation essay can be on various topics, issues. It can also be based upon the things happening in an around their surroundings. The essay topic ideas include:
The most recent match of your favorite basketball team.
How social media has shaped today's human relationship.
The latest Rom-Com and how it portrays modern relationships.
The technological approach of old and new generations.
Your favorite music band in Hollywood.
Your favorite video game and its popularity around the digital world.
How video game addicts today's youth.
The value of Internet marketing in today's business world.
The effect of organic farming upon the environment.
Getting married at a simple church ceremony V/S a destination wedding.
Thus, these are the probable essay topics which are given to the students as topic ideas to write an evaluation essay. Moreover, these essay ideas are also best for scholarship essay writing in colleges and universities in Singapore.
How to Start Writing an Evaluation Essay?
When students were given an evaluation essay of a certain topic to write, it is just seen as the best way to deal with a particular idea or concept.
The essay is written in such a style that it offers a critical approach to the criteria which is being evaluated.
Moreover, it also presents reasonable evidence so that the readers who are reading the essay can create and provide their own views and opinions.
While writing a perfect evaluation essay, you must keep in mind these things which are discussed below, which are:
Choosing the correct essay topic:  It is important to choose a topic which is easy to write. You must choose such a topic to write an evaluation essay which you know its full information or you are able to get the necessary information by doing good research.
You can write anything like evaluating the nearest weekend destination of your town or the new movie released this week.
Developing your statement and judgment of the essay topic:  You must develop the content of your evaluation essay by defining and developing your view towards writing the essay. You must also reveal the reason behind writing the essay to attract readers. You must explain it with criteria and appropriate examples.
You are also required to write about the qualities and also mention which things are lacking in a particular product or the service. You must also explain it by gathering judgments, supporting evidence and proof to give your opinion.
How to Write an Outline of an Evaluation Essay?
The common outline structure used for writing an evaluative essay includes 4 parts which are as follows:
Introduction: The introduction of the essay topic provides a brief introduction to the subject or topic. It provides a better perspective of the subject and its influences upon the people and society. It also gives the reason to evaluate the given topic.
Create Statement:  You must establish a good thesis statement to justify your view with a valid reason, testimonial or comparisons on the basis of various criteria.
Outsource Your essay writing Assignments to Professional Singapore Writers
Tips To Write a Good Evaluation Essay
Here are the tips which can enable you to write a good evaluation essay:
You must end your essay by making a link between the last paragraphs to the opening lines of the essay. This is meant to show the links between the opening and ending lines of the essays without breaking the connection.
You can end the essay with a quote or reference taken from valid sources.
You must write the essay using simple language so that readers can understand your views.
Conclusion
Writing an evaluation essay is one of the most important tasks of college essay writing. Most of the students studying at renowned educational institutes at Singapore places such as Jurong East, Seletar, etc get to write evaluation essays on various academic and social topics.
In order to write a good evaluation essay, you must refer to the above guidelines and tips for the successful writing of an evaluative essay.
Moreover, if you also need extra help to write an evaluation essay, you can get online essay writing help from the best and experienced essay writers online. At SingaporeAssignmentHelp.Com, you will get the best essay help within the deadline.