Posted on: 27th Jul 2019
1212 Views
How to Write a Descriptive Essay
Words have the power to keep you away from among millions of population. The great writers of the world are known today because of their word power and writing skills. It also requires great descriptive writing techniques.
A descriptive essay is a way to enter the world of effective writing. Catching an appropriate approach to writing a descriptive essay definitely takes you to the storytelling heights in any form of descriptive essay.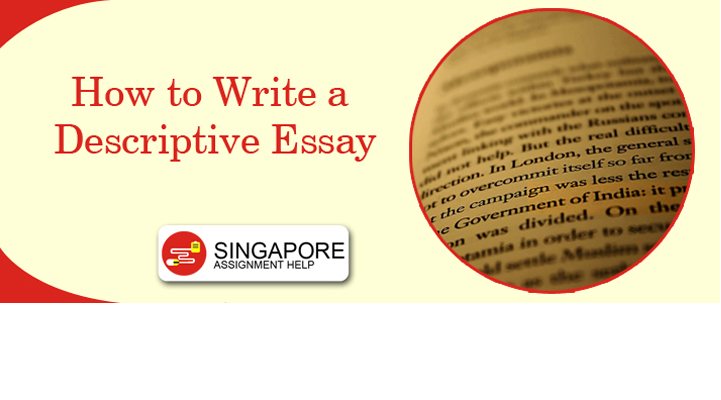 Browse the best step by step guide on how to write a descriptive essay, throughout this article. Stay connected till the end as skipping even one point might lead you to a certain amount of risks.
For any extra assistance, feel free to contact for our Singapore assignment help services. So here we start!
Let's Understand What is a Descriptive Essay:
A descriptive essay is particularly a form of essay writing that demands a vast description by taking into account either an entity, an individual, a method or an incident.
The writer's wish by writing is to attract a huge amount of audience by effective writing, not by telling. It should have such an impact on the reader's mind so as to draw a vibrant picture of imagination.
Descriptive essay writing mainly deals with engaging all the senses of the reader ranging from touch, taste, and sound to smell, and sight. An essay that can wake up all these senses of the reader is definitely a good descriptive essay.
The last thing that should be kept in mind for how to start a descriptive essay, is that the essay should always be written with a goal, which could be either experience from your life or a story of an object that changed your life a little or more. It is something about putting your experience and ideas into paper.
Ideas for Choosing a Topic for Writing a Descriptive Essay:
It is not tough to find the most appropriate descriptive essay topic. You can illustrate any little or big thing that matters in your life. For a start, we have collected general topic ideas for you with the hope that they will light up your imagination:
Description About a person: Describe a person who is familiar to you- may be a friend or a family member, a celebrity, a superhero, a comic character, etc.
Description of a place or an object: Describe a place or an object that may have a little or more connection with you- may be your school, college, your first bicycle, etc.
Description of an emotion: Think about and describe your emotion that influenced your life deeply- maybe happiness, desire, anger, etc. It also could be your imagination. For example, your first love feeling, etc.
Instant Services to help you with your academic essays for Singapore universities
Preparing an Outline for Generating an Effective Descriptive Essay:
A properly descriptive essay structure would always act as a golden ticket. It helps you to systematize your thoughts with the proper flow.
The descriptive essay writing format concludes that it should be written in the proper way consisting of an introduction, a body, and a conclusion. Whatever topic you pick, it is necessary to feel it and imagine it on yourself to reach the highest level of perfection.
Introduction: Don't know how to write a descriptive essay introduction?  The introduction refers to giving enough knowledge of the topic to the reader to let them understand what your descriptive essay topic is about. But it should be described in a way so as not to the reader's interest.
The Introduction is the key paragraph of your descriptive essay. It will decide whether the reader will go to the end or not. So it should be more engaging should contain short, sweet and interesting sentences.
The reader should get the knowledge that what they are going to learn in the whole essay and why it is important for them to read it wholly. The opening sentence should always be catchy.
Body paragraphs: This form of essay writing should consist normally of three body paragraphs. Each should contain different aspects of the topic. The number of body paragraphs also depends on the writer and his or her analysis.
Sometimes your story is completed in only one sentence and sometimes even a whole book is not enough.
Outsource Your essay writing Assignments to Professional Singapore Writers
Starting of a Body Paragraph of a Descriptive Essay Writing:
Begin with a sentence about the topic.
Include all the sensory details.
Include all the genuine details.
Always finish a body paragraph by beginning the introduction of next.
Conclusion:
The beginning of the conclusion should always depict the primary intention of your whole essay. Explain the purpose behind choosing the particular topic of the descriptive essay and what its impact in your life is. Now include some essential points of the essay. Summarize the whole coverage of the essay.
It is obvious that you have invested a huge amount of time to attract your target readers and keep them engaging. Never permit the essay to leave the thoughts of the essay from the reader's mind after giving it a whole read.
As per the actual descriptive essay format, the conclusion should consist of all the key points of the body paragraph. If the final sentence gets concluded with the main idea of the topic, it will be well enough.
Now your descriptive essay work is perfectly written and completed. Proofreading of the essay is the essential step to make it free from all the grammatical and other writing mistakes.
Hire Professional Singapore Essay Writers to Write Academic Assignments
Tips on How to Review a Descriptive Essay:
Reviewing is the last and most essential step to generating a great descriptive essay paper.
It is advisable to take a break after completing your whole writing work. Your mind should be relaxed and clear from the entire hotchpotch before starting the final editing process.
Then after investing enough time on relaxation, return to your descriptive essay and ask few questions to yourself while reading:
Have you given a proper introduction to the essay?
Is the content easily readable?
Is it showing a proper relation between the thesis and the content of the essay?
Is the language of the essay appropriate for the readers?
Has the final statement has the power to influence the reader's mind for forever?
Imagine yourself as a reader and think if this essay has the power to affect you?
Is the essay paper completely flawless?
Hire An Affordable Descriptive Essay Writer In Singapore
If you are looking for a professional and affordable descriptive essay writer in Singapore, look no further than our team of experts at SingaporeAssignmentHelp.com. We have a team of highly experienced and qualified native writers who can help you with any type of writing assignment, including descriptive essays. Whether you need help with your homework or descriptive essay writing help, we can help.
We can also help you with selecting a descriptive essay topic if you are having trouble getting started. Just send us your requirements and our writers will get to work right away. We offer fast turnaround times and can even help you with last-minute assignments. So if you need an urgent descriptive essay, we can help.