Posted on: 20th Sep 2018
595 Views
One Year MBA Course in Singapore
One year MBA programme is an advanced study programme which is designed for those desirable students who want to enhance their knowledge of business management. The programme provides the in-depth knowledge of the competitive marketplace.
Singapore provides such 1-year executive programme to consider those aspirant students who already have completed their post-graduation but still wants to enhance their marketplace skills or for those students who cannot give their 2-years for full-time MBA programmes.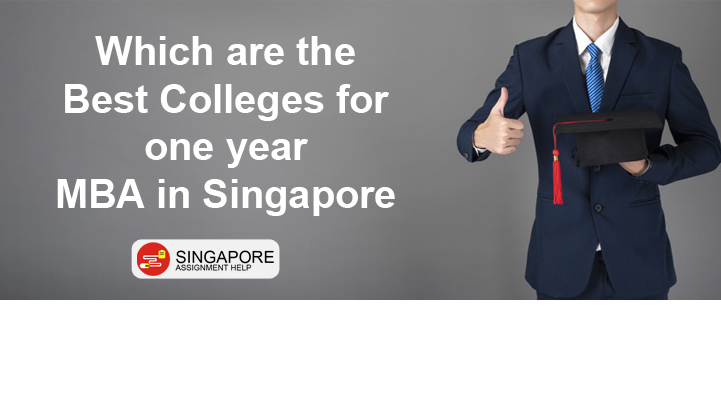 In today's scenario, there is the huge benefit of completing MBA from abroad universities. MBA programme allows you to enhance your professional skills which are needed in the global market as well as opens up many doors for the wider network for you.
Although, 2-year full-time MBA programme is always more beneficial than the one year MBA programmes but for those who can't afford 2-year programmes have a very good option to apply for 1-year full-time MBA executive studies. To study in abroad a student has many options to look for including the UK, US, France and Australia but now the students are considering Singapore too.
Singapore, an island city, has invested a lot in its education field after the independence and established as one of the world-class education sectors and has so many world renowned universities which provide many awarded MBA programmes.
Singapore has become an excellent alternative to be considered for the international MBA programmes and offered many executive full-time one year MBA programmes. To apply for the one year programmes you must be required to have some working experience.
Let us look for some of the best colleges in Singapore which provides one year MBA programme:
1. INSEAD, Singapore:
INSEAD is one of the world's top leading private universities which have its campuses at many counties including Singapore. It provides 10 months long full-time MBA programme to develop thoughtful and successful leaders and entrepreneur who will create values for the organizations and their communities.
2. Nanyang Business School:
Nanyang business school is one of the best and most comprehensively established business schools in Asia-Pacific. The school offers one year transformational MBA programme for the aspirant students to gain deep and practical real-world business global knowledge. The students get many practical real-life based live projects and group project and many other assignments to gain the proper knowledge of the global market.
You can take any guidance in completing the Nanyang Business school's assignments from proficient writers of singaporeassignmenthelp.com.
Hire a Professional Essay & Assignment Writer for completing your Academic Assessments
---
Native Singapore Writers Team
100% Plagiarism-Free Essay
Highest Satisfaction Rate
Free Revision
On-Time Delivery
3. National University of Singapore (NUS):
National University Singapore is the world's one of the most prestigious universities and Asia's No.1 University. It provides a huge range of globally recognized programmes and one of them is a one-year MBA programme. The University provides it's globally recognized MBA programme with the transformative learning experience and prepare students to lead in Asia and beyond that with experimental learning methodologies
4. Lee Kong Chian School of Business School:
This is a dynamic business school in Singapore and is the constitution of Singapore Management University. The school offers one year of Master of Business Administration course to produce versatile and dynamic leaders and shape their career with many innovative technologies.
5. ESSEC Global School:
ESSEC Global School offers a full-time MBA programme with a unique pedagogical approach to develop fast track career of its students. The MBA programme is provided in the school with an aim to create problem-solving skills and creativity in its students. The course is delivered to the students with the academic and innovative learning approaches.
6. SP Jain Singapore:
This is an Australia based one of the leading business school in Singapore, offers full-time 12 month MBA programme and provides Australian degree. The course is provided with many innovative techniques using online lessons, simulations, guest lectures, research projects, decision-making laboratories, industry sessions and interactive discussions.
You can complete your MBA Assignments with the help of our expert writers.
Buy high-quality essays & assignment writing as per particular university, high school or college by Singapore Writers
7. PSB Academy:
PSB Academy is a well established "future academy". The academy has an aim to enhance and develop those strategic managerial and leadership skills in the students which are required in the future. The academy provides 16 months certified full-time Master of Business Administration programme and Master of Business Administration in Global Business programme.
8. FTMS Global Academy:
FTMS Global Academy offers a UK recognized one year full-time MBA programme which is awarded by Anglia Ruskin University, UK. The MBA course is designed to develop academic and professional excellence in the students. The MBA course is delivered by the international faculties from the UK, India, Hong Kong and Singapore.
9. Kaplan Higher Education Academy:
Kaplan Higher Education Academy is one of the best private educational institutes in Singapore which provides lifelong learning to its students. The academy provides its MBA course with an aim to enhance student's skills so they can chart their own path to succeed in pursuit of educational and professional paths.
10. Management Development Institute of Singapore:
The MDIS is most established business school in Singapore which offers a plethora of one year Master of Business Administration programme to develop the students for their career advancement and commencement according to the present complex and uncertain market.
The master's courses are provided in MDIS are certified to the master's degree from its partner's renowned universities in UK and France.
In this list, I have listed some of the best colleges to pursue for one year MBA programme. Some of these colleges are world renowned and offers the world's best MBA course which can help you to enhance your managerial skills in you so choose wisely. Through INSEAD academy, Nanyang Business School and the National University of Singapore is among the top world-class college but you can consider another private institute also because these other institutes provide studies in a very flexible but in a meaningful environment.
Like the post, you may also like