Posted on: 15th Dec 2020
1107 Views
Top tech startups in Singapore 2020/21
Find a list of top tech startups of Singapore in 2020/21. Singapore is a fusion of multicultural, diverse entrepreneurs and is the biggest contributor to Asia's technology and finance. It captures many ambitious entrepreneurs and is home to the rich culture of Asia.
Singapore has shown a tremendous improvement in terms of economic growth after the independence. Singapore is now, become a prime destination for businesses and it is the biggest place for finance, telecom, and technology start-ups as it is showing huge growth in such areas.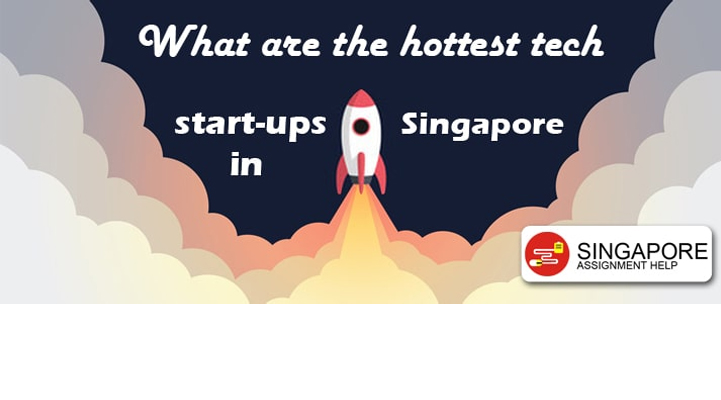 Start-ups are considered as a new company which is on their informative years and equipped with some certain goals without having much history.
In Singapore, many start-up companies have on their boom and have got an extraordinary platform to develop and contributed a lot towards Singapore's economy in the last few years.
List of top tech startups of Singapore in 2020/21
Grab: This is the hottest start-up in Singapore which is based on logistics and transportation category. It offers ridesharing and ride-hailing and logistic services in Southeast Asia.
90.co: This start-up is focused on Singapore real-estate market. This is a search engine based online map provides a perfect solution for house-hunters in Singapore and listed out those properties according to their needs. 90. co is considered as one of the top 10 real-estate in the world and listed among the top hottest start-ups list of Singapore.
Carousel: This is the biggest online marketplace to sell and buy new and second-hand products. A consumer can shop for the clothes, fashion accessories, furniture, beauty products, cars, and bikes, books, arts and antique products, branded goods as well as houses on the platform. It has become one of the hottest start-up in the last few years with showing the remarkable growth. It has raised $ 35 million in last year from 500 start-ups.
CoinPip: CoinPip is an application to transfer money in the cheapest and the faster way. It is helping the businesses to send payment to the worker of a remote area using blockchain technology.
This is a mobile app which enables the one to transfer the money from any mobile to any country or any bank and claim that it can complete the interbank transactions within 48 hours that too in 70% lesser cost to others.
Sea Ltd: This is an internet-based company that is focused on greater Southeast Asia. This company is focused on providing the best solution for digital entertainment, e-commerce and digital financial services. It provides a platform to its users where they can access the mobile and pc online games, shopping e-commerce platform and digital financial services.
Spark Systems: This is one of the fintech start-ups in Singapore which presents a foreign exchange platform for Asia and helping the institutional investors to make trading less costly and more effectively.
Trax: Trax is a technology company that presents an analytical report to help FMCG and retail sectors. It presents a report for the right placement of goods in the FMCG sectors. This also helps in innovation and development of products.
My Republic: This start-up is one of the biggest broadband providers in Singapore. This is an international company who has a station in Singapore. This company also offers the cable TV packages and ADSL plans and VDSL services and has almost 2000 subscriptions.
Red Hat: This is a US based learning solution for the entrepreneurs of Singapore which provides online learning service and many certified courses and training courses for the market and business professionals.
Razer: This is the world's leading gaming software with including 50M users. This service also includes one of the largest virtual credits for the gamers called Razer Gold, which allows a user to purchase over 2,500 games and virtual good.
AirTrunk: AirTrunk is an internet based company which provides very cost effective hype scaled data centres to the Singapore's companies. It offers a big data based application to its customers. This was the first data centre for companies in Australia.
Visenze: This start-up made an artificial intelligence software which help in visual search and image recognition of similar e-commerce sites, retail and content publishing sites. This software can also helps in visualizing the similar products and helps in evaluating the similar things online while shopping.
Nugit: Nugit is an artificial intelligence software which analyses, consolidate and aggregate the market place and create a report including the database and the insight analysis to help marketers in their campaigns.
HonestBee: This is a mobile application which is an on demand food delivery service application. Honestbee workers collect the food items and groceries and deliver within 1 hour. This app has concentration towards the local community.
Datarama: This provides a very affordable fintech online platform to the investors and bankers to keep their database secured at one place.
Tinkerbox: Tinkerbox is a design and development studio to exchange your thought on a virtual innovative product. Through this technology, a user will be delighted by getting a design of their thoughts.
These are the technology-based start-ups in Singapore which are doing really very well and within a very short span of time achieved an overwhelming position in Singapore.
The above list is a result of research done by experts of singaporeassignmenthelp.com. We are a service portal Singapore-based website helping students in any university coursework and providing the Best Online Assignment Help for that.
Hire a Professional Essay & Assignment Writer for completing your Academic Assessments
---
Native Singapore Writers Team
100% Plagiarism-Free Essay
Highest Satisfaction Rate
Free Revision
On-Time Delivery