I. Using the account titles listed below, journalize on separate columnar sheets the following transactions of Gian Angelo, a CPA, for the month of July 2020:
Professional fees earned
Salary expense
Taxes and licenses
Gian Angelo capital
Gian Angelo drawing
Office equipment
Office furniture and fixtures
Accounts receivable
Accounts payable
Cash
Notes receivable
Notes payable
Interest income
Interest expense
Rent expense
Light and water
Communication expense
Office supplies on hand
Prepaid insurance
Transportation equipment
Unearned rent income
July 1 – Gian Angelo invested cash of P100,000 and office equipment valued at P200,000.
1 – Paid business license, P7,000.
1 – Paid 3-month rental effective July 1, P36,000.
2 – Purchased tables and chairs from Durable Trading, P32,000. Terms: n/10.
2 – Bought bond papers, pens and other supplies from Great Enterprises amounting to P20,000. Terms: 20% down, balance n/15.
3 – Billed Orgalink Corp. for consultancy services rendered, P10,000.
3 – Filed a complaint for minor scratches on tables purchased from Durable Trading and granted allowance for P2,000.
4 – Received cash from Dimmer Inc. for services rendered, P15,000.
5 – Billed Pacific Summit Corp. for services rendered, P30,000.
7 – Billed Tramcor Inc. for consultancy services rendered, P40,000.
8 – Paid Great Enterprises to apply on account, P5,000.
10 – Rendered professional services to Amnex Co., P50,000. Terms: 20% downpayment; balance, 15-day, 9% note.
11 – Billed Buildwell Co. for consultancy services performed, P60,000.
12 – Issued a 15-day, 6% note in full settlement of the account with Durable Trading.
15 – Received P6,000 representing 3-month advance rental from a newspaper vendor who subleased a portion of leased unit effective July 16.
16 – Purchased a vehicle amounting to P300,000. Terms: 30% down; balance payable in 3 years at 6% interest per annum.
16 – Paid the annual insurance premium for the vehicle purchased, P6,000.
16 – Received P30,000 from Amaram Inc. for a 60-day consultancy work effective today.
17 – Paid Great Enterprises in full.
18 – Received the account of Orgalink Corp. less P1,000 discount.
19 – Paid telephone bill, P2,500.
20 – Collected P10,000 from Tramcor Inc.
21 – Received a 30-day 6% promissory note form Buildwell Co. in settlement of its account.
23 – Issued cash to Gian Angelo for personal use, P5,000.
24 – Purchased office supplies, P5,000. Terms: COD.
25 – Amnex Co. settled its note.
27 – Paid the note issued to Durable Trading.
29 – Received the account of Tramcor Inc. in full.
30 – Paid electricity bill, P3,000.
31 – Paid salaries of staff, P15,000.
II. The trial balance of Durian Enterprises on December 31, 2020 appears as follows: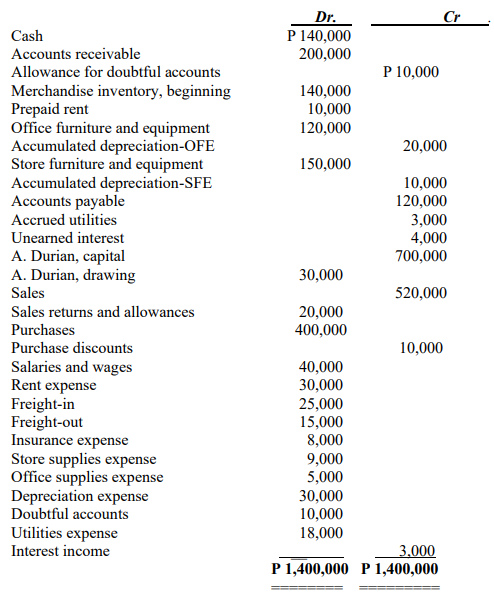 Ending merchandise inventory amounted to P250,000
Based on the above information, prepare the following:
1. Income Statement (Multiple Step)
2. Balance Sheet (Report Form)
Buy high-quality essays & assignment writing as per particular university, high school or college by Singapore Writers
Get Help By Expert
Need urgent assignment help on Financial Accounting Assignment?. then don't worry. At Singapore Assignment Help We have a dedicated team of efficient experts who have Ph.D. and master degrees in the accounting field. Our experts also have in-depth knowledge and skills and have years of experience to assist you on financial accounting assignments at a pocket-friendly price.
Looking for Plagiarism free Answers for your college/ university Assignments.