Assignment Brief:
BCA Green Mark for existing non-residential buildings 2017, under section 2 – building energy performance is allocated a minimum of 40 points In this TMA, you are required to calculate the Green Mark criteria 2.1 to 2.9 base on the information provided below.
Buy high-quality essays & assignment writing as per particular university, high school or college by Singapore Writers
Brief description of the building
There is no record of thermal per wince of building envelope for this building earmark provision is within the boundary, co sisting of surface parking lots and driveways.
This building has 5. 187 m² (91% of total GFA) air-conditioned space whereby the arc of the common area naturally ventilated All toilers and staircases are mechanically ventilated. All corridors and lin lobbies are naturally ventilated. Vertical transport utilizes two elevators equipped with ALVVVF and sleep mode. There is no provision of an escalator for this building.
Photocell sensors arc installed along the corridors to maximize the use of daylight motion sensors is also installed in all toilets. This is aligned with the management's approach to conserving) stated in the energy management policy. Furthermore, there were recent (lading. with PUB to provide PV panels on the rooftop in order to deliver the energy improventent plan. This approach saves approximately 4,000 kWh of energy annually.
In addition, the following information is available for the Green Mark certification assessment.
Energy consumption record for the past 3 years
Typical daily chiller plant efficiency graph
Typical daily air distribution system efficiency graph
Lighting system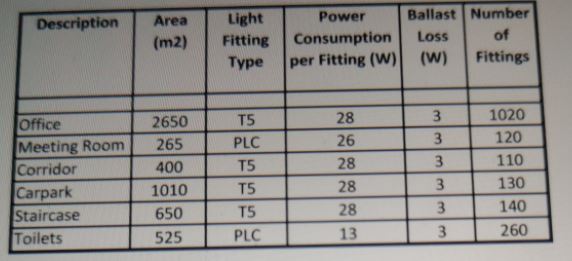 Looking for Plagiarism free Answers for your college/ university Assignments.