Posted on: 7th Dec 2018
3103 Views
How to write an introduction for a report
Some would characterize it as a guidebook of a report, some would say that an introduction is a map of a report and even some define it as a list of information that is presented throughout the report. Whatever you would say it, but the properties of an introduction remain the same.
It must significantly present the purpose of a report, consist of important information and terms and shed light on the finding of the report. It requires many efforts to make it a perfect. This is why many students find difficulties while writing an introduction of report writing.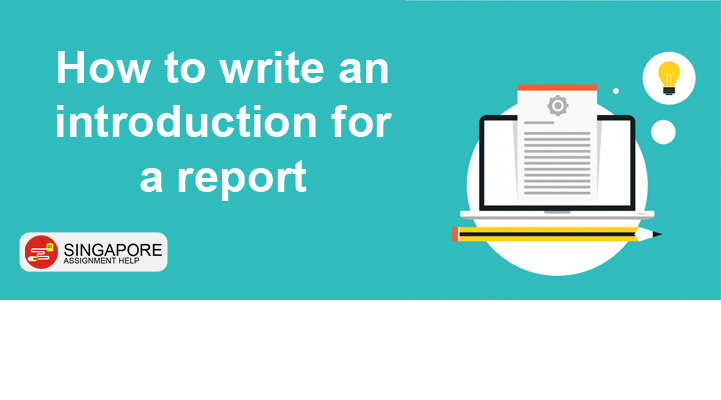 You may also encounter with the same situation, staring at the ceiling for long hours or looking at the computer screen but nothing worth coming in mind to nail down a perfect introduction of your report paper.
For such situations, Essay writers at singaporeassignmenthelp.com have proposed some simplest tips that will make the introduction of report easier.
Before we move on how to write an introduction of a report, let's first discuss what report is?
What is a report?
A report is a self-explanatory paper that provides information about a specific event or subject. It is a summary of a finding and recommendation about a particular problem or issue arises in a specific subject or event.
Reports writing assignments are given to the students to assess what they have from books and coursework and to enhance their skills which will be helpful in the future at the workplace.
Catch your reader's attention with an impressive report introduction paragraph:
An introduction is work as a starter of your meal. Throughout the introduction of the report, writer tries to present the information in such a way that will give a perfect overview of the report.
Start the report paper with an engaging and alarming style of language to grab the reader's attention.
Tips to write a perfect report writing introduction:
Some students believe in writing with a hook sentence or quotation. While others think that normal breakdown is a more effective way to write an introduction.
If you feeling problem in composing an introduction to a report paper then follow the below tips as the research report introduction example. Here are the top 5 tips to understand How to Write a Report Writing introduction.
Hire a Professional Essay & Assignment Writer for completing your Academic Assessments
---
Native Singapore Writers Team
100% Plagiarism-Free Essay
Highest Satisfaction Rate
Free Revision
On-Time Delivery
Read the question carefully at least 2 times: You must have a clear understanding of the topic before you move further. Prior to research, read the questions and try to understand its hidden facts. Once you have a solid understanding of the requirements, nobody can stop you to compose an

excellent introduction of a report paper

.
Grab the reader's attention at a very starting point: your primary aim is to grab the reader's eyeball at the starting point by presenting them tempting starting. Open your report with some interesting and interactive phrases that readers can easily feel a connection with. Remember to not flow your thoughts out of the subject.
Keep it simple yet intriguing: It is very important to create a simple introduction. without creating confusion among the readers, make it attractive. Provide an essence of what you are going to present in the whole paper.
Keep the language uncomplicated throughout the introduction: You need to create an introduction part that can leave an impression on the reader but inserting complicated language is never appreciated in the introduction paper.
Present a strong thesis statement: In the introduction part, you need to present a thesis statement that helps the readers to get acquainted with the main idea of your report writing. So while creating a thesis statement you need to remember:
It should be related to the topic.
Keep it precise and meaningful.
Avoid wordiness in it.
Never use any redundant word in it.
Buy high-quality essays & assignment writing as per particular university, high school or college by Singapore Writers
Give an overview of the arguments you going to present in body part:
After presenting the thesis statement, you need to define how you going to establish the arguments without explaining them deeply. To make it more intriguing present some figures and data in it.
Avoid explanation: Remember that introduction is not a place to explain anything. Don't explain any argument in the introduction part. You should leave the explanation part on the body part. Here you need to write down only the main points of the arguments.
Present your stance on the topic: Moving further, present your stance on the topic that allows the reader to agree and disagree with your position. So those who are agreeing with your stance will read further to know how you justify your position and those who disagree will move further to judge, what context has made you choose this position.
Structure the introduction: In academic writing, every introduction follows a specific structure so without wasting your time in searching for a new way to write an introduction follow the specific outline of the introduction that is:
Relevant background information.
A map of a report.
A precisely written thesis statement
Lastly, your point of view.
Write down the introduction of a report: 
Once you have understood everything, write down the introduction of the report paper. Start the introduction part with a broad and general statement, a 'hook statement' and gradually narrow it down to a powerful thesis statement. If you don't know how to write an introduction for a project report, here is the structure to write a report introduction:
A general statement about the topic in simple language.
Specific key points on the topic.
Main points which you going to discuss in the body part.
Specific thesis statement.
A short overview of the conclusion.
Above presented is a guideline to write an introduction of a report writing. This is a general way to write an introduction but remember there is no hard and fast rule to write an introduction of the report. You have to fulfill all requirements of the report and modify the structure accordingly.
Bonus Tips for report introduction writing 
Strategies to write an outstanding introduction: Though an introduction to a report paper varies as per the needs and requirements, there are few strategies that are useful to write any kind of introduction of a report paper assignment.
Try to write the introduction at the end: This is a common phenomenon of the students, is to write an assignment in the sequence. As the introduction is the first part that appears at the starting point so they write it in the starting. But as per the

homework assistants

, the best way to write an impressive introduction is to write it at the end. The reason behind is, when you finish your report writing, you will have clear idea about the main points, evidence and conclusion of the report writing. So, in the end, you can use such information properly to write your impressive introduction.
Stuck with a lot of homework assignments and feeling stressed ? Take professional academic assistance & Get 100% Plagiarism free papers
Create a rough draft of the introduction and edit it at the end of the final design.
Show your creativity: An introduction is the first part of the report that your reader will address initially so writing an impressive and engaging is introduction is necessary. So don't afraid to give a chance to your creativity, you can re-draft the introduction part many times to get the final design.
Be confident: To write an impressive introduction part, you have to trust your writing skills. If you don't believe your writing then eventually it will affect the quality of your paper and your reader will definitely find difficulties to understand this. So be convinced with whatever you are writing and write an interesting introduction.
Know your audience: In order to write an effective report paper, it is essential to know your readers, prior to start writing. Then only you can use audience-centric language. The best way is to ask yourself that what your readers expect from your paper, how much knowledge your reader has on the topic. If you answer such questions then you can write your report paper according to the reader's demand.
Keep it short: The introduction part should not more than a paragraph; you need to wrap everything in that only. In the introduction part, a jest explanation is required. If you write a lengthy introduction part then it will make a bad impact of your writing on the readers.
Convince the reader that the report is worth reading: In the introduction part, your main responsibility is to convince your readers that reading this paper is not a waste of time and it is worth reading it. So always create an engaging introduction part.
Now you have well-understood how to write an effective introduction of the report assignment. In case you face any further trouble while writing an introduction, seek help from expert academic writers at singaporeassignmenthelp.com.
Still having a problem crafting an impressive report introduction? Singaporeassignmenthelp.com here is here with a perfect solution:
If you are still confused to write an introduction part of the report paper then put your worries aside with the help of Custom Assignment Writing services at singaporeassignmenthelp.com. We have provided many sample report introduction example to the students. We have over 3000+ writers in our team selected from various disciplines introduction of project report sample. They are working hard to provide superior quality report writing help to Singaporean students. Thus, they ensure the 100% original assignment paper that will enable you higher academic grades.