Posted on: 8th Jul 2021
2845 Views
How to conclude a report
'How to craft a solid conclusion for your report paper?' is one of the most daunting questions of Singaporean students. They feel much pressure of creating an impressive conclusion part of a report. As we understand that a conclusion of a report is the last part that comes in the touch with the reader while signing off. It should be striking, impressive that leaves an impression on the readers.
So don't underestimate the importance of the conclusion part, save some energy and time to write a solid conclusion and get an extra reward from your faculty for writing such a wonderful conclusion and avail higher academic grades than you deserve.
Here in this blog, we will present a specific pattern of creating a precise report conclusion.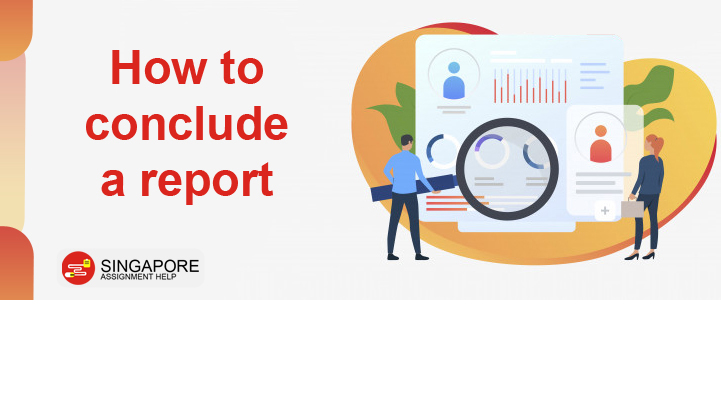 Tips to write a perfect conclusion of a report:
There is no specific spoon-feeding on writing a conclusion part you have to study the below points carefully and apply them in your report paper to create an impressive conclusion.
Present a summary of the main points: In the conclusion, you need to summarise all key points that you have raised in your report so you need to read all evidence and information presented in the body part and re-write them all in a different style. This reinforces the main argument and recapitulation the main idea of the report to the readers.
Avoid any unnecessary information in the conclusion, select the key points precisely and present that signature information in a new way. To enlighten the quality of the conclusion part, you can use some quotation from the body part.
Give the essence of the thesis statement: 

You don't have to mention the thesis statement in the conclusion part but you need to drag the essence of it in a formal tone. Redefine the thesis statement without making it repetitive. If you fail to paraphrase the main idea of the report then it could be the biggest pitfall that degrades your all effort which you have put to create an impressive conclusion.
Put an explanation of your evaluation: In the ending part of the report, it is advisable to re-state the evaluations which you have included in your report paper. This will allow the readers to recall the analysis, they have read in the body part. Here you can forth the main implication that you have got through research.
Here you should not include a logical explanation in the conclusion part. If you do so, then the chances are that your reader will lose the interest in reading your paper.
Insert your own perspectives: 

The conclusion is a part where you can put your own perspective and the future relevant possibility of the report paper. Here you should talk about future development on the topic and also present the certain aspects of the topic that you think can form in the future.
Bring a specific end of your discussion: As like any kind of good report paper, you need to bring your paper to the end. You should craft a creative and specific conclusion with a final touch to enlighten your reader why you think this way, what you think etc.
There is no such approach, just be specific and write it with a confidence.
Avoid over-stuffing all information and data in a single sentence: No reader is interested to read a repetitive line or the sentences which are too long and tricky. Better you simplify your sentences and rather presenting important information in one sentence, create 2-3 simple sentences which will clearly present whatever you want to say.
Thus, in order to create an interesting and readable report conclusion, break down the lengthy sentences into small meaningful and differently constructed sentences.
Refrain from introducing anything new information: The conclusion part is not a place to introduce any new information or a fresh idea. You should always remember that a conclusion is a section which summarises everything which you have discussed in the body part and the introduction part of your report paper.
So including any new information in this section will give a negative effect on your reader and present an unprofessional act that can badly affect your grades. Thus, to prevent such things from your report paper always create an outline of your work.
Avoid words that reflect your own opinion:  

Thus, the conclusion is a place to express your opinion on the report but you should always prevent yourself using words and phrases like "

I think", "I believe", "I suppose" and "I concluded" and "according to my opinion

", these words are not a sign of professionalism.
Use your creativity to impress the reader at the end point: 

The conclusion is the only place where you can present your creativity by presenting some modified and creative language. Thus, you need to craft your sentences in such a way that will impress your readers and leave an impact of your writing.
Keep intact tone and avoid redundancy in your paper: While writing an academic paper, you always need to care for your tone. You should keep an intact tone throughout your report paper.
Redundancy is a common mistake that many writers commit till they reach to the conclusion part. So be careful it is not wise to use any repetitive sentence and thoughts in the conclusion part, as your readers will get bored.
You must remember, the conclusion is the end part of your paper, so make it strong rather than recreating any unnecessary things. Let it fill with strong messages.
Writing a conclusion part is not an easy job, so refer these chief elements to form the conclusion part.
Hire a Professional Essay & Assignment Writer for completing your Academic Assessments
---
Native Singapore Writers Team
100% Plagiarism-Free Essay
Highest Satisfaction Rate
Free Revision
On-Time Delivery
How to start a conclusion for a report 
In order to give a conclusion of report of a project, you should know how to start with a conclusion. Here are some recommendations when you start with report conclusion:
Don't use jargon and try to make it as comprehensive as possible. 

Provide the reader with a sense of closure by using conclusive transitions words.
Rephrase your main sections, ideas, or arguments in a few short sentences.

Summarize the problems that your report is based on with its solutions.
Report conclusion principles
Well, you must have understood the basic things to remember while writing a report conclusion. Here are some more simple and effective principles that you must apply while writing a report conclusion:
Keep a formal tone throughout your paper, no need to present any emotions.
You should not fill your paper with the filler quote rather always add relevant quotes.
Never forget to paraphrase the main argument and the thesis statement in the conclusion part.
Do not simply summarize the report paper; keep it brief, precise, effective and interesting.
Get Report Paper Conclusion Writing Help from Singapore Professionals
Are you feeling stuck and looking for report paper conclusion writing help? End your search at singaporeassignmenthelp.com; we can help you in writing an effective report conclusion.
If you are frustrated with writing a conclusion part of your report paper and couldn't understand how to write it, then take help from online report writing services offered by singaporeassignmenthelp.com.
We are most reliable homework writing services in Singapore and we are helping Singaporean students from more than 10 years so our writers are well-aware with the problem faces by the students while writing their assignment so we can provide the most suitable quality assignment paper solutions to our students. Buy assignment writing services and get past the academic blues with the help of our professional coursework writers.
Here's what makes us unique:
We have a team of more 3000+ PhD level writers so you will always get your assignment written by highly qualified writers.
We have a different team of quality analysts who are responsible to provide you with superior quality assignment paper.
We work to provide 100% satisfaction to our students; we provide an unlimited free revision of your work if you required any.
We deliver our write my assignment paper services at affordable prices so every Singaporean student can afford our service.