Posted on: 14th Sep 2018
551 Views
Which are the best universities to pursue an MBA in Singapore?
Singapore has ranked among the top education centre in the world. The students who have an aptitude towards business program Singapore is the hottest city to be considered. MBA course provided in Singapore is world renowned.
Singapore has become a prime destination for international student and providing the high quality education to its students. Singapore has become an education, financial, economics and business hub and every year attract so many international students and professionals.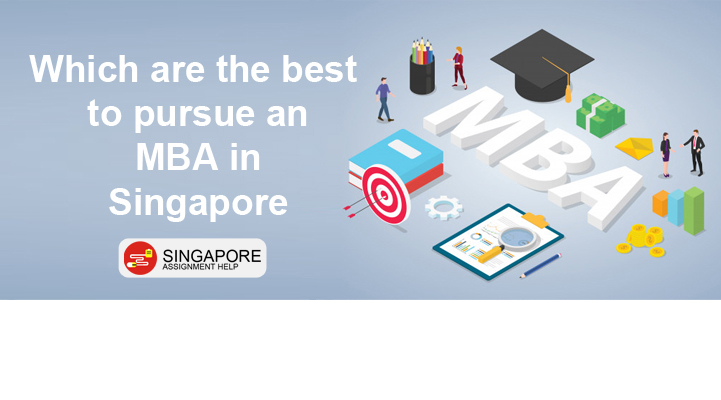 MBA is a course which is designed to develop the future skills of the students which are needed for their bright future and career. Those students who are looking for the options to study their MBA course at the international locations they should give a serious consideration to Singapore. Singapore provides top-notch MBA courses and it has many globally recognized college as well as MBA programmes.
Here in this article, I am listing some of the best B-Schools in Singapore, which you should give a serious look.
1. National University Singapore:
This is one the world's recognized the University of Singapore and Asia's no 1 and Singapore's topmost university. The MBA program provided by this university has received many rewards globally. They develop the management skills in the students and prepare them to become the top leader in the global market. All the students who complete the management course from this college are highly in demand by the Asian company.
Take National University Singapore assignments help in completing any academic work.
2. Nanyang Technological University:
This is one of the best MBA Schools in Singapore and also known as Nanyang Business School. The school offers a huge range of full-time, part-time and executive programme. The university is associated with many international universities and provide those universities programme in its campus. The school also offers so many job opportunities for the student who successfully passes the program.
3. Singapore Management University:
This is another highly rated and globally renowned university in Singapore. The university's aim is toward preparing the students for the competitive future market and developing their skills to achieve high goals in the future. The SMU's Lee Kong Chian School is one of the youngest Business Schools which has received such recognition in that short period of time. It provides a huge range of graduate, postgraduate and masters programme for business studies.
Hire a Professional Essay & Assignment Writer for completing your Academic Assessments
---
Native Singapore Writers Team
100% Plagiarism-Free Essay
Highest Satisfaction Rate
Free Revision
On-Time Delivery
This is another Business school in Singapore which deserve to be on the top list. It is a business school which provides the global experience to its students which having its campuses in many global locations. Its full-time courses many times rewarded as the world's top MBA program. The institute offers a wide range of MBA program including postgraduate, graduate and masters program.
This is an Australian management school which have its branch in Singapore. The school has its concentration through providing the native business practices to its students. The full-time MBA program has ranked 75 in Economics times. It provides a huge range of MBA programmes including BBA, MBA, executive MBA and global MBA.
6. Kaplan Singapore:
Kaplan is another best and recognized university of Singapore, having almost 550 academic programmes in all the discipline including part-time, full-time, PhD, certifies and training programmes. The university is committed to proving the lifelong integrated learning program.
Another Australian based university is in the top list of Singapore MBA program. The university provides a huge range of program in almost all the discipline and prepares the student for their bright future. This university provides a special opportunity to the Singapore's student to study in Australia by paying money in Singapore's currency.
Stuck with a lot of homework assignments and feeling stressed ? Take professional academic assistance & Get 100% Plagiarism free papers
8. ESSEC Asia Pacific, Singapore
This is another renowned university which is located in Singapore, France and Morocco. The aim of this university is to provide learning to its students related to the business. The study is based on a pedagogical approach which is based on the studies are based on particle knowledge and creation and dissemination of cutting-edge knowledge. The school provide a huge range of global management programme.
9. PSB Academy:
This academy is also known as future academy which provides its courses with a motive to develop only those skills which matter in the future. The university provides a variety of full-time, part-time, diploma and certified courses for the students.
10. Manchester Business School:
This school is a Manchester based school which have its branch in Singapore. This school provide a part-time course only in Singapore campus. The program is moreover based on practical knowledge. The programme is designed to provide you developing the skills required for the global business career. This is a 2 year programme where 6 months are based on live projects.
In conclusion, I would like to tell you that taking the decision for Singapore's MBA programme is a very good decision but selecting one business school is quite a tough decision. In this article, I tried to sort out the problem of good colleges in Singapore. Now you might have understood about the good colleges of Singapore.
Moreover, it is really not much matter what college you choose; the most important thing is how to study. If you do hard work, study well, you will defiantly achieve whatever you want in your. So good luck all of you.
Lastly, when you will study MBA courses you will defiantly get so many assignments that are quite difficult to complete, take our management assignment help in completing your assignment work at a very affordable price.