Section 1: 
The purpose of this investigation is to examine the relationship and performance among 3PL service providers and their customers. The aim is to explore the customer relationship management from the service quality of third-party logistics providers in Singapore and how the company can be improved against these factors. Creating value in logistics services to fill the expectation of customers gets more significant than ever to sustain competitiveness in the market.
Section 2:
Many companies are concerned about selecting an effective and efficient Third-Party Logistics (3PL) provider for their logistics activities. A third-party logistics (3PL) is a function of logistics operations outside of the company that specializes in handling and managing the logistics processes of an organization. (Masudin, Ayurarasati, Jie, & Restuputri, 2020).
Most of the research shows that 3PL providers have a favourable impact on a company's performance. The increasing firm's performance can be achieved in the ways of cost-cutting of logistics operations, time-saving from delivery and replenishment activities, flexibility increases and also increasing market. The 3PL providers can lead the firms to create value-adding on their products to become more competitive, responsive and profitable(Masudin, Ayurarasati, Jie, & Restuputri, 2020).
Furthermore, in order to get a competitive advantage, understanding customer demands and developing ways to provide value for them is becoming more important than ever. Customers today seek not only higher product quality, but also more top-notch service, which is intimately linked to the concept of behavioural intents and customer satisfaction (Uvet, 2020). While quality is defined as a comparison between expectations and performance, service quality is defined as a measure of performance which results in customer satisfaction. Customer satisfaction leads to customer loyalty which results in increasing a company's profitability and market share. Therefore, identifying the fundamental factors of service quality is critical to establishing a long-term relationship with clients by altering their behavioural intentions.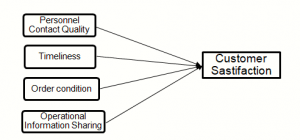 Section 3: Proposed research methods
Sample size refers to a portion number in a population that will be used as a sample in conducting research. Normally the size of the sample should neither be excessively large, nor too small. It should be optimum. The optimum sample size is one which fulfils the requirements of efficiency, representativeness, reliability and flexibility (Kothari, 2004).
Based on the research problems, a questionnaire with 20 questions will be designed. The questionnaire will be distributed to customers of different age groups on which factors will affect them in selecting a 3PL provider in Singapore.
Stuck with a lot of homework assignments and feeling stressed ? Take professional academic assistance & Get 100% Plagiarism free papers
Looking for Plagiarism free Answers for your college/ university Assignments.