Assignment Overview:
Question 1: Provide evidence to explain and rationalise the problem identified. (Risk of developing diabetic complications due to poorly controlled DM.)
Question 2: Based on the problem identified (Risk of developing diabetic complications due to poorly controlled DM), provide a relevant and clear explanation of the management plan. The management plan (pls see the info below) also should reflect the student's ability to critically analyse the problems and develop relevant and focused interventions. Students should also show evidence of in-depth knowledge and research utilisation to support the management plans.
Risk of developing diabetic complications/ emergencies due to poorly controlled DM Causes :
1. Medication non-adherence secondary to attitude
Objective data: HbA1c result > 8 mmol/L. A patient has a background knowledge of pharmacotherapy (ex-Nurse)
Subjective data: Verbalises that he had not experienced any other symptoms besides from the neuropathy despite poorly controlled diabetes.
2. Knowledge deficit
Subjective data: Verbalises unawareness of potential complications of diabetes.
Objective data: Not on regular blood sugar monitoring.
3. Poor dietary control
Subjective data: Choice of meals is mainly chosen through means of convenient.
Objective data: Frequent consumption of outside food which may contain a lot of salt, sugar and high glycemic index food
4. Actual complications
Subjective data: M complaints of slight neuropathy over his bilateral lower limbs.
Objective data: No further screening was done for his peripheral neuropathy.
From the 4 causes above lead to the risk of developing Acute complications of DM which is:
Hypoglycemia
Diabetic Ketoacidosis
Hyperglycaemic Hyperosmolar Non-ketotic syndrome
Stuck with a lot of homework assignments and feeling stressed ? Take professional academic assistance & Get 100% Plagiarism free papers
Implementation Strategies for Our Client
Educate client on identifying signs and symptoms of diabetes crisis (through the use of an information booklet from HPB which comes in handy).
Reinforce client to call for help (995 or family as PRN) when he is unable to manage his symptoms.
Reinforce client to consult his doctor if abnormal blood sugar level persists or when he felt unwell.
Encourage client to participate in education program on diabetes care and management.
Reinforce the importance of regular blood sugar monitoring and medication compliance.
Educate client on accurate blood sugar monitoring.
Reinforce client to consult his doctor if the blood glucose is 22 mmol/L (approximately 400 mg/dl) or higher for more than two readings.
Play the educational video featuring blood sugar level monitoring techniques. (Steps For Measuring Your Blood Glucose Levels)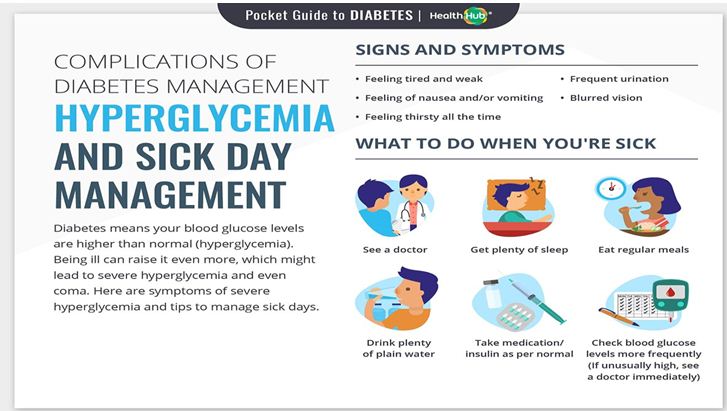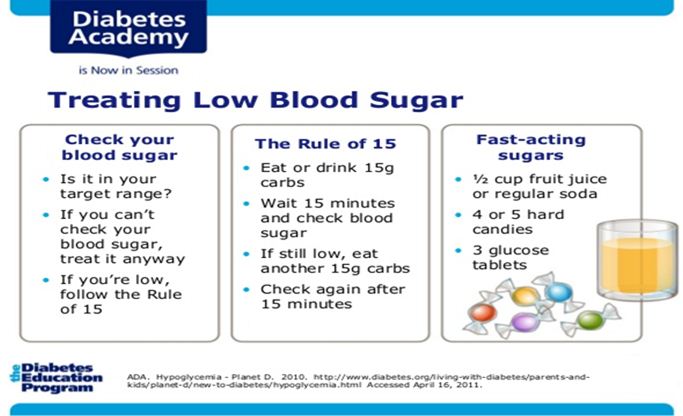 Hypoglycemia Emergency Treatment
1. Check your blood glucose level if you feel unwell and experience symptoms of low blood glucose.
2. If it is lower than 4 mmol/L, eat or drink one of the following immediately:
½ glass of juice or three teaspoons of sugar/honey/syrup
three sweets (not sugar-free) — foods that have fat, such as chocolate, cake or cheese, do not treat low blood sugar as quickly
½ can of regular (not diet) soft drink
3. Wait for 15 minutes, then check your blood glucose level again.
4. Repeat steps 2 and 3 until your blood sugar is normal (between 4–6 mmol/L).
5. Once your blood glucose level is higher than 4 mmol/L, eat one of the following:
Your next meal or snack if it is due within half an hour or
Half a sandwich or biscuits with cheese or peanut butter if your next meal is more than an hour away
6. Record this and inform your doctor at your next visit.
Health Promotion Board (2019)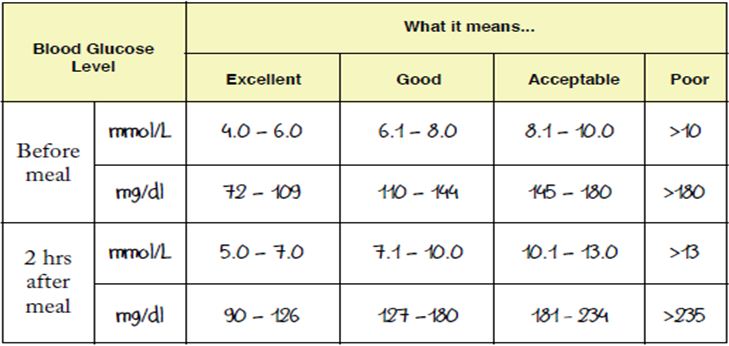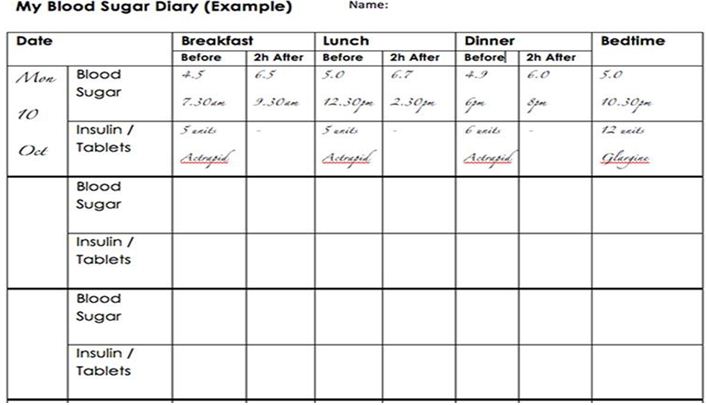 Neuropathy management
Client complaint of neuropathy pain over his bilateral foot but is not on follow-up treatment.
As a consequence of DPN, people with long-standing diabetes may have pain or significant deficits in tactile sensitivity, vibration sense, and lower-limb joint proprioception.
These sensory deficits may contribute to impaired balance and gait, with increased risk of falls, lower extremity injury, and amputation. People with DPN are more likely to be sedentary and to have decreased daily walking distances. This may affect his job, which requires him to walk and move to multiple locations (Dobson et al., 2014)
If pain worsens, referral to Pain Management Centre in SGH:
● To control the pain symptoms pharmacologically.
● To prevent immobility from occurring.
● Close collaboration with other specialities such as orthopaedic, general surgery, psychiatry and internal medicine to aim to provide quality care for the patients.
● They also accept outpatient referrals from polyclinics and GPs to co-manage patients with chronic pain conditions.
✓ Reinforce to him not to self- medicate.
✓ Encourage him to follow up with every appointment.
Several large-scale randomized controlled trials have established that aerobic exercise improves physical fitness, glycemic control, and insulin sensitivity in people with diabetes.
In addition, exercises to help peripheral neuropathy, when done regularly, may reduce neuropathic pain and can help control blood sugar levels and those include Aerobic exercise, flexibility exercise, strength training and likewise.
(Kluding et al., 2015)
Encourage Mr M to do some aerobic training such as walking, jogging and cycling as exercise may help to manage his diabetes.
In addition, Mr M can try some community club programmes for aerobic exercises that can benefit him.
→ The Clementi Community Club offers a range of Aerobic exercises Programme for Singaporeans to uptake.
→ All Singaporeans are entitled to $100 worth of ActiveSG credits. With these credits, they can claim for classes such as pay-as-you-go classes at any nearby community clubs.
Looking for Plagiarism free Answers for your college/ university Assignments.